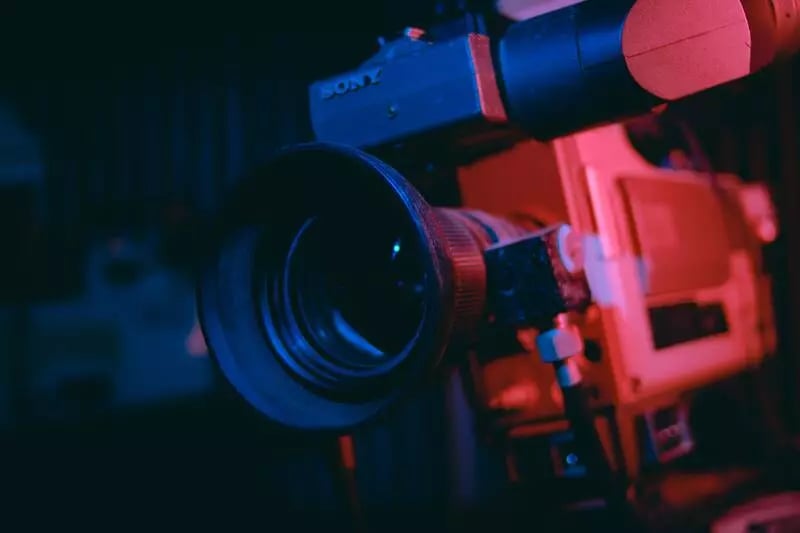 20 February 2023
Video production tips and best practices
10 tips for choosing the right video production agency
Finding the right video production agency takes a bit of research and careful consideration. Here's how to choose the best one for your business.
[Updated 28/03/2023]
Video production is a crucial component of modern marketing strategies. If your business needs to explain products and services, showcase company culture and values, and engage audiences, there's truly no better method.
But let's be real, creating a high-quality video isn't exactly a DIY project. You need a team of professionals with the right skills and expertise to pull it off.
That's where choosing the right video production agency comes in...
But first, Why not check out Skeleton?
Yep, that's us.

As an illustrious, award-winning video production company and creative powerhouse, Skeleton is dedicated to catalysing your brand's growth and impact. Established in 2004, we've worked within loads of different sectors, both B2B & B2C. Our clients include Amazon, Box, Europa, The NHS, Natwest and more.

We don't just make videos; we craft stories that breathe life into your brand, forging an indelible connection with your audience, and propelling you not just to succeed, but potentially reshape the world.

We combine an alchemy of strategy and unbridled creativity, fuelled by an immersive understanding of your brand and audience. Our video campaigns aren't mere visuals; they're symphonies of inspiration that call for action.

Your vision becomes our team's shared odyssey. Committed to the relentless pursuit of excellence, we take your briefs and elevate them to stratospheres unimagined.
Watch our showreel below to get a feel of what we can do for you:
Now... onto the tips!
Here are 10 tips to help you choose the perfect video production company for your needs:
1. Define your goals
Don't go charging in without a clear idea of what you want to achieve with your video.
Defining your goals and objectives is crucial, as it lays the foundation for the rest of the video production process. You want to know what you're trying to achieve with your video, whether it's to promote a new product or service, showcase your company culture, or educate your audience on a particular topic.
Once you have a clear understanding of your objectives, you'll be able to assess if the video production company you're considering has the chops to help you achieve your goals. Defining your objectives will also help you track key performance indicators (KPIs) like views, engagement, and conversions.
And let's be honest, what marketer doesn't love tracking results? By having a clear idea of what you want to achieve with your video, you'll be able to choose the right video production company that can help you create a high-quality video that speaks to your audience and achieves your business goals.
2. Review their portfolio
Before you commit to a video production agency, you'll want to take a look at their portfolio and showreel.
Reviewing their past work gives you a glimpse of their creative abilities, style, and the type of projects they've worked on. Plus, who doesn't love checking out the competition?
A showreel is like a mini-movie trailer that showcases their best work and demonstrates their technical abilities and expertise. Here's ours!
You'll be able to see if they have the right skills and creative vision to bring your project to life. It's also a chance to see what industries they've worked in and get a sense of the type of clients they've worked with. Who knows, you might even see a project they've done that inspires you!
3. Check their experience
Working with an agency that has experience in your industry means they have an understanding of your target audience, as well as the challenges and opportunities that come with working in that space.
It also means that they're more likely to be up to speed with industry trends and regulations. After all, you don't want to spend time educating them on the basics of your industry when you could be focusing on developing a top-notch video!
4. Review their team
The success of your video depends largely on the team that creates it. Look for a company with a team of experienced professionals, including writers, videographers, editors, and animators.
You want to make sure they have the right mix of skills and expertise to create a high-quality video that meets your expectations.
While you're at it, you may also want to check out the agency's culture and values to make sure they align with your own. Let's face it, if you're going to be working with this team for weeks or even months, you want to make sure you're going to enjoy working with them and that they understand your brand and vision.
This should give you a good sense of who you'll be working with and whether they have the right mix of strategic vision, talent, experience, and personality to bring your project to life.
5. Look for creative thinking
Creativity really is the last unfair advantage you can take over your competitors. So you want to look for a team that's willing to push boundaries and offer unique ideas to make your video stand out.
Creativity is what enables agencies to turn a dry and dull concept into a vibrant and engaging video. Plus, creative ideas are more likely to capture the attention of your target audience, making it more memorable and impactful.
A video production agency that prioritises creativity also tends to be more collaborative, encouraging clients to participate in the creative process and offering new and exciting ideas.
Their goal is to help you communicate your message in the most effective and engaging way possible and to give you the best chance of leaving a lasting impression on your audience.
6. Consider their process
Choosing a video production agency with a clear and efficient process is essential to making sure your project runs smoothly from start to finish.
An agency with a valued process not only means that they take their work seriously and care about delivering the best possible outcome for you, but it can help ensure that your video is delivered on time, on budget, and to your satisfaction.
Make sure they're able to clearly communicate with you at every step of the way, from initial concept development to final delivery. It'll give you the peace of mind that comes with knowing what to expect and when to expect it, and identify any potential issues early on, so you can address them before they become bigger problems.
7. Check their technology
You don't want your video to look like it was made in the Stone Age. Whether it's the latest camera equipment or cutting-edge post-production software, their technology could well have a significant impact on the final product. You want to be sure your video has the best chance at success, with the possibility of incorporating the latest trends and techniques.
The right technology can also help ensure that your video is delivered on time and on budget, as it enables more efficient workflows and faster turnaround times.
Ultimately, choosing a video production agency that values technology means that you're investing in a team that's committed to producing the best possible video for you.
So, don't be afraid to be curious about the technology that a video production agency uses – it's an important factor to consider when making your decision.
8. gET A QUOTE
Video production can be expensive, but you don't want to sacrifice quality to save a few pennies. Look for a company that offers competitive pricing without compromising quality, and that's willing to work within your budget.
Quotes can also give you an idea of the level of service and quality you can expect from a video production agency. As well as help you to compare different video production agencies and their offerings, allowing you to choose the one that best fits your needs and budget.
So, always ask for a quote – it's an important part of the process, and a good agency will be more than happy to provide you with all the information you need to make an informed decision.
9. Check their reviews
Of course, checking out reviews and testimonials from past clients is a smart move. They'll give you a sense of the agency's strengths and weaknesses, as well as what they're like to work with. You can also get a feel for their communication style, ability to meet deadlines, and their level of professionalism.
So, if you're considering working with a video production agency, be sure to take the time to read reviews and testimonials from their past clients – it's a small step in the decision-making process that can help you feel much more confident in your choice.
10. Look for full-service
A good video production company is a full-service one — an agency that has all the expertise to create a video from start to finish.
This means they'll have strategists and scriptwriters for pre-production, and a team of experts who will edit, polish, and fine-tune your video to ensure it's the best it can be.
So look for a company that can provide video strategy, scripting, editing, color grading, audio mixing, and other pre and post-production services to make sure your video is polished and professional (like us!).
To sum up...
Finding the right video production agency takes a bit of research and careful consideration. But by following these tips, you'll be able to find a video content partner that aligns with your goals, delivers high-quality videos, and helps you achieve your marketing objectives.

Written by Emily Malone Marketing Manager for Skeleton — a full-service video production agency that specialises in producing creative videos & campaigns that get real results.