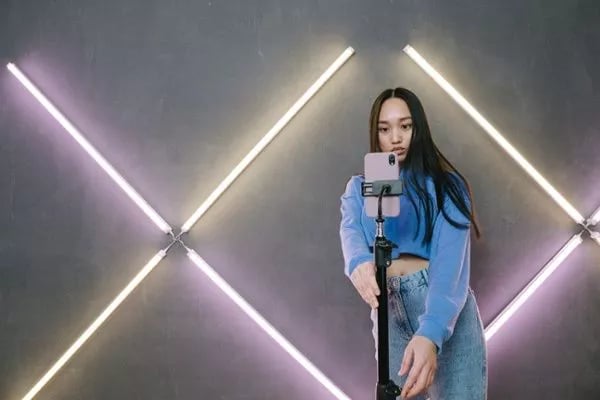 11 July 2022
Video production tips and best practices
4 TikTok ad examples and why they work
Looking to start posting ads on the world's fastest-growing social platform right now? Smart choice. Here are some examples of TikTok ads to give you some creative inspiration.
TikTok for business is where brands post and manage all their TikTok ads, companies of any size and budget can hop on the ad platform and start boosting posts.
The best part? You don't need a TikTok handle to post ads, meaning that, unlike Facebook, you don't need to build out a company page before seeing results. This is a game-changer for businesses without huge followings.
At the minute, the cost per click is lower than most other platforms, but of course, this will change as more companies get on there. We're currently in that golden age where brands can get lower conversion costs.
You can post ads under five objectives:
Reach
This is for when you want to reach the largest audience and increase your brand awareness.
Traffic
This is for when you want to drive people to your website or landing page.
Video views
This is for when you want to get more eyes on your content.
App-install
This is to increase awareness of and get people to install your app.
Conversion
This is for when you want to make sales, baby!
The most important thing to remember is that a paid TikTok needs to look exactly like a regular TikTok. Your usual marketing video ad content won't work here, because they need to camouflage into the platform's ecosystem in order to perform well.
Let's look at some examples of TikTok Ads that I've seen on my feed recently and why they work so well...
1. The Royal Shakespeare Company
This was unexpected! I was about to scroll on past until I realised this was from the RSC?! Although they've got form in being adventurous with some of their staging, in the marketing space, they're usually a safe and reliable pair of hands.
This venture with The Arts Council to encourage that dream 14-25 age group to go to the theatre more marks a move away to something a little more unexpected (albeit still a little " How do you do fellow kids?")
It is missing a stand-out CTA, but that makes it fit within the organic feel that TikTok encourages from its advertisers. Having to click on their bio should also increase wider engagement as people look through their other content.
2. Canva
Canva has really cornered the market for small businesses to upscale their design and marketing, without needing to pay for an agency or dedicated designer.
Part of their marketing strategy is to show people how to use their tools in a simple tutorial on how to design a TikTok/Insta Reel. Again, leaning heavily into the authentic, UGC style, it gives enough information on how to create the video and mentions Canva enough, but not
too
much, to make Canva feel like a useful tool.
The CTA is a little weak (an end graphic with a search
canva.com
isn't the strongest) but this kind of ad would serve that consideration area of the funnel where people already have brand awareness but need that extra information to tip them into the next phase.
3. TessyJoy
I know A LOT of makeup brands and BeautyTok is HUGE, so it makes sense for newer brands that you might not have heard of to use the power of " TikTok made me buy it".
Combine that with an organic-seeming stitched TikTok featuring another big TikToker (Zoe Roe in this instance) from my 'For You' page and this made me look up the brand and spend some time browsing their site.
Again, the lack of what we'd consider a traditional CTA works in their favour - I was already invested enough to search for myself, showing a strong signal of intent. However, I've got fairly sensitive skin so have to be mindful of what products I buy otherwise, I'd probably have dropped the 15ish on a new mascara.
4. Louis Vuitton
This isn't an ad in a traditionally paid sense, but Louis Vuitton has leaned into TikTok as a moving extension of what you might expect from a Vogue editorial or print campaign.
Leveraging their access to A-listers attending the Met Gala, Louis Vuitton was able to leverage one of the biggest celebrity and fashion moments of the year to showcase their collection.
The style leans heavily on established red carpet moments as seen in Vanity Fair and Vogue coverage from such events, which has cross-appeal to media outlets such as E! who were one of the pioneers of red carpet camera treatments.
Got an idea?
You might create the most compelling, beautiful videos that speak to your target audience, but they won't go very far on their own. They need to be published in the right place, in the right format, to the right audience.

That's why Skeleton has created a Video Activation guide that tells you everything you need to know about publishing (or 'activating') your video for optimum results. Download it below, soak up all the good free knowledge, and if you've got any questions, get in touch! We'd love to chat with you.
Written by Selina Conroy Copywriter for Skeleton — a full-service video production agency that specialises in producing creative videos & campaigns that get real results.