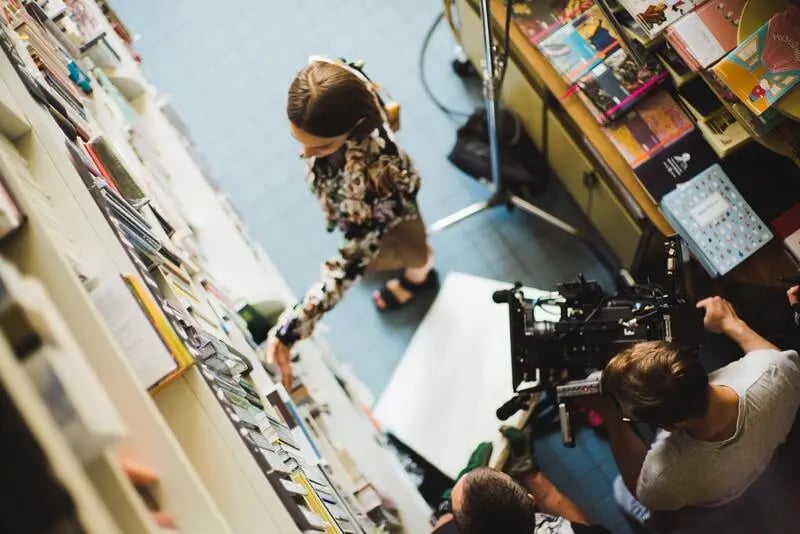 17 April 2023
Video production tips and best practices
8 kinds of videos you can get from a video production agency
From explainer videos to animated videos, product videos, training videos and others, here are some video types a video production agency can create for your brand.
From helpful explainer videos to fun animated videos, product videos, training videos, and many others, a video production agency can create a variety of videos for your brand. Today, we're sharing some examples of effective video types.
Whether you're planning an informative corporate video or a creative product video, a good video production company will help you make something memorable.
As an incredibly versatile medium, video can be used in a huge variety of ways. Promoting your brand through video offers a way to engage your customers on a deeper level. Brands of all sizes and niches are using video as part of their marketing strategies. Video has the power to entertain, educate, increase brand awareness, evoke emotion, grab attention, drive traffic to websites, convert customers, and deliver messages in a memorable, easy-to-consume way.
With so many video types out there, it's not always easy to know which type is the best option for your specific goals. In this guide, we'll take a closer look at the main video types that a professional video production company can create for your brand.
EXPLAINER VIDEOS
These videos are a great way to introduce potential customers to your brand, showcase your products or services and show how your brand can solve problems or meet specific needs.
They are highly effective if you're wanting to capture attention and communicate complex ideas in an easy-to-explain way. Unlike blogs, how-to guides and other written content, live-action or animated explainer videos that use a voice-over or text get points across instantly.
PRODUCT VIDEOS
This type of video advert showcases your products or services in action. From unboxing videos to demonstration videos, feature videos, new product launch videos, and other videos that highlight your key offerings, product videos let your offering stand out.
Product videos are especially useful for the ecommerce and retail industry, allowing customers to see physical products in video form before they make a purchase. A good video production company will know how to plan and execute a flawless video that highlights your product in the best way possible.
TESTIMONIAL VIDEOS
Who better to tell the world about your brand than those who love your brand? Testimonials are effective for that very reason… they are made by real people who have used your products or services.
Testimonial videos put your customers in the spotlight, allowing them to share their experience of interacting with your brand and using your products or services. They help to build trust, improving your reputation through a better sense of credibility. Showcasing positive stories from real people helps to persuade other potential customers to try your products or services.
TRAINING VIDEOS
Training videos take a few different forms. These can be used to teach customers or clients how to use your products or services. They can also be used to train new employees joining your company. They're effective for helping your team migrate to new software or potentially complex systems, too.
These videos provide step-by-step instructions, answer commonly asked questions, tackle potential challenges, demonstrate best practices, and provide other helpful information in an easy-to-digest way.
BRAND VIDEOS
This type of video offers the perfect opportunity to put your brand in the spotlight. With the help of your video production company, you can create sleek, polished videos that are designed to drive brand awareness.
You'll have a chance to introduce your brand to potential customers, giving them a better idea of what you have to offer. You can engage customers, create an emotional connection, drive loyalty, and help to build your reputation.
SOCIAL MEDIA VIDEOS
Short, entertaining and perfect for TikTok, Instagram, Facebook and other channels, social media videos are the ultimate option for brands who hope to reach a wider audience.
Short-form content engages viewers with minimal effort - something that is particularly important considering the limited attention span of the average viewer. Videos can be easily shared, allowing you to promote your latest products, give a behind-the-scenes peek into the day in the life of your brand or give people a laugh with a clever ad.
CASE STUDY VIDEOS
Case study videos allow you to show your audience that you walk the talk. These can be highly effective at showing how you have helped your client achieve results. While your work often speaks for itself, new customers may want to see exactly how your products or services have helped other businesses. These videos boost your credibility, improving your reputation in the process. They also help to increase leads and conversion.
You can make these more corporate or input from your video production agency on how to make them light-hearted and relatable.
ANIMATED VIDEOS
Who can resist an entertaining animated video? We certainly love the creativity that these videos bring to the table. The beauty of animated videos is that they are extremely versatile. They can be used for every channel - social media, websites or newsletters.
They can get complex information across in an entertaining way. They can help with training, provide an alternative to dry how-to videos, act as short-form videos that engage viewers, advertise products or serve as explainer videos.
TO SUM UP…
With the help of a video production agency that knows how to choose the best type of video to suit your needs, there is no limit to the creativity you can unleash. A good production company will provide more than the shooting itself. State-of-the-art equipment, experienced crews, pre and post-production, planning and strategy, and expert input will all help you craft a video that resonates with your audience.
What type of video content is best for your brand? This depends on several factors. To answer this question and give you a better understanding of how our video production company helps to leverage the benefits of each video type, contact the Skeleton team and let's chat.
Written by Rox Bradnick Copywriter for Skeleton — a full-service video production agency that specialises in producing creative videos & campaigns that get real results.