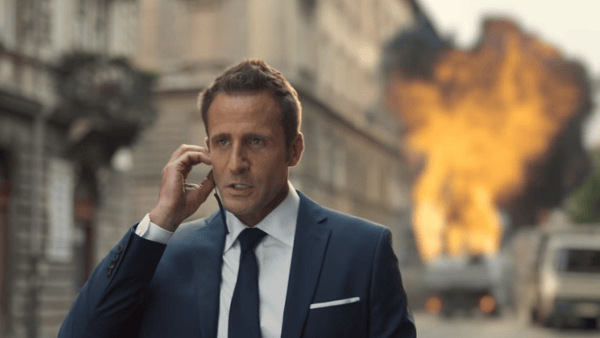 17 April 2017
Video inspo
19 Captivating Examples of Awareness Stage Video Content
At the top of the funnel you need to grab your audience's attention. Here are 23 examples of awareness stage video content to inspire you to draw in more leads.
You know about the buyer's journey.
The marketing funnel.
A.k.a. the stages leads move through from discovering their problem to picking your solution.
The awareness stage, or top of the funnel, is the first step potential customers take on the way to sale (hopefully).
Here your audience is just starting to realise they have a problem that needs solving. They likely don't know how you could help or even that you exist.
It's your job to grab their attention and make them aware of your brand. You don't want to get too heavy with selling yet, but you do want to educate, entertain or otherwise engage your leads.
You might not have considered video as awareness stage content, but certain kinds of video are ideal for captivating your target audience on a large scale and drawing them in by speaking to their values, cares and concerns.
In other words: video content can fill up your funnel. ;)
Read on for 23 inspiring examples of awareness stage video content that connect with leads and encourage them to engage further.
Types of Video Content at the Top of Funnel
Before we jump to the fun part, let me run through how I'll be categorising these videos. There are 5 broad kinds of awareness stage videos, all of which you'll see in the examples below.
These are:
1. Brand films
The aim of these eye-catching promotional videos is to share your values, mission, and ultimately your brand with your target audience. Often through a compelling story. (For examples, take a look at these 9 stunning examples of brand films.)
2. Educational and 'how to' videos
Answering your audience's questions with unique, remarkable and actionable advice helps to position yourself as an authority and build trust with leads. (Take a look at these 8 examples of first-class educational video marketing.)
3. Video documentaries
Documentaries teach your audience something new in a story-driven and stylistic way. They're great for intriguing viewers and reinforcing brand values. (Looking for ideas? Watch 6 first-rate documentaries used in video content marketing.)
4. Entertaining or emotional short videos
Short pieces of video content used to generate emotion in your audience are particularly effective in brand recall. We remember those that make us feel something.
5. Explainer videos or animations
When it comes time to introduce your product or service, these simple videos are great at explaining topics plainly. The emphasis should be on your audience's pain point. (Check out our pick of the 7 best explainer videos ever here.)
23 Awareness Stage Video Examples that Draw Leads into the Funnel
1. Adobe Marketing Cloud: Secret Agent
Type of video: Brand film
How it draws leads in: Adobe have a whole series of videos stressing a consistent customer experience. They're used as ads across social media and in business and marketing publications, with the aim of driving viewers to a targeted landing page where they can download relevant resources and read case studies.
2. Risual: Risual Corporate Video
Type of video: Entertaining short video
How it draws leads in: Intrigue is the name of the game here. Risual go against the grain by taking the piss out of meaningless corporate speak and stereotypical agency behaviour. They end on their website address, hoping to have drummed up enough curiosity to compel viewers to find out more. It definitely worked on us.
3. Patagonia: Worn Wear
Type of video: Video documentary
How it draws leads in: This epic, gorgeous documentary gives an honest portrayal of ordinary lives. In doing so it speaks about all the values Patagonia believes in: wholesome enjoyment, environmental accountability and quality clothes made to last. It ends with a link to the Worn Wear page, where viewers can read more stories or even submit their own.
4. Google: 5 Common Mistakes in SEO
Type of video: Educational or 'how to' video
How it draws leads in: Google creates lots of informative video content to answer leads' questions and establish themselves as a thought leader. This video ranks in the top 3 spots for keywords like 'SEO mistakes' on YouTube. Although there is no explicit CTA at the end of the video, it encourages viewers to look to Google for webmaster support in the future.
5. Dove: Real Beauty Sketches
Type of video: Emotional short video
How it draws leads in: With this video Dove tap into strong emotional values like identity and self-acceptance to create an association between the feelings and the brand. As part of a huge global campaign it was translated into 25 languages and spread by a strong PR strategy. The video encourages viewers to visit Dove's site and learn more about the real beauty campaign.
6. Zendesk: I Like it When He Gives Me the Business
Type of video: Brand film
How it draws leads in: This film is funny, human and genuine. Zendesk use the central metaphor of business relationships as romatic relationships to gets across their goal of better communication between companies and their customers. Shown as an ad on TV and online, the video generates broad brand awareness of the company.
7. Amazon: Introducing Amazon Go
Type of video: Explainer video
How it draws leads in: Amazon created this explainer video to introduce the inspiration and technology behind their new Amazon Go stores. Its aim is to answer questions as well as generate excitement. After watching, viewers are directed to find out more at a special landing page where they can read an in-depth FAQ and ask to be notified when stores are opened.
8. Seattle Coffe Gear: How to Make the Easiest Mocha Ever
Type of video: Educational or 'how to' video
How it draws leads in: This company has an entire YouTube channel of useful and informative content to tempt leads to subscribe. This particular video ranks in the top 3 for the keyphrase 'how to make a mocha' on YouTube. Each piece of content encourages viewers to engage more and visit the company website for recipes, gear and supplies.
9. Stella Artois: Up There
Type of video: Video documentary
How it draws leads in: It might not be the most exciting of topics. But this documentary about mural painters is an intriguing love letter to craftsmanship and attention to detail, values that Stella Artois believes in. The video raises awareness of how the brand supports local communities and continues to invest in traditional marketing.
10. Dissolve: This is a Generic Brand Video
Type of video: Brand film
How it draws leads in: Dissolve took a punt with this edgy brand video, but it paid off bigtime. The result is a film that resonates with their audience and attracts just the kind of leads who are interested in what they have to offer. A final CTA directs viewers to a landing page where all of the used stock can be viewed.
11. Blendtec: Will It Blend?
Type of video: Entertaining short video
How it draws leads in: Everybody wants to see if phones, toys and tools can be smashed to a pulp. It turns out they all can. For over a decade Blendtec have been creating fun videos in which everything, from glowsticks to other blenders, get blended. The videos encourage viewers to subscribe and find out more about the blenders in question.
12. Mint: Personal Finance Management with Mint
Type of video: Explainer animation
How it draws leads in: This clean animation starts with the pain point of its target audience and builds from there. It proposes an alternative to messy and confused money management, which is exactly what Mint offers. A CTA at the end points interested leads to a YouTube playlist that guides them through how to use the software.
13. Moz: Whiteboard Friday
Type of video: Educational or 'how to' video
How it draws leads in: Moz's Whiteboard Friday series gives a weekly in-depth guide to topics in the world of SEO and content marketing. The focus is on education to position the brand as an expert in the field and increase awareness in its target market. Each video sits in its own blog post that features a full transcription and invites viewers to comment, discuss and share.
14. American Greetings: World's Toughest Job
Type of video: Emotional short video
How it draws leads in: A mysterious premise and an emotional reveal help to keep viewers engaged throughout this video. The aim is to generate good feelings and encourage sharing. Released on Mother's Day 2014, the video also reminds viewers to make their mum a card, by redirecting them to the American Greetings site.
15. CMI: The Story of Content
Type of video: Video documentary
How it draws leads in: How did content marketing happen? When did it start? And where is it going? These are the questions the CMI sought to answer with this expansive video documentary. The 45-minute long video positions the company as an industry leader and gives viewers the confidence to come to the Institute with all their content marketing problems.
16. Volvo Trucks: The Epic Split
Type of video: Brand film
How it draws leads in: The best brand films are about storytelling and spectacle. This film has both in spades. Volvo puts the spotlight on the stunt and the performer rather than their products, which creates an emotional experience of awe and respect. It's a piece of broad awareness that seeks to forever connect the brand with that feeling.
18. Verisign: The Cart Whisperer
Type of video: Entertaining short video
How it draws leads in: You'll never see cart abandonment the same way again. In this video Verisign take a common marketing term and extrapolate a surreally literal conclusion. It's funny, memorable, and it makes you want to find out more. Viewers are led to a (sadly now defunct) site where they could watch similar videos and discover the company behind the campaign.
19. Elan Languages: Taste the Translation
Type of video: Brand film
How it draws leads in: Brand films should be used to introduce the values that represent the business and resonate with its customers. Elan Languages did that here by positioning themselves as bold, skilled language experts, creators of a revolutionary translation tool able to beat the competition. This film is humorous, unique and pretty much unforgettable.
Round-up: Draw in Leads with Awareness Video Content
Feeling engaged? Those were all excellent examples of how to use video content to grab your audience's attention and introduce them to your brand.
At the awareness stage of the buyer's journey there's a lot of content trying to stand out and get seen. It means there are a lot of options for your audience. It also means it's vital that you do something different than the competition to make leads take notice, so they will engage further and progress on their journey to sale.
Never forget the attention-grabbing, emotion-building power of video content, especially here at the top of the funnel. But once you've captivated your leads, it's time to continue engaging them all the way to conversion and beyond.

Written by Lydia Cockerham Copywriter for Skeleton — a full-service video production agency that specialises in producing creative videos & campaigns that get real results.