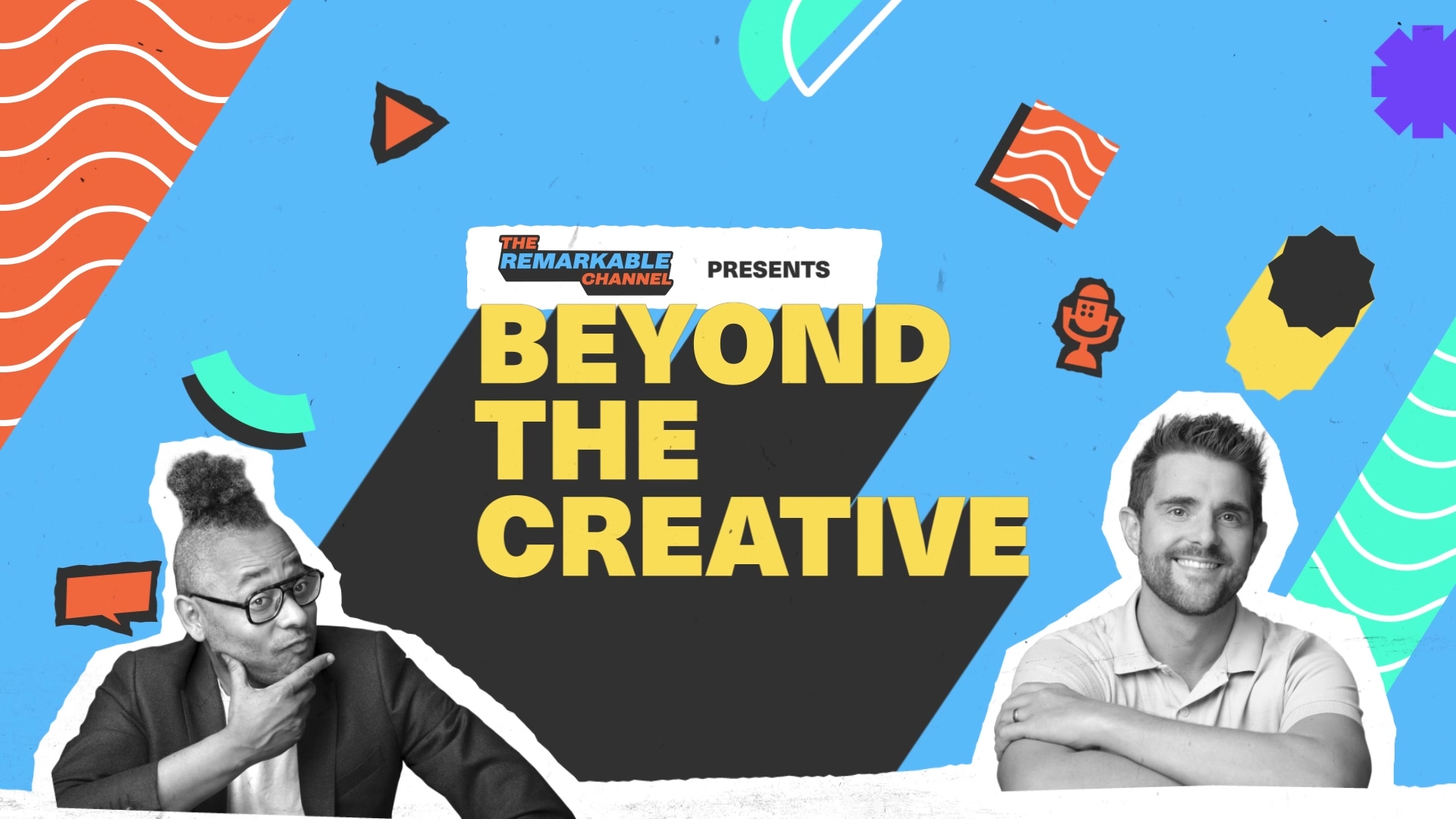 13 September 2022
The Remarkable Channel Podcast
Beyond the Creative: Disruption in Marketing
We've released a podcast! Say hello to The Remarkable Channel, where we'll be posting exciting new video content that exposes the daily conversations we have about campaigns and provides you, the viewer, with expert marketing insights that you can use to supercharge your campaigns.
To launch the channel, we have our debut episode of Beyond the Creative, a show where we reverse-engineer and dissect video ads from around the world to go beyond the creative and dive into what core marketing principles are at play.

Today, we're breaking down two disruptive video ads from WeTransfer and (yep, you guessed it) Coinbase. Couldn't resist talking about that bouncing QR code.

We'll be continuing to learn and grow from this podcast, so we'd love to hear your thoughts and opinions on this pilot episode! What would you like to see more of next?

Subscribe to The Remarkable Channel on your favourite platform, where we'll be posting every episode as soon as it drops!
Transcript
think are interesting insightful or different dissecting reverse engineering and breaking down what they were trying
to achieve. But this isn't just about us giving our opinions — each episode will ground those opinions against creative
principles we use every day.
Chomoi: So if you're curious about marketing as a service behavioral design and the importance of
audience insights you're in great company.
Jonathan: This is beyond the creative — our way of learning growing and ultimately f
ueling our never-ending quest for delivering creative that changes what people think feel and do.
disruption in marketing. Something that's nothing new, it's been around for decades, or really since
marketing began. It's all about grabbing people's attention, shocking people, getting eyeballs on ads, selling more products and getting more brand awareness.
It's like a never-ending game of chicken: as one brand pushes the envelope a little bit further, another brand has to up the game. And today, we're exploring how that works and where brands are taking disruption at the moment. [music]
a distraction from creative work, but that WeTransfer can play a role in helping people
reclaim their time. Chomoi, you flagged this as potentially a disruptive campaign ad.
Chomoi: Happy to jump in
on this one. So I think this one is disruptive because it's not your typical sales message. T
hey're basically saying "here you are sitting at a screen, but actually, the magic happens away from our
product". It's really unintuitive and I think on the on the face of it, it's quite brave
messaging. It's a bold tone of voice and it's not really what you expect from a
file transfer company, so from that point of view I think the
actual way they come across in the scripting in the voice-over — y
eah, it's
pretty disruptive.
Jonathan: Yeah I'd agree, I think it's obviously not heavy on the sales message and it's kind of saying "get
back out in the wild and find that source of inspiration that made you fall in love with being a creative in the first place" and that's, y
eah that's cool.
I think it's been done before. Yeah, it's interesting how disruptive or kind of controversial this
is, but I guess for those people that haven't seen it, should we run the campaign? Let's run the
ad. For those of you that are listening, you can pop over to our YouTube channel and check it out. Um but let's run the ad.
you? The you that you felt truer to. What would you say if you saw your life
wasting away stuck online inhaling content, exhaling time? But oh, the you
that flew the coop to prove that life could move in any way you got to choose.
You left the screens looking for the life between the life you have now and the life of your dreams. Y
ou've found it there swirling twirling and the crisp fresh air. Everything you've read about, tweeted,
liked, posted out. This is where it all comes from —the real world
that you c
an feel world.
And when this other one of you returned to see what it could do, you poured your
heart into the keys as quick as possible to see what to keep and what to free. T
hen once again, it was time to leave."
Jonathan: Okay, so I think that the ad is really
nicely executed. It's really quite beautiful. Some lovely cinematography, some lovely craft going into it. I can
see how this would resonate with artists and creatives, but at the same time, I'm not sure it's that disruptive. It's
almost like I can hear a voice of mother saying "come on now you've had too much tv and computer games go outside and
play in the sun and kick a football about".
It feels a little bit... is it patronizing or condescending?
Chomoi: I
t's a bit disingenuous, isn't it? You know, an online platform saying
"get away from the screen", but in fact, it's sort of undoing what
they are trying to stand for. I mean I get that it's like... "well you know the magic happens somewhere else", but when we see
brands like Apple, Google, Meta telling us to monitor our screen time, it's a
message I think we're now quite comfortable and familiar with. So,
I get when a brand tries to be responsible and look after our health and safety and
our well-being, but then when you compare it to brands like Patagonia that take that
responsibility message more seriously, I think it's very hard to match that
quality.
So when Patagonia says "don't buy this jacket", they've really gone to the endpoint on sustainable purchasing
of clothing and wear and tear, but they back it up with all their eco
credentials, and it becomes a much deeper message and a longer, wider
campaigning platform.
Jonathan: Yeah, I think you hit the nail on the head by saying you've got to be fully committed, you've got to go all the way and it
needs to be — excuse the pun, but — woven into the fabric of your brand, and think that hasn't been as well established for the WeT
ransfer brand, so it still feels it doesn't go deep enough. I think it doesn't go to the core and the essence
of the brand, so it doesn't feel truly authentic.
I think this is the tension we're
struggling with here, isn't it? It's like... does it go far enough? Does it go deep enough? O
r does it feel kind of like a disposable campaign that could just run once?
Jonathan: The important thing here is... we can look at the different principles of how you're going to persuade people, what you're trying to do with awareness
brand marketing.
I
think this was based on research, wasn't it? I think WeTransfer did some research. T
hey released an ideas report in 2018 that found that people were less creative
when they were stuck in front of computer screens for long times.
I think they were they were tapping into
evidence-based insights which is really positive, yeah. It's just that question I've got that's running through
is... is it quite hitting the mark? Was there another idea they could have led with different execution? P
erhaps that would have felt more authentic. I think I just feel like I can see through it a
little bit too easily.
Chomoi: Yeah it's that tone isn't it? U
nderlying there, you sort of get this whole thing of... it's not about the files, it's not about the computer, it's about life. Y
ou can see how they got there from the research, but
it's not a really very impactful thing to say. Even though you look at the YouTube comments underneath and people are like "
this is beautiful".
I mean as you say it's poetic, it's beautiful,
but could they have done that with a three-second clip? D
oes it need to be a 60-second poem? And as you say, is it doing
anything as a campaign? What's the call to action? How do I get involved? How does it impact my behaviour? And I
think if you look at the classic rules of disruption,
this is where I would want to push the creative team who did this — to
push this idea further — because disruption says: "well
we're going to do something completely unexpected" or "we're going to do something very different from our competitors"
and fundamentally, the message here is "it's not just about the files, it's about the creative idea that's
important, that happens elsewhere". And you look at what competitors like Dropbox are doing...
they're kind of playing in the same space. They're saying "it's the memories, it's the life
stored within the files, stored within our system". So, from that point of view,
if we're saying is it different? Does it stand out? It actually becomes a not very ownable message. It becomes quite
easy to emulate and easy for the competition to copy. So
yeah, it's beautifully executed. But again, from a strategic point of view, i'm not sure it does very much for brand
building. And that's obviously what we're here to do, isn't it?
Jonathan: And also I think they're
kind of in a way harking back to their origins which was a simple transactional "let's send a big
file from A to B" which was a problem. Whereas Dropbox, like you were saying, is
owning that kind of... "it's a place for keeping precious things", which you can also
share, so I think that's also potentially part of the problem. And they do reference at the end of the ad their other products,
but the fact they're leading with "this is just transactional" — it's almost like an email, it doesn't feel...
not necessarily saying that the files you're sending are special... it's just
that it feels like a disposable tool rather than an ecosystem that you're buying into. So
what behaviours do you think they're trying to affect or impact with the campaign?
Chomoi: Well,
you touched upon the research and I think that's a really good place to start because
creatives struggling with creativity, or creatives trying to
increase their productivity or dig deeper for ideas is a really interesting space. And if
they're saying that with computer screens, it's a bit of a blocker, it's a barrier, it gets in the way of the creative process,
then that leads me to think that you could help creatives. I don't have
the answer, but is it about setting up
a camp on the top of a mountain and a retreat where creators would go and disappear for like three
weeks and immerse themselves in their work? Immerse themselves in workshops? And
share the experience together? That sounds kind of interesting. Sort of a
marketing as a service type offering, which actually moves you and actually moves it on. Help
s these guys out a bit.
Jonathan: That's a really good point, actually. Yeah if they were creating a bit of a movement, if
they were... encouraging people to sign up for something. Not the product, but
to belong to... create a sense of belonging... to create a sense of community... I think there's something that could be done there. So actually maybe from what I said
earlier this could be campaignable if it was connected to that. It wasn't in this case, but I can actually see a potential
follow-up where it's like: "shut the computer and come join this real-world
community of other inspirational creatives."
Chomoi: Yeah that's really nice, and
also looking at this from a point of view of entertainment, I also wonder whether
it's entertaining? It's there for a moment... it gives you a warm feeling. In the comments people were saying things
like: "this is so nice. This is lovely." but there was one comment that actually said "uh... this
is a strange way to announce that WeTransfer is shutting down" and
poking fun at it. Yeah so as a piece of entertainment as well,
it's nice but it is 60 seconds. And is all of this effort
worth a few nice comments on social? There, I wonder about the effectiveness
of it as a piece of entertainment.
Jonathan: One of the things we want to do with this podcast is
not just give our opinion but try and come back to some principles of developing brands and
marketing and I think The Humankind Scale is a great model for us t
o use to rank these bits of creative. Not everyone
will have heard of The Humankind Scale — would you mind just explaining what it was all about?
Chomoi: It's simple scale from 1 to 10, where 10 is the best you can possibly do.
10 is world-changing creative. And 1 is really
work that shouldn't exist in the world, you know, it's destructive. So, I like to think of really trying to
ignore like 1 to 4. 5, you want to be in the middle at least and start there. And
6 is an intelligent idea. 7 is an inspiring idea that's beautifully crafted.
8 changes the way people think and feel. 9 changes the way people live. And 10
changes the world. So I have to think about whether it's an idea that... as a piece of creative... has maybe saved someone's life. T
hat would be an ultimate KPI for work.
And
when we look at this idea, my gut tells me it's hovering around a 5. J
ust that it's very clear what their purpose is as a brand, they've got their tone of voice
nailed with this piece, their message is pretty clear. So it does kind of say what they stand for — "
we stand for creativity and ideas and inspiration and we stand against overuse of screen
time and being stuck in front of the screen watching loading bars". So that kind of makes sense
for the brand. So yeah, I kind of pegged it at a 5.
Jonathan: Yeah I'd agree with you. I think 5 is spot
on. People do know the brand's purpose... I'm slightly hesitating because I'm like...
is it clear what the brand purpose is or in this campaign is it just that they're encouraging people to get back out into the wild? But I think there's
enough in the message there of the kind of the purpose and the values of the brand coming through. I don't think it's quite.... is it that
intelligent? Not sure really. I don't think it quite gets there. So I think we're probably in agreement — 5
is the right score. And this is a tough scale, you know! It's not easy, right? Climbing this ladder. I
think 5 is probably fairly average, good, it's a solid piece of communication, and it's a solid piece
of brand work.
Chomoi: It is quite a hard scale. And when we started talking about this piece
of work, I really really liked it. It really felt disruptive, but I think when you start to sort of take a step
back and analyze it as we have... you know we've talked about behavioural design, we've talked about
marketing as a service, we talked about entertainment, and actually, it's quite hard when you look at it through those
those lenses and those filters. And then when you apply the scale,
you see how traditional marketing starts to fall by the wayside. It doesn't
work as well as harder working campaigns that tick the behavioural design box,
or tick the marketing as a service box, or tick the marketing as entertainment box. So yeah, I feel harsh
giving it this score. But this is really a sort of
journey for us, isn't it? Of learning, honing our techniques, and always trying
to do better work.
just from a few months ago. And this is the famous QR code bouncing around the screen — this was definitely
bold and different, it was disruptive. I mean, it went viral and that's normally a sign of something that's different. A
nd the Super Bowl is a... doesn't everyone just look to the Super Bowl for what ads are going to be coming? And there's been some classics over the
years, but this was probably a media first in terms of something so minimal
bouncing around the screen for 60 seconds at the cost of... I think it was 16 million dollars? And it worked! You know,
in terms of driving curiosity it crashed the Coinbase website it drove so many
people. So many people scanned that QR code — curiosity killed the cat — it tapped into one of those principles of human
behaviour: that you want to find out what this thing is.
Chomoi: Lovely. This one's great, isn't it? You can imagine seeing all of those slick high production classic tele ads and then on
comes a screensaver...
Jonathan: That's what it is! I
t's a screensaver, that's exactly what it is. It's like I forgot that there's... like you remember those, right? I mean, I think there's some
nostalgia in there too, isn't there?
Chomoi: Yeah it's in this kind of low-fi design we're seeing a lot of
these days. And that's cool — that gloss-versus-
pixelated. I think it's a really nice aesthetic. And then, of course, we love talking about behavioral design. I
t's a QR code, let's not forget! It wasn't that long ago when
it was a joke to put a QR code in a deck to try and look progressive or tech-savvy but we
stopped doing it because it was like... yeah no one uses QR codes. And then we've seen the rise, sadly not for
a great reason, but QR codes are now popping up everywhere — on restaurant menus etc. So
from that point of view, it's super interesting getting people to take an action. And I just love that idea you're
sitting around watching the big screen with your family and
one two or three of you suddenly get up off the sofa and stand up with your phone to scan it on the TV. I
can just imagine that being a moment as well that they've they've crafted.
Jonathan: I think that's almost the magic of it. It's
like — yes, you've got the curiosity in there — but actually, in a way, it's a journey, isn't it? That message is
effectively travelling from the TV to your second device — your phone. And taking you to their destination. Their brand. T
hat's a journey that's happening millions of times. I think they had like 20 million visits as a result of this, so
clearly 20 million people scanned that QR code. So it was highly effective, it did its job,
didn't it? It was really simple in terms of execution. I guess that's the takeaway: don't over-complicate things, as
well. You know, that's something we fight against, isn't it? A lot of the time or struggle with the tension of
trying to cram too much into something. This was just a QR code, folks. A QR code
bouncing around a screen with no language, no written language — the universal language of QR codes.
Chomoi: Obviously it doesn't take much to sort of Google this and see how much it's been spoken about, but
I think you did a bit of research of your own, didn't you? And you found
that actually there was a really valuable insight driving this.
Jonathan: We like to research these
things. W like to try and understand and dissect these things and what they're tapping into. What were the insights? You know, there's quite a few
articles out there about the nostalgic dvd bouncing dvd symbol that was around in
the 90s to prevent burning on cathode ray tubes. People were thinking that it was
based off that. Obviously, because some of the audience is that old — myself included i'm ashamed to say. The
second thing that people were leaning into is "oh they're riffing off that famous scene from T
he American Office", so people were leaning into that. A lot of the write-ups were leaning into that, but then actually, just before recording this
yesterday I saw something in my Facebook news feed which was an ice hockey match... and this was a piece of content
published in 2021, probably a year earlier... which was a Sponsors logo on the big screens
that hang above the ice rink. It was a sponsors logo bouncing around the screen and then finally hitting the
corner and changing color and all the room going going wild, basically.
It's just a fun bit of entertainment while
you're waiting for your team to come and play, so that had clearly been happening as part of popular culture at US sporting
events. So really, what they were doing is tapping into that much more relevant, much more current, popular
phenomenon that was happening, and i think that's why you got so much reaction. You got those
amazing videos that were spreading around of everyone going crazy because they were basically connecting to that moment. And I think that amped up the
whole experience of it. It basically made them feel like they were back in a stadium. It was almost
like a Pavlov's thing — it just triggers that thing of like: "wow, here we go" and yeah of course you're gonna scan it, but
people were leaping out of their seats! Like they were connecting back to those real moments, basically.
Chomoi: I think it just reminds us
that an insight can really power and drive creative but we shouldn't dress
up a little bit of desk researchers like this amazing insight, you know. You know it when you see it, and
it grabs you with both hands.
Joathan: Definitely. I mean it's it's easy
to dissect something and go backwards in a way, isn't it? It's far harder to create something novel and work through that journey for
the first time.
Chonoi: So another thing that we've been talking about is whether you can do this campaign
again? Can you do follow-up? Can you do it twice? And yeah, what are your thoughts on this being
campaignable or one-hit-wonder?
Jonathan: yeah i don't think it's campaignable really in my view. It's obviously it the fact that
it's novel and not been done before in this on that channel on that medium i think that's what made it special. Y
ou know you could do it again the following year but there's only so much... it's so simple isn't it? You can't really take it
forward it's not really a platform and i've also got another question is like will people remember it like right now
everyone remembers the coinbase viral video? Will it become just the "oh do you remember the QR code that went viral"? Will
people still connect that to Coinbase? And is it going to take the coinbase brand forward? Is it really gonna help
their awareness? I'm not sure. I think it it certainly got loads of press, so I think maybe it
will stick in the collective consciousness of the world.
Chomoi: Yeah it feels like a good song that you
remember from a particular Summer way back when. Or, you know... it's stunty isn't it? I think to your point, I would
definitely think it goes into the creative history books, goes
into the hall of fame. And i'd definitely say to a student "if you
want to see what interruptive marketing looks like in 2022, have a look at this one thing". A
nd the thing is, you say it's more about the thinking, isn't it? It's more about the attitude you bring to a new brief,
rather than saying "hey look at this, we need to do this." Take that thinking and apply it to a
different media platform, or apply it to your brief in your your brand's particular context. But certainly I'd say it
would be one that I wish i'd thought of. I wish I'd done that!
Jonathan: What about from a behaviour aspect? We like
talking about behavioural design and evaluating content. And the way we develop content as well. We're always
thinking about how behavioural design plays into it. Do you think it ticks the boxes?
Chomoi: Y
eah I think it's a really nice example, isn't it? It's pure system one thinking. It gets the audience to take
an action and then they've moved one step closer to your brand.
Jonathan: Sorry, what's system one thinking?
Chomoi: It's hard to
describe in a nutshell but i'm gonna have a go. So it's more like when people are busy,
they're stressed, they're tired, they're distracted... it's like just give the audience one little thing and a really
simple act... a really simple message that doesn't require much rationalising. A
nd it really digs into the fact that we often post rationalise our actions. S
o actually, once we've taken little action that's closer to a brand, w
e've just invested a little bit of effort and we're more likely to then
post-rationalize that action and say yeah "I really like Coinbase because they did that thing". And then we're moving
more and more into a brand's ecosystem. That versus system two thinking, which is: "we gotta convince this audience that C
oinbase is the best and then they'll take an action". So flips it on its head. And this is a really nice example of
that — all you had to do was scan a QR code and all of a sudden you're on the website.
Jonathan: It's a shared experience
as well. That's another thing that plays out, is that kind of social proof. You know, the power of crowds. A
ll the ads created a crowd movement and it's the thing that you can continue to talk about and
possibly have videos played back of. I don't think there'll be as many videos of people filming themselves watching
other adverts doing the Super Bowl... I haven't seen any. I don't know if you have? But the fact that you've got that that
movement of the crowd further reinforces that. I guess really the
system one is like the monkey brain, isn't it? It's like the limbic system, isn't it? It's
the reactive stuff that doesn't require any cognitive power really, and I think that creates real anchors and
memories as well. I think it's super powerful in that perspective. Perhaps more than they expected as well! Y
ou know, I don't know whether they released this in the world expecting that, or whether that was a beautiful like byproduct of
you know of a simple idea.
Chomoi: Yeah because you probably would want to not miss all those sales with a crushed
website if you really thought it was going to work. I'm sure their IT team would be like "
yeah we missed that one", but it's really nice. I think this brand
gets full respect for delivering on it, and I think it's not particularly
fixing any real difficult problem or need in someone's life, but it's entertaining in the very fact that
they chose great music, great track, it builds as well, so
that's really nice. So from a pure entertainment point of view, as a stunt, I think it's
really nice.
Jonathan: What about — you know — the other thing we like to talk about is marketing as a service or permission-based marketing where
the brand is giving something to someone else. I'm not sure it scores us highly here... do
you think it scores as a kind of service to the customer? H
ow do you think it plays out in that in that territory?
Chomoi: Yeah it doesn't really
lend itself to fixing a problem or solving for something or you know turning up in someone's life and
um like your sort of Nike run clubs and Nike apps do really well
so yeah i guess looking at it from these different
angles it's it's hard for a campaign to tick all of these boxes. So that definitely would need to be picked
up by a different stream of work, but I do sort of lean into marketing
as entertainment here. And I think it shows the the sort of posture of the brand as well
and how they're actually not going down traditional lines so it feels very right for coinbase to do this.
Jonathan: I mean the nice thing about it as well is it's a digital service as opposed to a lot of the products that are there
being advertised. A couple of years ago there was the Tide ad — "this is not a tide ad" — i don't know if you
remember those? But it was really clever. They were smuggling Tide into every single ad
and people thought they were ads for a different product, but actually it turns out these seven different ads
actually all were about Tide because they were on the shirt and everything. It was very clever, and ultimately I think it did result in
an uplift of Tide. But it wasn't as clean-cut as this, which was basically what would have been on social. A
view-through rate, a click-through rate, which I think that's really unusual in this kind of ad. Where
you're generally buying eyeballs. But then you're hoping you're implanting
an idea that might change your behavior over time or next week or whatever — buy more washing powder —
this actually led to immediate click-throughs. A little bit click-baity, I think it's
the equivalent of a TV ad click bait. That's what i think they've done here.
Chomoi: Yeah and I think
we like to compartmentalise things. We like to say awareness, let's be judged by awareness, and
let's put things into an awareness bucket. And then look at the funnel and then conversion. It's like... no no this is going to do a conversion job. A
nd I think we're probably now going to see this turn up on briefs as a reference and say that
we want it to perform and do more things than just be
an awareness piece. We want it to
get people taking an action. So I think it's gonna be a challenge.
29.08 — Campaign 2: The Humankind Scale
Jonathan: Let's grade it though let's put it against the humankind scale. I'm going to defer to you again Chomoi on this one i think this is
I value your thoughts on this one first where do you think it sits
Chomoi: I'd originally put this around about 6,
but I think just hearing you and how our discussion has gone I think this is a 7. This is
an intelligent idea obviously for all the reasons we've said. Clever use of media. An
d I think it's a really inspiring piece. And I always say to people coming up in the industry,
if you want to look at great pieces of work, what would be an iconic piece of work? I think it's it falls into this
category. It's something I would definitely reference um in the future as a great uh example.
Does it fundamentally change people's beliefs opinions the way people behave
and act over and above just to click through? No, but it doesn't need to. So that's
what's really nice about this idea it's a it's got honesty about it and as you say simplicity so yeah that's where i
put it a seven.
Jonathan: It's a really good seven and it's definitely gonna go down in history as one of the — you know —
it will definitely be in text — virtual textbooks — for anyone learning about you know impactful entertaining,
spreadable ads that you know that reached across the world
Jonathan: I don't know about you, but I've had a really good time trying to break down
some disruptive campaigns. It was difficult actually working through WeTransfer that wasn't the easiest thing
to do. Slightly easier with Coinbase — that was clearly very unique and novel
and I think it just emphasizes the fact that it's not easy doing disruptive work you know it's hard.
But if you get it right, you get out into the wild, it can be incredible. And I think that's why
people aspire to it. And I think that's why it's always going to keep coming up in briefs.
Jonathan: We've only looked at two ads, but there's a plethora of disruptive ads out
there please drop down in the comments below any that you think we should perhaps have a look if we bring
disruption back as one of our themes for the podcast. Let us know in the comments
and we'll pick up on that — we'd love to know your favourite disruptive ad.
Jonathan: Beyond the Creative is the first show of The Remarkable Channel. If you want to know when the next episode of Beyond the C
reative is out, or for any other future shows for that matter, you can head over to theremarkablechannel.tv
and choose your favourite way to subscribe — whether that's audio or video.
---
Subscribe to video insights
Join 1,000 comms experts from brands like Boots, Experian & JCB and sign up for our latest posts.