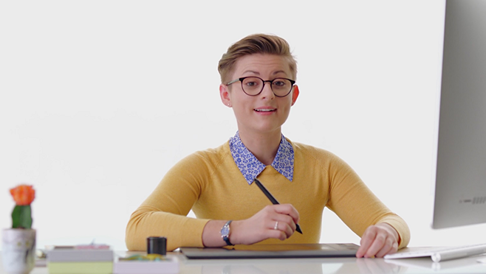 22 May 2017
Video inspiration
11 Trustworthy Examples of Consideration Stage Video Content
In the middle of the funnel you need to really connect with leads. Here are 11 examples of consideration stage video content to inspire you to build that trust.
The middle of the marketing funnel can be a scary and uncertain place.
At this stage of your potential customers' journey to sale, also known as the consideration stage, your leads are — well — considering.
They're more knowledgeable about their problem or need than they were at the awareness stage, and now they're researching all the potential solutions open to them.
That means leads are more engaged than they were at the top of the funnel, but they're also becoming more aware of your competitors and how they differ from you. In short: it's time to start getting serious about the benefits you offer and what makes your business and brand unique. You've got no time to waste.
Video is ideal as consideration stage content for building trust in your audience and encouraging them to find out more about how you can help them. Not only that, you can begin to really humanise your brand and provide social proof to reinforce your content further up the funnel.
Keep reading for 11 brilliant examples of consideration stage video content that build trust in leads and convince them to edge that much closer to sale.
Plus: Examples of Comprehensive Video Content Marketing Through the Funnel
What happens in the other funnel stages? Download our PDF with 3 video campaigns spanning every step of the buyer's journey.
Types of Video Content in the Middle of Funnel
Before we reach the videos, I want to explain how they'll be categorised. There are 3 major types of consideration stage videos — and you'll see examples of them all below.
These are:
1. Product or service videos
Show how your product or service works in practice. Focus on the benefits for your audience, answer their most common questions and allow them to imagine using what you offer. (For examples, check out these 8 excellent product or service videos.)
2. Case studies or testimonial videos
Your word is only as good as the evidence that backs it up. Case study videos are the perfect way to build trust with leads and prove that you care about customers as much as you say you do. (Take a look at 7 case study videos you can learn from right now.)
3. About us or culture videos
An honest look at how your team works behind-the-scenes helps to humanise your brand and show that your values really do resonate all the way through the business. (If you're looking for inspiration, here's a collection of 7 outstanding 'about us' videos.)
11 Consideration Stage Video Examples that Build Trust in Your Audience
1. Figma: Introducing Figma
Type of video: Product or service video
How it draws leads in: Figma show exactly how their SaaS offering works by combining screencapture of the tool in action with footage of their target audience using it. This well-balanced product video combines both benefits (working with colleagues outside of the office) with features (cloud-based design tools). Viewers are encouraged to visit the features page of the Figma website to learn more.
2. Zendesk: This is Zendesk
Type of video: About us or culture video
How it draws leads in: This about us video is funny, personable, and embraces the values of Zendesk. While it briefly covers what the business offers, the real spotlight is on the team — who they are, what they do and what's important to them. This encourages leads to imagine what it'll be like working with them, and feel excited to get started.
3. Salesforce: Room & Board's Success Story
Type of video: Case study or testimonial video
How it draws leads in: The best success stories are ... stories. They should tell a simple yet compelling narrative that speaks to the common challenges your target audience face. This case study video from Salesforce does exactly that. By following a classic pattern of situation, problem, solution, outcome it highlights how they helped their client overcome problems that were in the way of their goals. And how they can do the same for viewers too.
4. Osmo: Masterpiece for Osmo
Type of video: Product or service video
How it draws leads in: By tapping into the power of emotion, Osmo captures the heart of their product: it's not fancy features or cutting-edge technology. It's a feeling of discovery, creativity and watching your child grow. What your audience really care about is how you can make their lives easier, happier and more remarkable — so use that as the focus of your product or service videos.
5. Squarespace: How to Reinvent a Classic
Type of video: Case study or testimonial video
How it draws leads in: Case studies build trust and authenticity by presenting a viewpoint from somebody other than you. This is an unusual example because it doesn't feature the voice of the client, although we do learn a lot about them, their passion and how Squarespace helped them achieve success. It's another instance of stylish storytelling used to reinforce the values of the brand and how they impact their customers' lives.
6. HubSpot: About Us
Type of video: About us or culture video
How it draws leads in: Here HubSpot have created a piece of content that's part culture video, part an explanation of their history. It uses interviews with their two founders, plus footage of their office, team and events, to introduce leads to the ins and outs of the business. Supporting statistics are presented as animated graphics reinforcing their story.
7. Saddleback Leather: Satchel Purse Product Video
Type of video: Product or service video
How it draws leads in: One of Saddleback Leather's key differentiators is how upfront they are about their wares. Just take a look at this product video — they show potential customers just how their bags look, feel and wear. This kind of honesty and authenticity allows them to connect with their audience and build trust over and above competitors that aren't quite so transparent.
8. Freshbooks: Sarah's Testimonial
Type of video: Case study or testimonial video
How it draws leads in: The real trials and tribulations of your real customers are powerful marketing tools. And these can be most powerful when you give customers the space to tell their story. Rather than talking about their business or what they offer, Freshbooks filmed a simple testimonial with their client Sarah. Its plain honesty makes it 10x more persuasive than the company talking about itself.
9. UpTo: UpTo Calendar App
Type of video: Product or service video
How it draws leads in: It's usually best to show your offering in action, even when you sell something hard to visualise like a service. By filming a real person using your porduct or engaging with your service, you make it that much easier to leads to visualise doing the same. That's why UpTo created this product video full of graphics of their app in use.
10. Moz: Why We Love Moz
Type of video: About us or culture video
How it draws leads in: What better way for leads to get to know you than hearing directly from your team? In this friendly culture video Moz interviews employees across the business to find out what it means to them. By showing the real people behind their brand, Moz immediately becomes more humanised and likeable for leads.
11. Slack: So Yeah, We Tried Slack...
Type of video: Case study or testimonial video
How it draws leads in: This is a case study with a difference. It's a balance of serious benefits and humorous moments which makes for a fun, stylised watch that never descends into fakeness. Slack manage to highlight their most useful features while always returning to the benefits for customers — almost like a success story and product video all in one.
Round-up: Build Leads' Trust with Consideration Video Content
Those were outstanding examples of how to use video content to build trust and deepen your relationship with leads on their way to sale. Awww.
When leads reach the consideration stage of the buyer's journey, they're more open to hearing from you about your products and services. It's up to you to grab opportunity by the horns and show them how you can help solve their problem. Don't be shy about reaching out to leads via email, on your website and any other channel where they've looking for answers — as long as you're not rude or agressive, this is the right time to get more explicit about what your offer.
Video in the middle of the funnel can help strengthen the connection between you and your leads like no other medium. Be honest, be confident and be real. Once your leads trust you, it's just a job of convincing them to take that final leap towards sale.
---

Written by Lydia Cockerham
Subscribe to video insights
Join 1,000 comms experts from brands like Boots, Experian & JCB and sign up for our latest posts.