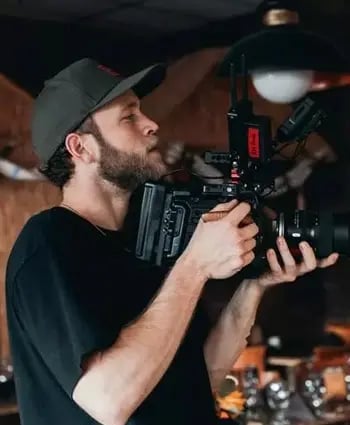 17 April 2023
Video production tips and best practices
Hiring a video production agency vs doing it yourself
Wondering whether it's better to hire a video production agency or make your own videos? This guide takes a closer look at the pros and cons of each option.
Wondering whether it's better to hire a video production agency or worth doing it yourself? This guide takes a deeper look at the pros and cons of each video production option.
Video content is an integral part of life. According to 2023 stats from DEMANDSAGE, there are 3.1 billion online video viewers every year. The same study estimates that video makes up 82.5% of all online content.
86% of brands are making use of video as part of their marketing strategy. From large corporates to small retailers, brands of all sizes and niches are making use of video to market products in a way that engages viewers. Video content has great power to educate, inform, persuade, instil emotion, and put messages across in an easy-to-consume way.
With the accessibility of entry-level video production tools and tutorials, many brands are considering creating their own video content to save money. However, is the DIY approach the way to go? Or is it better to invest in a professional video production company to ensure quality results?
In this article, we'll compare the pros and cons of hiring a video production agency vs. doing it yourself, so you can decide which is best for your brand.
PROS OF HIRING A VIDEO PRODUCTION COMPANY
Some of the biggest pros of hiring a video production company include:
PROFESSIONALISM
Video production companies are professionals, with experience and knowledge that allows them to craft high-quality video content. These companies have a team of specialists across all areas of production, from videographers to video editors, sound engineers, and other professionals who know how to get the most from your videos.
This means that every aspect of your video shoot is handled with professionalism, from planning to post-production.
EQUIPMENT
Video production agencies have access to state-of-the-art equipment used by specialised in the film industry. This equipment is expensive to rent or purchase. As the company comprises a team of experts, they will know how to use the equipment to deliver the best results, too.
Most companies have backup equipment that can be used to prevent technical issues or delays during the shoot.
CREATIVITY
Creativity is essential in the creation of any video. As production companies have teams of professionals on hand to bring fresh ideas, you'll have the benefit of expert advice. Creative teams can help you brainstorm, plan and execute your vision.
Strategy and planning will help bring your ideas to life, in a way that resonates with your target audience.
TIME-SAVING
The production process can take time… for the crews and teams working on your video, however, and not your company. Leaving things to the professionals means that you don't have to worry about spending a lot of time trying to do your own shoot. This leaves you to free up time on other aspects of your business.
A production company will handle every step of the production process, including planning, scriptwriting, filming, editing and distribution.
CONS OF HIRING A VIDEO PRODUCTION AGENCY
Some downsides to hiring a video production agency include:
COST
We won't sugar-coat it — hiring a video production company can be expensive. Most video productions start at around £15,000/$20,000.
These costs can seem high for small businesses or brands on a very tight budget. And prices can vary, depending on the type of video you are creating, the level of production, the location, the number of crew members needed, and other factors.
If you're wanting to work with a company but you're worried about costs, don't give up just yet. Most companies will help you find solutions that meet your budget. All you need to do is grab a quote!
Longer pre-production timeframe
While video production companies have the potential to bring fresh ideas and creativity to your project, they don't always have expertise in your industry.
When teams don't have pre-existing knowledge of your product or service, there is a bigger risk of disagreements over the direction of your video or even the final product once the video has been produced.
Any video production team worth its salt will take the time to really dive deep into your business and ideal customers so everyone is on the same page. This may mean that the pre-production takes a little longer than if you were to DIY it.
PROS OF DIY VIDEO PRODUCTION
Some of the pros of DIY video production include:
CHEAPER in the short term
One of the biggest benefits of DIY video production is the low costs. Wyzol statistics note that concerns over costs are a common barrier to making video content for many brands.
If you're worried about spending, the DIY approach is cheaper. But that doesn't necessarily mean it's cost-effective in the long term. The quality will likely be lower, and you won't have the expertise or insights at hand to be confident that your video is going to be a hit with your audience.
CONTROL
Leaving your ideas in the hands of an agency can be daunting. If you know what you want to do and know how to do it, you'll already have a set plan in mind.
With DIY video production, you have full control over every aspect of the project, from planning to execution. This means that your vision will be brought across in the final video once it's made.
LEARNING OPPORTUNITY
Creating your own video content gives you an opportunity to learn more about video content. You'll get to learn new skills, develop your creativity and have fun playing around as you create your own videos.
CONS OF DIY VIDEO PRODUCTION
The downsides of DIY video production include:
LACK OF PROFESSIONALISM
DIY videos very seldom give you the same level of quality as videos made by a professional video production company. The final video might look unpolished and obviously homemade. This isn't a great look if you're a corporate or a brand that wants to keep up a good impression.
LACK OF EQUIPMENT
While DIY video is certainly cheaper, it doesn't mean it's better. You may end up using cheaper, poor-quality equipment, and free versions of software tools rather than professional-grade tools and take shortcuts to save costs.
This can result in technical issues, poor sound quality and low-resolution videos that are more miss than hit.
TIME-CONSUMING
Making your own videos takes time and effort. If you don't have experience in video production, it can be even more time-consuming.
Besides the actual shooting, you have to factor in time for planning and brainstorming, editing and distributing the final product. If you're trying to run your business at the same time, this can be a huge challenge.
Results aren't guaranteed
If you've never created a video before, the chances are you're going to be learning as you do it. You don't have prior knowledge of what works and what doesn't. This could lead to a lack of ROI until you see how your initial videos are performing.
Because video production companies do this all the time, they tend to have a deeper understanding of what's working in video right now. They keep up with key trends, they've seen what works and what doesn't, and they know how to use these insights to make sure your video will perform the best it can for you.
TO SUM UP…
Ultimately, the decision on whether to hire a video production company or do it yourself comes down to your budget, goals and the level of quality you want to see in your video content. If you're making quick short-form videos just for fun or doing a viral trend, there's nothing wrong with taking a DIY approach.
If you're planning to make high-quality video content that brings your message across, engages viewers, builds brand awareness and makes your brand look good, you'll need a professional to help.
To find out more about working with a professional video production agency, get in touch with the Skeleton team and let's see how we can make your videos shine.
Written by Rox Bradnick Copywriter for Skeleton — a full-service video production agency that specialises in producing creative videos & campaigns that get real results.