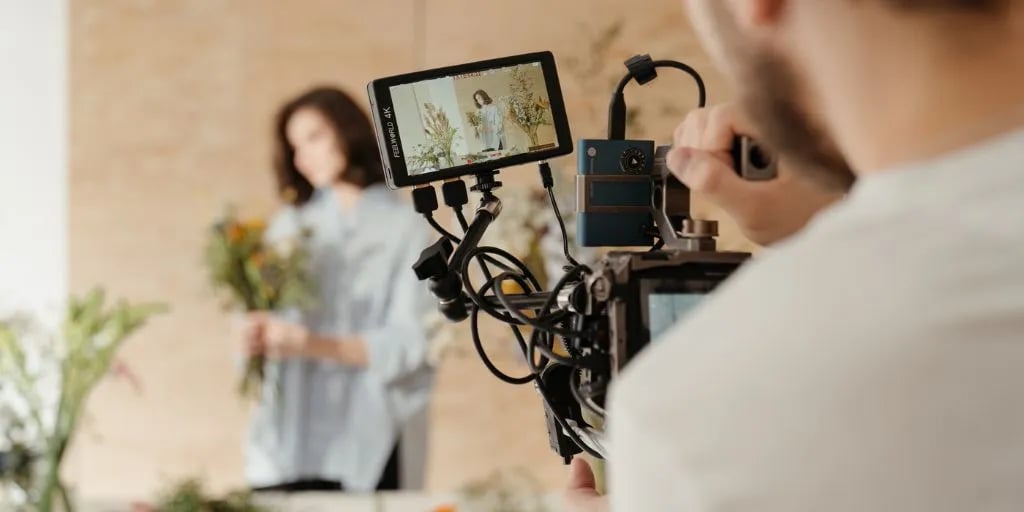 12 April 2023
Video production tips and best practices
Boost your marketing ROI with a video production agency
Here are just a few ways that a video production agency can boost your marketing efforts to drive brand awareness, increase leads and win you more sales.
Wondering how a video production agency can boost your marketing efforts to drive brand awareness, increase leads and win sales? Here are just a few of the ways a production company can deliver results.
As social media, streaming platforms and smartphones, video continues to be the most popular way for people to find information. Video content can inform, educate, entertain, engage, tell stories, and evoke emotion. Studies show that the average person consumes hours of video a day.
For brands wanting to leverage the growth of video, creating high-quality video content is essential. Businesses across all niches are using video as a way to connect to their audiences.
If you're not using video yet, your competitors are very likely integrating this type of content into their online marketing strategies. This means that you have a good chance of missing out on the many benefits this content has to offer.
With that said, producing professional-grade videos can be challenging. According to statistics on video marketing in 2023, one of the main reasons that brands are not yet using video is not knowing where to get started.
If you're not sure how to begin, a professional, experienced video production agency can help you get the ball rolling.
In this article, we'll take a closer look at how video production companies can boost your marketing efforts and drive results.
PROFESSIONAL QUALITY VIDEOS
The first and most obvious benefit of working with a production company is that you can be sure your brand has the advantage of high-quality video content.
Production companies have access to state-of-the-art equipment, experienced crews, pre and post-production tools, editing software, and everything else needed for your shoot.
Teams have experience in creating a wide variety of video content. This gives you the benefit of polished, professional videos that make the right impression.
STRATEGY AND PLANNING
Creating a video that resonates with your target audience isn't as simple as shooting a few clips and throwing them all together. An experienced video production company helps you with all aspects of the shoot, including one of the most important parts - planning.
The company will work with you to develop a plan that definites your target audience, message, and marketing goals. They'll also help you determine the best format and distribution channels for your video to make sure that your video gets maximum reach.
HIGHER ENGAGEMENT
To see results, your video needs to engage your target audience. The rise of short-form content combined with the short attention span of the average viewer means that you have just a few seconds to make an impression.
If you can't do that, viewers will close out of the video player before you've had a chance to get to your message.
People want to see video content from brands, though. People use videos to learn about products and services, find information and connect with brands. If your videos are not engaging your audience, you are missing out on the chance to bring in leads and drive conversion.
IMPROVED SEO RANKINGS
Video content is a great way to improve your site's ranking. As part of your SEO (search engine optimisation) strategy, video can help you get ahead in search engines.
Search engines are starting to prioritise video on front pages, along with snippets. This means that you have a better chance of getting your website seen.
As an added bonus, video content is more likely to be shared, and there are more opportunities to link your videos to landing pages, blogs and other pages, which can also improve your website's SEO.
INCREASED BRAND AWARENESS
Brand awareness plays a vital role in any online strategy. A professional video production company helps you put your brand in the spotlight, through well-crafted videos that boost awareness and reach a wider audience.
High-quality video content showcases your brand values and tells your brand's story. This helps you attract new customers, build loyalty, improve your reputation, make your brand look good, and get your message across.
MEASURABLE RESULTS
One of the best things about video marketing is that it's easy to measure results. Video production companies help you track metrics like views, engagement and conversion rates. This makes it easy to make marketing decisions based on metrics.
Measuring the results of your video content allows you to make adjustments and optimise your strategy so that you can get even better results.
BUDGET-FRIENDLY
Another barrier to adding video to marketing strategies is the worries about cost. You may assume that video content is expensive and way out of your budget. Before you decide to try and save money by attempting a DIY video, it's good to note that hiring a video production company is a cost-effective way to create high-quality videos.
Professional production companies give you access to state-of-the-art equipment and experienced teams. They can create videos more efficiently than you could do if making videos yourself. This helps you save time and money and ensures that the final product is perfectly produced in the process.
GREATER FLEXIBILITY
Working with a video production agency gives you plenty of flexibility in the type of video you aim to create. From promotional videos to product showcases, brand stories, corporate videos, explainer videos, ads, and many other videos, you'll be able to choose the type of video that best suits your needs.
To give you an idea of the huge variety of videos you could create with the help of your production agency, take a look at our work showcase.
COLLABORATION AND INPUT
A good production company will work with you each step of the way. Video content is a collaborative effort. Production teams will work with you to understand your brand, message and marketing goals. You'll get input throughout the process at all stages of production.
When you collaborate, you'll create videos that resonate with your audience in a way that drives conversion and helps you meet your marketing goals.
COMPETITIVE ADVANTAGE
Last but not least, working with a professional production agency is the best way to stand out from the crowd. Whatever type of video campaign you are planning, you need to get a competitive advantage.
Rather than creating the same old boring, generic videos that your audience sees every day, you'll have the chance to create something unique.
TO SUM UP…
Partnering with an experienced video production agency can be a game-changer for your marketing efforts. Producing high-quality, engaging videos that resonate with your target audience allows you to increase brand awareness, drive measurable results and gain a competitive advantage.
We'd love to tell you more about how our video production company can help you grow. Pop us a message and let's get the conversation started.
Written by Rox Bradnick Copywriter for Skeleton — a full-service video production agency that specialises in producing creative videos & campaigns that get real results.