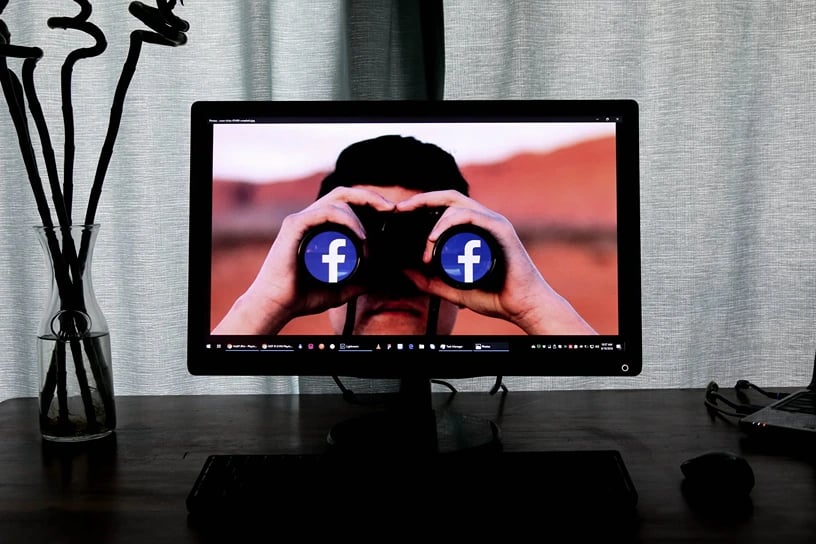 29 July 2019
Video production tips and best practices
How To Nail Your Facebook Video Marketing Strategy
Want to achieve more on Facebook? We've put together some top tips on how to nail your video marketing strategy with the social behemoth. Come on in and check them out!
Love or hate it, Facebook is a great platform for broadcasting your video content. Whatever your standpoint on the social behemoth, this article should give you the tools to nail your strategy.
Photo by Glen Carrie on Unsplash
Facebook video content, both live and pre-recorded, generates 8 billion views a day. According to our sources (well, Google) the current world population stands at 7.7 billion as of April 2019. So imagine every single person in the world sitting down to check out a piece of video content on Facebook at some point today. Or you could imagine sitting down once you finish work today and watching 8 billion separate pieces of video content. Either way, it's a lot.
Although you might think that Youtube is the ruling champion when it comes to video marketing, you'd be wrong. 81% of businesses now prefer to use Facebook for their video marketing.
The Social / Video Love-in
With video marketing quickly becoming one of the most powerful and popular methods of communicating your brand message to new and existing audiences, it's hard to ignore how effective including video content in your marketing strategy can be.
87% of online marketers now use video content to increase brand awareness, and with video being proven to be hands down more effective and memorable than text, if you're not using video it's time you checked the latest timetable for the bandwagon, booked your ticket and hopped on board.
Now we're not going to sit here and tell you how great video is at getting your message across, that's pretty obvious. What we are going to tell you are a couple of tips for jumping into the world of social media video marketing and how it can help to supercharge your video marketing strategy.
Go Native
It's easy to just share your video from Youtube rather than uploading the video directly to Facebook. However you should think twice before doing this, as it has been found that native videos on Facebook have a 10x higher reach compared to Youtube links.

Facebook's algorithm recognises native videos over shared video links and favours them, making your directly uploaded video more likely to appear on people's newsfeed - a handy hint to keep in mind when delving into Facebook video advertising.
Make the first few seconds count
When it comes to creating an effective video, the aim is to stop potential viewers from scrolling straight past. It's important to engage the audience in order to keep them watching the whole video. The first few seconds are crucial when it comes to capturing the audience's attention, as 20% of viewers are likely to click away from the video in 10 seconds or fewer (Renderforest).
A great social video should be creative and entertaining whilst also informing the viewer of your key messages in a comprehensive fashion - remember, people don't like being overwhelmed with unnecessary information and after all the less you say, the more likely people are to remember.
As native videos on Facebook automatically play as you scroll past, having a sharp and snappy intro to capture the attention of viewers is important to make your video count.
Facebook Live & Facebook 360
Facebook now offers "Facebook Live" and "Facebook 360" features, which provide a different way for you to engage and communicate with your audience. The use of these features give you the ability to connect with your audience in a more immersive and genuine way, and are a great way to promote new things going on in your business.
With 360 videos, viewers are able to navigate around the screen allowing them to watch your video from any perspective they like, giving a more experiential and connected feel.

Live videos are also a great way to engage with your audience in an immediate and authentic way, with a reported 82% preferring live video from a brand to other forms of social post (TalkPoint).
Of course, the most important thing to consider is whether these types of video content work well as part of your strategy. Don't just shoe-horn in some live content because it's what everyone else is doing - make sure it works as part of your strategy and make sure it adds value for your audience.
Optimize for mobile
Since over half of video content is viewed on a mobile device, it is important that your video is designed to be mobile friendly in order to make the most impact. Square videos create a better user experience for those viewing video content on their phone, as they show up better and work without viewers having to rotate their device.

Also it is important that your video is engaging and understandable both with and without audio, as 85% of Facebook videos are watched without sound (WordStream). Adding captions to your video can be a great way to work around this, as they allow you to get across you message even when the video is muted, plus Facebook has revealed that captioning a video can increase average video view time by 12%.
Facebook Ad Campaigns
Once you've created a great video for your brand, you want people to see it right? Organic reach on Facebook is becoming increasingly more difficult to obtain, meaning more and more brands and advertisers are pivoting to Facebook Ad Campaigns.


Depending on what you're looking to achieve, you can set up your ad campaign to target a number of different objectives, including:
Reach
Brand Awareness
Traffic
Engagement
Page Likes
Event Responses
App Installs
Lead Generation
All of the above objectives also work with the myriad of targeting options Facebook has available, with some examples shown in the table below. Essentially, if you've got key information about your target audience or even some detailed audience personas you'll be able to create a super-targeted strategy to ensure your video content gets in front of the right people.


| | |
| --- | --- |
| LOCATION | Users can be targeted down to country, county, city, postal code or a specific radius |
| DEMOGRAPHICS | Age, gender and language |
| DETAILED DEMOGRAPHICS | Data such as education, income, life events, parental status, relationship status, work |
| INTERESTS | Data such as hobbies/interests, sports, fashion, film/TV etc |
| BEHAVIOURS | Data such as upcoming anniversary, device usage, purchase behaviour, ex-pats etc |
| CUSTOM AUDIENCES | 1st-party data matching, retargeting based on interaction with your website, app or Facebook content |
| LOOKALIKE AUDIENCES | Ability to find new people on Facebook who are similar to an existing audience |
Of course, if you need a hand with delving into the paid side of Facebook video advertising you can always give us a shout - that's what we do!
A call to
arms

action

When building out Facebook Ad campaigns, adding a call to action button can be very beneficial when it comes to carrying out successful social media video marketing, with evidence showing that adding a call to action to your Facebook video ad can increase click-through rates by 285% (AdRoll).

With Facebook providing the option to add a call to action when you upload your video, such as "Book Now", "Learn More" and "Shop Now", this handy feature is an easy way for you to encourage your audience to take action by guiding them straight to what you have to offer.
Summary
Tackling a Facebook video strategy takes some work and a whole lot of testing. Some of the tips above are best practice and what others who've utilised Facebook video have found work for them.
The best strategies are those that are constantly measured, tweaked and optimised to ensure they're always performing at the best level they can. If the prospect of that is a little daunting just drop us a line, we're happy to have a chat on the best way to approach social video advertising for your business!
Written by Sam Stead Copywriter for Skeleton — a full-service video production agency that specialises in producing creative videos & campaigns that get real results.