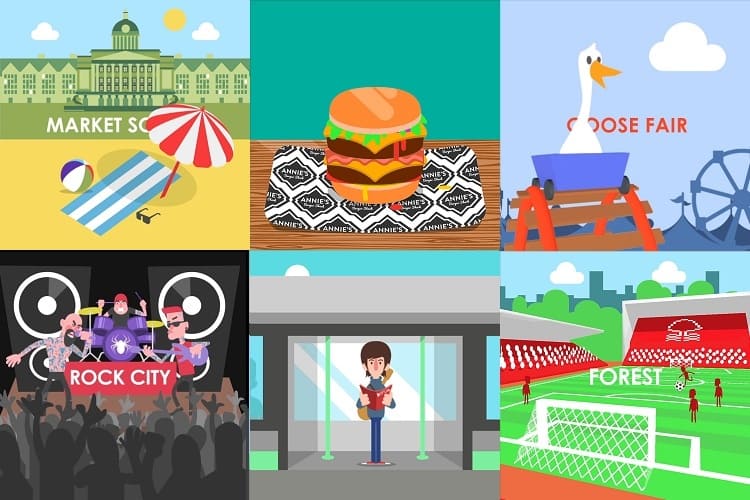 15 May 2016
Skeleton news
We Love Nottingham So Much We're Celebrating it with GIFs
We decided to capture the creative spirit of Nottingham in the form of 10 colourful cartoon animations. We present: the Nottingifs.
Enjoying the sweltering summer heat at Wollaton park. Ice skating under the giant illuminated tree in the market square at Christmas time. Meeting the famous Cockleman, bringer of joy and mussels, without fail every night out.
These are just some of our favourite things about Nottingham. They may well be yours too.

We wanted to do something unique to celebrate this crafty, crazy, chameleon city. This centre of culture and creativity, full of amazing individuals and businesses and clubs and charities all doing their part.
Something worthy of this place we call home.
So loyal Nottingham locals, ducks and duckies, we present to you: the Nottingifs.
That's right.
You're looking at a series of 10 GIFs that represent the spirit of Nottingham.
If you want to spread the love, please share this post. On Twitter you can use the hashtag #Nottingifs (it's cool, we know). You can also download the GIFs simply by right clicking on them and saving them as you would any other image.
We've been astounded by the amazing response to the Nottingifs. We were even on BBC East Midlands Today!
Everyone here at Skeleton was a part of making this project a success. But we'll let the real mastermind and creative force behind the Nottingifs do the talking.
Q&A with Troy Browne, creator of the #Nottingifs
Who are you and what do you do?
My name's Troy Browne. I'm the Motions Graphics Designer at Skeleton, a video agency here in Notts.
I animate things!
Why did you start this project?
We knew we wanted to do something to celebrate Nottingham and raise its profile as a massively creative city. So I thought it might be nice to do that through a series of GIFs.
Originally I was inspired by another animator who created a set of GIFs during a trip to New York. As a team we're always collecting inspirational ideas, and those GIFs were shared in one of our weekly creative brainstorming sessions. To me they felt like something I hadn't seen before. I thought Notts deserved to be celebrated like that too.
It's really a tribute to Nottingham, and what we feel embodies the city's spirit.
What's your connection to Nottingham?
I was born and raised here. I've lived here my entire life, my whole family lives here, and I'm very proud of the city.
What I love about Notts is that it's so multicultural. I was coming back from a party on Saturday and as I was walking home I heard Polish, Italian, Indian, all on that one walk home.
It's got such a strong creative history but sometimes I feel it's underrepresented or underappreciated. That's why I wanted to help show that creativity with the Nottingifs.
To me it's just such an open, diverse environment. There aren't really big divides between different kinds of people. It's freeing.
How did you come up with the ideas for the GIFs?
We came up with a really long list of ideas as a team to begin with. We all pitched in.
But ultimately I got to choose which ideas I thought best reflected Nottingham, and which I thought could be best expressed in the form of a GIF.
In terms of how I presented those ideas through animation, I suppose I was trying to be funny with a lot of them. I tried to come up with visualisations that would work well with colour and movement and would be visually interesting.
We also tried to hide little hints and jokes in the GIFs. I put in quite a lot of extra detail. I suppose a lot of the ideas we picked, or the way I presented them, are insider jokes for Notts locals. Like Batman being chased around Wollaton Hall by a deer, and Jake Bugg on the trams with a copy of the Left Lion.
It's been sort of a personal journey for me. I've probably got more hours invested in Nottingham than anyone, so I suppose it was only fair.
How did you find time to make the GIFs?
At Skeleton we do get some time to work on personal projects. The Nottingifs was a project I was very passionate about, so whenever I could fit it in I cracked on with it.
I suppose my own enjoyment meant I prioritised them to make sure they got done.
Actually, I had a real thirst to get them finished. Especially once I'd started making them, and saw them working together. I really wanted to finish them and see them all as a set.
Were they hard to make? How did you do it?
Well I started by sketching my ideas on paper. Then I drew up the scenes in Illustrator, and rigged and animated them in After Effects.
They weren't too hard, but I was trying to push myself with each one to learn something new. So I definitely picked up some flourishes and new touches to make them stand out.
I suppose they weren't hard because I really enjoyed making them and wanted to get on with them. I was definitely playing to my strengths, creating cartoons and humorous animations.
What's coming next?
I'd love to make more Nottingifs. I've made 10 so far, but there are so many other areas of Notts and its culture and history we'd like to celebrate.
Like I say, we've got a whole long list of ideas that we can return to. I'd love to make some of those into animations too.
We also want to get the people of Nottingham involved, so they can tell us what represents the city to them. We're planning on running some polls on social media so we can ask real Notts folk about what other GIFs they'd like to see.
(Editor's note: you can also click the pop-up over there to send us your Nottingif ideas!)
It was really hard cutting down those ideas. We tried to get a good spread of what Nottingham means to us, but there's so much more to celebrate.
I'm definitely hoping to return to the Nottingifs in the future.

Written by Lydia Cockerham Copywriter for Skeleton — a full-service video production agency that specialises in producing creative videos & campaigns that get real results.