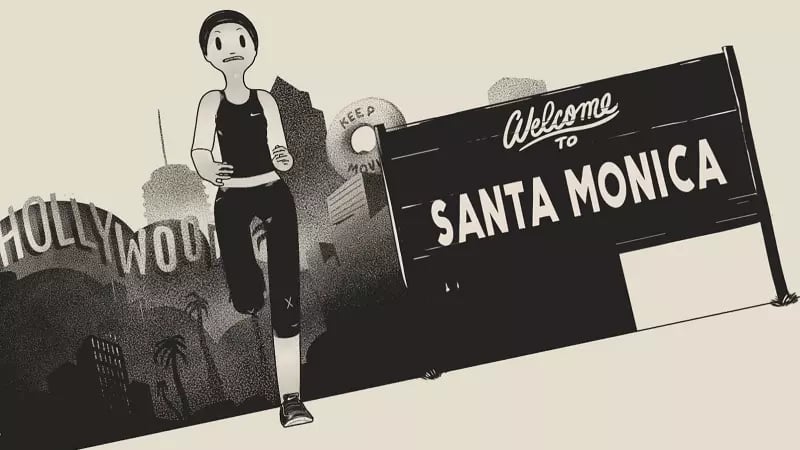 24 September 2017
Video inspo
6 Enchanting Personalised Video Examples that Build a True Connection
Personalised videos use your leads' details to create a uniquely tailored message. Here are 6 examples that show you how to get closer to your target audience.
What's the most powerful word you can use when talking to another person?
Their name.
We all react to hearing or seeing our name. Our ears perk up, our eyes get bigger. It's a natural response to sit up and pay attention.
With the power of personalised video, you can apply this principle in your marketing strategy.
As the name suggests, personalised video uses your leads, names, and other personal details like company, job role or birth date, to make your message more directly relevant to them. It's a clever blend of video and CRM data made possible with modern technology.
This is a specialist kind of video content that's best used near the bottom of the marketing funnel, when you have some information about your leads and are trying to convince them towards sale.
By connecting with potential customers on a very personal level, you can show them that you understand them and their needs better than any competitor. It's also very effective to share these videos with existing customers to deepen your relationship even further.
Here are 6 of the best personalised videos that go the extra mile to push leads to the end of their buyer's journey, and should inspire your own personalised video marketing efforts.
Video Content Marketing Strategy Template
Step away from confused, ad hoc projects. Create more strategic and effective video content.
Download our simple template for the planning framework you need to integrate video into your content marketing strategy.
6 Examples of Personalised Videos that Make Leads Feel Cared About... and the Principles that Make them So Impactful
1. Barclays - Speak Directly to Viewers
The point of personalised video is to create a closer connection to your leads and make them feel valued and important. So it's important to speak directly to them, as this example shows.
Breezy and relaxed, this video takes a straightforward approach, proof that personalised doesn't need to be overly complicated to be effective. Leads are guided through their potential options, as if they have an advisor right there with them. Barclays get lots of stuff right to build a connection to viewers: their name is spoken at the start (variations will be recorded of the most common ones) and they're shown actual figures for how much they can borrow over how long.
Plus, the video helps leads to evision the life they want. They're shown the car they could own and the house they could live in to really drive home the benefits of the offer. It's wrapped up with an informal but clear call-to-action which tells leads how to get in touch.
2. Marketo - Encourage Leads to Take Action
This example from Marketo breaks the first rule, that you should speak directly to your leads, but it does it in such a unique, amusing way that it works nonetheless.
Marketo grab our attention in this personalised video by taking advantage of our fear of missing out (also known as FOMO). A clever twist introduces the viewer into the storyline, as characters ask each other where "we" are rather than speaking to us directly. It creates a subtle urge in the viewer to respond in some manner, to set the score straight.
There's no push or pressure here, just a sense of tongue firmly in cheek. After watching, we do feel excited about what we could be experiencing and feel compelled to find out more about the event. Marketo are sure to include a strong, simple call-to-action at the end of the video so leads know exactly what to do now they're so invested.
3. Cadbury - Create an Emotional Experience
Cadbury have created a heart-warming and cosy personalised video through a mix of music, visuals and personal aspects naturally woven into the film.
We're hooked from the start by our name. (For these purposes, the viewer is George. Hey, George). The video quite literally puts the viewer centre-stage. We see "our" hands taking objects and pictures and putting them into a keepsake box. What could end up being a little unsettling actually works very well to create an emotional watch for leads.
How does it all work? Viewers are invited to log into their Facebook page to integrate their name and photos of them and a special person in their life (whether a family member, friend or partner) in the video. It's all generated as the video loads so the viewing process is smooth and seamless. Leads can then forward the completed film on. This smart mix of personalisation and interactivity leads to a totally unique, emotionally resonant video for everyone that watches.
4. Nike - Take Your Audience on a Journey
This elegant animation offers a powerfully inspirational spin on personalisation, with a journey that sums up the viewer's year entirely through visuals.
Leads are engaged by a story that's all about them. They experience all over again the achievements they reached this year, and are pushed to go faster and further in the year ahead. It's motivating and exciting, but in a way that's natural rather than a sales pitch. It feels like Nike genuinely care and are pushing us to achieve our best.
The power of the video is the way it aligns the viewer's goals with Nike's, bringing them and the brand closer together. It encourages leads to think about what they want for the future and perhaps how Nike can continue inspiring them to get there. By weaving their stories together, a stronger and more emotional connection is forged between brand and customer.
5. Jay Baer - Include a Little Humour
This simple personalised video from Jay Baer, founder of Convince & Convert, succeeds at grabbing leads' attention, surprising them, and making them like him that much more.
It's just a short thank you video, but this example also manages to offer viewers something funny and unexpected. The law of reciprocity means this small gesture of kindness compels leads to do something in return in the future. It's just silly enough to be earnest and heartfelt without to devolving into nonsense.
By not taking himself too seriously, Jay has created a personalised video that's a pleasure to watch. When we laugh, we connect. Leads are encouraged to engage more and feel personally involved in the bond that's been built between them.
6. BlueBiz - Offer a Human Touch
Personalised video can never replace the experience of speaking to a real human being. But it can offer a human touch when you can't necessarily connect in person, as this example proves.
BlueBiz, a corporate loyalty program for several airlines around the world, succeeds by offering an impressively tailored service to all their customers. When it comes to birthdays, it only makes sense that they celebrate them too. They can't call up every lead and client, but they can create a personalised video that gets sent out to relevant contacts on the right day.
It's a very simple approach, but a video like this shows a brand that's willing to go the extra mile to consider their audience. For both existing and potential customers, it's a thoughtful way to say that theirs is a relationship BlueBiz values.
Round-up: Create Tailed Experiences for Every Lead with Personalised Videos
Those were 6 personalised video examples that forge a stronger connection between brands and their leads and customers.
With the right mix of personal elements, emotion and creativity, this type of video content can add serious muscle to your marketing approach. You'll not only stand out in a crowded market and encourage your leads to take that final step towards sale, but you'll also strengthen emotional relationships with your current customers.
Just be sure to consider your entire video strategy, how and where video will be used throughout the marketing funnel and how personalisation can build on your existing efforts.
Video Content Marketing Strategy Template
Step away from confused, ad hoc projects. Create more strategic and effective video content.
Download our simple template for the planning framework you need to integrate video into your content marketing strategy.

Written by Lydia Cockerham Copywriter for Skeleton — a full-service video production agency that specialises in producing creative videos & campaigns that get real results.