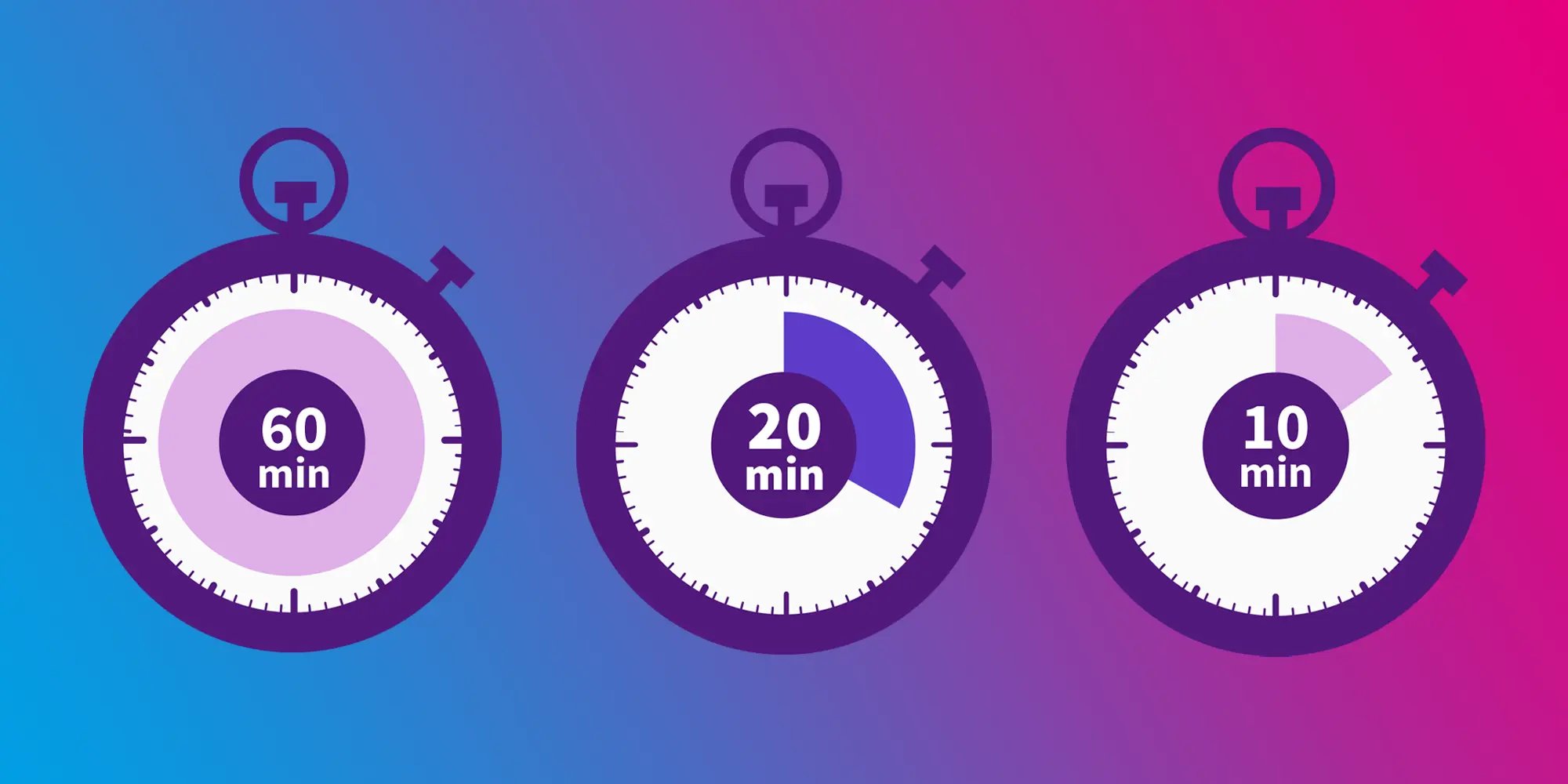 9 September 2020
Video production tips and best practices
How Long Should Social Media Videos Be?
An up-to-date guide on the ideal video length for each social media platform. From Facebook adverts, to Instagram Story videos.
It is so hard to grab and hold people's attention nowadays! There are distractions everywhere and an overwhelming amount of content for people to choose from, meaning you've got to work even harder for your content to to perform well.

The length of your video is paramount to its success, with 59.9% of people indicating that a video being too long would strongly deter them from watching.

So, shorter is better, right? As you've probably guessed, it's not quite that simple!

Your videos should not only be tailored to your audiences distraction-prone tendencies, but to the platform you are sharing the content on. Chances are your audience on YouTube will be more willing to watch a 4 minute video, than on Instagram where users won't give it more than 15 seconds (at a push!)

Customising your videos to your platform is the key to holding your audience's attention and ensuring your video content performs. Which is why we created this handy guide to the optimal video length for the most popular social media platforms. We've combined our 10 years of expertise in video with existing research in the area to help optimise your videos.
Facebook video lengths
Organic reach on Facebook has been declining for years. The saving grace? Facebook's algorithm loves video!

The platform has been trying to restart user growth by showing users more content from friends and family and less from businesses, with video being the only exception. Facebook tends to promote video posts further organically than non-video posts, providing businesses with a huge opportunity.
In-feed posts [24 to 90 seconds]
In-feed video content can be up to 4 hours long on Facebook. But just because you can upload a Lord of the Rings film, doesn't mean you should.

The most successful videos tend to fall between 24 to 90 seconds long. But be sure to do your own research and have a look at your Facebook analytics to see what length videos you audience engaged with the most. For example, Hubspot found that their audience engaged most with videos that were under 1 minute, so now cap their videos at 60 seconds.

In-feed video length: 24 - 90 seconds
Facebook Stories [<20 seconds]
Facebook Stories can only be 20 seconds long and expire after 24 hours.

These disappearing short-form videos are becoming more and more popular with users, as an easy way to produce video content and see the behind-the-scenes of businesses.

Whilst this is a very short piece of content, use the time cap wisely. Ensure you put the juiciest bit of content in the first 5-10 seconds to capture users attention before they swipe past.

Stories video length: <20 seconds
Facebook Live [10 minutes to 4 hours]
Facebook Live is a great way to connect with your audience and meet new customers. It gives your audience a chance to meet the face behind the business and understand your brand's story and objectives in more detail, ultimately helping them to become brand ambassadors.

One of the benefits of Facebook Live is that it offers a long time limit, giving you up to 8 hours if you're recording on desktop and 4 hours on mobile. Now, I am not suggesting you use all this time, but the longer your video runs, the more discoverable your stream will become.

Facebook Live video length: 10 minutes to 4 hours (8 hours on Desktop)

Top tip: don't go below 10 minutes to give users enough time to be notified and tune in.
Facebook Adverts [ad objective dependent]
The length of your Facebook video ad depends on the type of advert you are running.

For in-stream video ads (ads placed before or during other video content), Facebook recommends 5 to 15 second long videos. However, they can be up to 31 seconds.

For news feed ads, Facebook recommends creating short ads that are 15 seconds or shorter as they, have higher completion rates, so you can successfully share your entire message.

They have also suggested for mobile advertising that you make really short ads. Compared to 15 - 30 second video ads, 6 second ads showed, higher brand metrics across the board.

Facebook in-stream video ad length: 5 - 15 seconds
Facebook news feed video ad length: 6 - 15 seconds
Click here for a full breakdown of how to nail your Facebook video marketing strategy.
LinkedIn video lengths
LinkedIn was the last one to join the video party, only launching native video in 2017. Better late than never!

Ever since then video content has only grown in popularity, earning on average three times the engagement of text posts on the platform.
In-Feed Posts [30 seconds to 5 minutes]
It is important when creating video content for LinkedIn to remember that viewers aren't your standard social media surfers, they're professionals typically at work with more time to view content. Which is why LinkedIn recommends videos should fall within the brackets of 30 seconds to 5 minutes.

LinkedIn In-Feed posts video length: 30 seconds to 5 minutes


LinkedIn Adverts [ad objective dependent]
LinkedIn suggests that you should optimise your video length based on your ad objective. For example, for brand awareness and brand consideration videos should be under 30 seconds (15 seconds is ideal) and you should test longer videos for demand generation.

Brand awareness/consideration videos: <30 seconds
Upper-funnel marketing videos: 30-90 seconds
Storytelling/insight videos: up to 10 minutes
Instagram video lengths
The general rule of thumb, is that Instagram video content should be short.
Why?
Instagram users are often young, multitasking and often travelling, so have much shorter attention spans and are looking for short form content that will excite them. They are also used to scrolling quite quickly through the feed, therefore stopping for a long period of time for a video may feel unnatural.
To capture your audience's attention and stop them from scrolling past your post, your content needs to be short in length, have a good story and be visually exciting.
In-feed posts [26 seconds]
In-feed videos can be up to 1 minute, as that is the upper limit the platform will support, but we suggest keeping it much shorter.

According to Hubspot research, videos that are an average of 26 seconds receive the most comments on Instagram.

Instagram in-feed posts video length: 26 seconds
Instagram Stories [15 seconds]
Snapchat may have pioneered the short-form, temporary video content, but Instagram has taken it a step further and made it an enormous success. The feature has skyrocketed in popularity, showing a 300% growth rate in under three years and is not slowing down any time soon. Instagram Stories are a great way to grow brand awareness, show the behind-the-scenes and humanise your company.

Convinced Stories are great for marketing? Good!

Now, how long should they be?

Videos on Stories are capped at 15 seconds, but you can post as many 15 second stories as you want or post a longer video over multiple 15 second scenes. Facebook recommends using stories with 3 15 second parts as this is the most engaging.

When it comes to advertising, however, you are limited to the 15 second video length. So make sure your video is visually exciting, breaks through the organic content and captures your audience's attention.

Instagram stories video length (organic): 15 seconds (x3)
Instagram stories video length (paid advert): 15 seconds
Instagram Live [10 to 60 minutes]
Unlike Facebook Live which gives you up to 4 hours air time, the maximum length on Instagram Live is 60 minutes. You can start another live broadcast immediately after if you need longer, however you run the risk of losing viewers.

Much like Facebook Live, longer is better. Shoot for at least 10 minutes to allow enough time to attract viewers and avoid running over the 60 minute cap, unless it is carefully orchestrated and communicated to viewers.

Instagram Live video length: 10 to 60 minutes
IGTV [< 10 minutes]
IGTV (short for Instagram TV) is designed to be long form content, so generally your video should be as long as it needs to be to get your point across.

Generally, your videos can be up to 10 minutes long, however larger and verified accounts can have up to 60 minutes as long as it is uploaded from a computer.

IGTV video length: 15 seconds to 10 minutes (60 minutes for larger accounts)
Instagram Reels
Instagram launched it's new feature "Reels" in August 2020 to rival the ever-growing TikTok. It is the newest feature to the platform and as a result has not been utilised by many businesses yet.
Reels allows you to record and edit short videos up to 15 seconds in the app. You can record one or multiple 15 second clips to make longer or shorter videos.
Not much research has been done yet into the optimum length of a reel, but much like TikTok, as long as your videos are fun and engaging they can be as long as necessary.
Instagram reel video length: 15 seconds (multiple)
Twitter video lengths
Organic posts and adverts [< 30 seconds]
The platform allows users to post videos anywhere between 20 seconds and 2 minutes, but Twitter users are used to short updates so I would apply this brevity to your videos, keeping your content under 30 seconds.

We recommend making shorter teaser videos posted natively and linking to the full video on platforms like YouTube and Facebook.

Twitter video length: < 30 secondsYou
YouTube video lengths
YouTube videos [< 2 minutes]
The world of YouTube is vast, with content varying from music videos, to movies, to tutorials, to product demos. It's no wonder it is the second largest search engine in the world.

As a result, users are used to watching long form content. But unless you're planning on giving them a binge-worthy TV series, they're not going to stick around for longer than a couple of minutes.

Hubspot found that audiences engaged the most with content that was under two minutes, so try to keep your videos within that bracket.

YouTube video length: < 2 minutes
YouTube pre-roll adverts [15 - 30 seconds]
In-stream ads (aka. Pre-roll ads) are the ads played automatically before YouTube videos. They're not a fan favourite as they are intrusive and prevent viewers from seeing the content they're looking for (even if it is only for a few seconds).

As a result, shorter is better!

The most effective YouTube pre-roll ad length is 15 to 30 seconds. However,

3 types of pre-roll ads and lengths:

Bumper ads
Ads that users must watch before they can access the video.

Length: 6 seconds

Non-skippable ads
Viewers must watch the full ad to access the video.

Length: 15 - 20 seconds long

Skippable ads
Viewers must watch the first 5 seconds before they can skip to watch the video.

Length: 6 - 20 seconds long

What is crucial for pre-roll ads is grabbing the viewers attention. You must hook the viewer in the first 5 seconds before they can skip past the ad.
Pinterest video lengths
Organic posts [15 - 30 seconds]
Video pins are an excellent way for your business to tell a more comprehensive story about your brand, product or service. Pinterest users come to the platform to shop, plan and get inspired which puts brands at an advantage as they are actively looking for products or services, so are more open to being promoted to.

In general, Pinterest videos should be kept short and sweet. Videos around 15 to 30 seconds perform well, unless it is an explainer or demo video which can be longer. Videos can be up to 30 minutes long, but keep it shorter with an engaging, pinnable thumbnail.

Pinterest video length: 15 to 30 seconds
TikTok video lengths
Organic posts [15 - 60 seconds]
TikTok is the newest addition to video content marketing and has taken the world by storm being the third most downloaded app in 2019, growing to 500 million users in its first year. The platform is also becoming a great marketing opportunity for businesses.

TikTok is a much more informal and fun platform, which provides a space for businesses to show their personality and spontaneity. But, to truly engage with users you need to ensure your videos are formatted optimally.

Initially, videos on TikTok could only be 15 seconds long, but this has now been extended to 60 seconds when you string 4 15 second segments together. However, this only applies to videos filmed natively on the app. Videos created outside of the app and uploaded can be longer.

Best practice is to keep your videos as fun and engaging as possible. If you do this, the length of the video won't matter as long as your content keeps viewers watching. TikTok's algorithm is primarily influenced by average video watch time, meaning the longer people watch your videos the higher you will rank and the more exposure you will get.

TikTok video length: 15 - 60 seconds (longer if created outside the app)
Summary
Yes, the average social media user has a short attention span, but this doesn't mean you can't engage them with video.

Just remember to tailor your video to the platform in both length and content, so you can make your brand stand out from the crowd and stop their thumb from scrolling past!

Written by Imogen Hibberd Copywriter for Skeleton — a full-service video production agency that specialises in producing creative videos & campaigns that get real results.