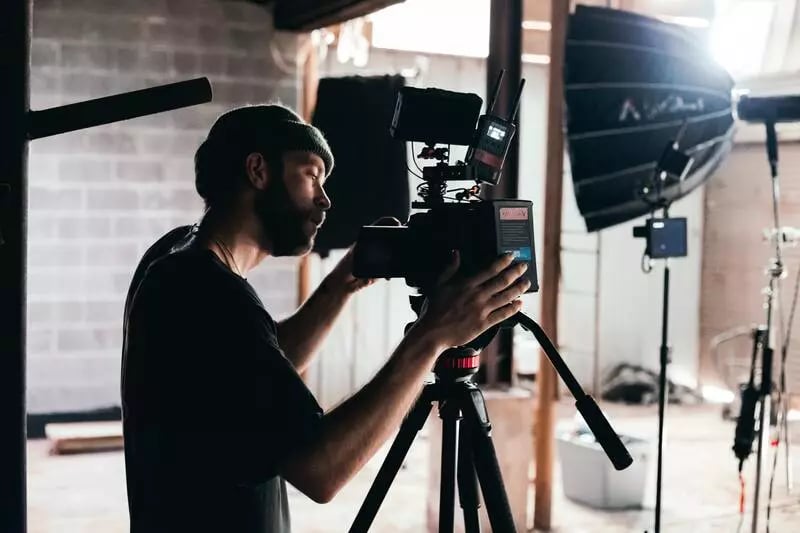 18 April 2023
Video production tips and best practices
Tips & Best Practices for your next corporate video production
Whether you're a small business owner or a large corporation, people want to know who you are and what you do. In today's digital age, corporate video production should be an integral part of your marketing strategy. So, where do you actually begin?
A well-produced corporate video helps showcase your company's culture, products, and services, while also engaging and informing your target audience.
We've got some handy tips and best practices that'll assist you in creating an impactful and memorable corporate video that lives on beyond the screen.
We've already proclaimed that video is king; but just how important is video production in 2023? Recent studies show that 89% of people say watching a video has convinced them to buy a product or service. Now, that's something to take more notice of.
And get this — according to BroadbandSearch, 50% of the world's internet users watch videos and product demos before purchasing anything.
So not only do people love consuming video content, but it actually converts them into loyal customers. The question shouldn't really be focused on if you should be creating a corporate video for your business, but how you can do it best.
There's no time like the present, and now is literally the best time to start investing in high-quality video production for your business.
Tip 1: Define Your Why and Who
Before we get into the production side of corporate video creation, it's essential to first gain a better understanding of why you're doing this and who you're talking to. The target audience should guide all your on-site conversion efforts, including content, navigation, and calls to action.
A brand's voice encompasses more than words, and not understanding potential buyers of your products is a sure way to miss out on sales.
Ask yourself a few simple questions when defining the objectives of your corporate video and the target audience you want to reach:
What do I want to achieve with this video?
Who is my ideal target audience?
What story do I want to tell?
How can I convey my message – simply and beautifully – using video?
In order for your video to reach the right people, it's crucial to have a clear understanding of your objectives and ideal customer. Have issues defining your target audience? This quick guide can help. Most importantly, creating a video tailored to your audience's specific needs will result in a more effective and engaging video.
Tip 2: Create an Engaging Script
Once you've locked in your objectives and target audience, it's time to get to the heart of your video: the script. The script is the most important part of your corporate video as it sets the tone for the rest of the production.
People are social – they want to personally connect to the content your company produces, and the script is your way in. When writing the script, remember to keep it real and lighthearted, while still staying professional.
Having a clear message plus a well-written script will not only have you authentically connecting to your audience, but also have your video shared across all digital platforms.
Tip 3: Choose The Right Style and Format
A corporate video is often intended for a specific audience rather than the general public, which means the style and format of your video should reflect the same sentiment. When producing your video, take note of the different styles and formats you could use.
Some of the most common formats include explainer, promotional, brand, testimonial, and educational videos. Each has its pros and cons, so deciding on which best fits your objectives and target audience is key.
Choosing the right format is a valuable opportunity for the innovation of your company, so spend time brainstorming exactly which story you'd like to tell and how you'd like to be visually represented.
Tip 4: Create a Solid Storyboard
Turning your dream into reality – it's not as simple as it sounds, right? You might have a clear idea of what you'd like the video to look like, but does everyone else?
Storyboards help bring your vision to life by providing a clear way for everyone involved to understand what it'll look like. It's used as a visual guide that will assist you throughout the production process.
By planning your video, you know exactly what elements are needed, which shots you need to create, and how to create them when filming begins....
Tip 5: Plan and Prepare For The Shoot
Weather, location, timing and talent are all critical factors that are vital when planning any production. Before shooting your corporate video, it's essential to consider all of the aspects below.
Where will you be shooting?
Does your location have indoor and outdoor options?
Do you need a permit to shoot?
What equipment will you need?
Have you sourced the right talent?
Do you need any props or mics on set?
Are you still within your production budget?
Is everyone on the team comfortable with the production schedule?
These elements can make or break your production, so give yourself a few weeks to iron out the finer details to ensure smooth sailing on shooting day. Alternatively, speak to us and let's chat about how we can collaborate and make your corporate video come to life.
Tip 6: Be Ready For Shoot Day
Time to create some magic! Ever wonder where the phrase 'lights, camera, action' comes from? It isn't just a saying we use, but a traditional cue to the crew at the beginning of a take. Check that your team has control of the lighting, sound, and camera angles before going ahead with the shoot.
A long day on set can also strain your talent, so remember to check in on them to ensure they're feeling good. The cameras don't lie, so any emotion your models or actors feel will appear on the screen. You want your talent to feel their best so your video comes out precisely as you envisioned.
Be sure to always shoot more footage than what you think you'll need. This is handy when looking for B-roll footage to flesh out your corporate video.
Tip 7: Expert Fine Tuning and Post-Production
Post-production is where all the separate elements come together to create one cohesive piece of content. During post-prod, you'll review all the footage and choose the best shots for your corporate video.
A good editor is like a good make-up artist; they can completely transform the final video by dicing and editing it into a thing of beauty. Once you've chosen your favourite shots, the editor will add any final touches like colour grading, music or special effects. It's important to remember your original objectives and target audience at this stage — as these will help you tailor the video perfectly.
Tip 8: Publish and Engage The Masses
Once your video is complete, it's time for the world to see it. And you should be proud of this moment.
One last thing to consider before hitting that 'upload' button is to include on-screen text and subtitles. Remember that some people will view the video in public and may not have headphones handy.
Many watch a video for a few seconds before deciding to turn the sound on, so grabbing their attention in the first few moments is absolutely vital.
When uploading your video to your website or social media channels, it may be worth investing in a paid media strategy to ensure your video reaches and engages the right audience – and masses of people in that audience.
A well-executed corporate video is a powerful marketing tool to add to your marketing strategy, helping you to authentically engage with your audience.
Looking for a corporate video production company, but not sure where to start? Reach out to us and let's do something amazing together.
Written by Jana du Plessis Müller Copywriter for Skeleton — a full-service video production agency that specialises in producing creative videos & campaigns that get real results.