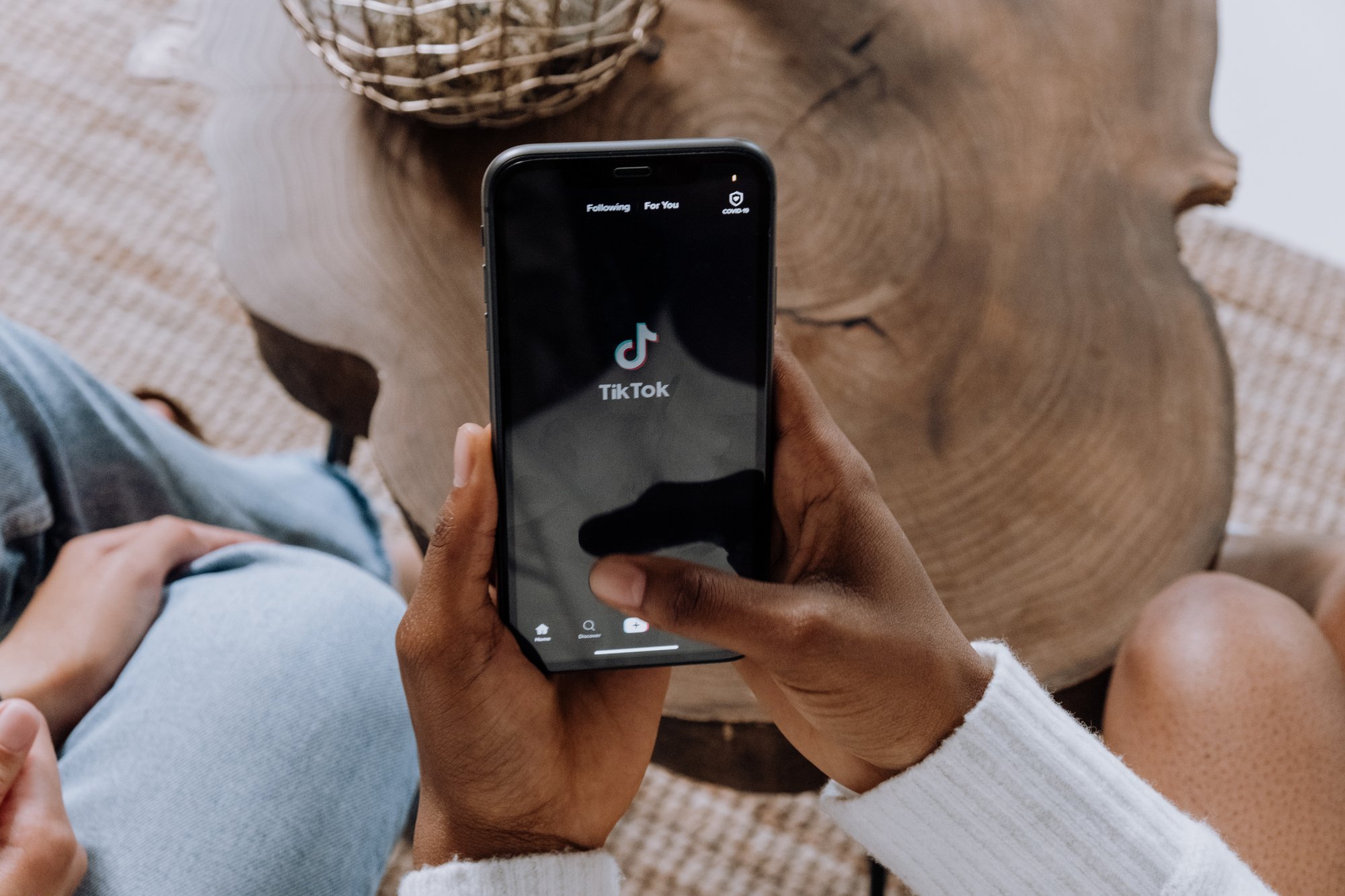 11 April 2022
Video tips
TikTok stats that every marketer should know
Interested in learning more about how to introduce TikTok to your marketing toolkit? Here are some compelling stats found by a self-confessed TikTok sceptic. Well, former-sceptic...
To be honest with you, when I first heard about TikTok, I was 100% not excited about it. Rolling my eyes, I thought: 'here we go again, another platform that'll flop in a year'.
I, like a lot of people not in the Gen Z camp just didn't get any of the content. Wasn't it just teenagers dancing and lip-syncing to music? What on earth am I, a Marketer in my late 20s going to do with that?
The truth is that a lot of brands and marketing teams look at TikTok, see the type of content on there, and can't see themselves being able to do anything with it. That, my friend, is all about to change.
Since the days of lipsyncing and dancing videos, TikTok has experienced explosive growth, and I'm personally astonished at all the opportunities that have popped up for brands to leverage. Let's dive into it.
Why should brands be on TikTok?
"Isn't TikTok just for Kids?"
First off, let's address the elephant. The common perception people have when it comes to TikTok is that it's just a lipsyncing app for kids, but that's actually a misconception. Yes, TikTok has now surpassed Instagram for popularity among Gen Z users (born between 1997 and 2012) in the United States, with 37.3 million compared to Instagram's 33.3 million.
But it's also making big gains in other age demographics: in the first quarter of 2021, 36% of TikTok users were between 35 and 54 years old, compared to 26% in 2020.
It's also worth noting that all the social platforms that are now the major players such as Instagram, Facebook, and Twitter started with younger demographics, and then aged-up.
With hashtags spanning topics such as education, science, cars, gaming, financial advice, comedy, and many more, the perception that TikTok is just a lipsyncing app for kids no longer stands, but why else should brands be marketing on TikTok?

1. TikTok is exploding with users right now
There are 8 new users joining TikTok every second, with an average of 650,000 new users joining daily. With this level of growth, TikTok is expected to reach 1.5 billion users by the end of 2022. That's a lot of people.
2. The organic reach is just *chef's kiss*
Remember Instagram's organic reach in the early days? TikTok is kind of like that but better. You could have absolutely zero following when you post your first video, but TikTok will see what your video is about and show it to potentially thousands, if not millions of users interested in that topic.
A great example is Oreo's challenge campaign, which involved people putting an oreo on their forehead and without using their hands trying to manoeuvre the oreo into their mouths (a challenge I can personally get behind). This challenge influenced people to go to the shop, buy Oreos, and try the challenge themselves.
But it doesn't stop there, oh no. Users ended up filming themselves attempting the challenge, meaning Oreo had millions of fans making marketing content for them. Delicious.
What people love about TikTok is that you get to see a whole different side to brands. It's an opportunity to show off your brand's personality. You know, be the fun uncle for once! It's a fun look for oreo, instead of your typical marketing. There's no hard sell, just people using Oreos for something fun. And this is really important for TikTok content to do well. I'll talk more about that in the 'How Should TikTok ads look?' section below.
3. TikTok is the most engaging of all social media apps
TikTok users like connecting with brands, with 73% reporting that they feel a deeper connection to companies they interact with on the platform.
And with an average user session of 10.85 minutes, TikTok's engagement is more than twice as long as the second-most engaging app, Pinterest, which clocks in at 5.06 minutes per session. It's also more than three times longer than users typically spend on Instagram, at 2.95 minutes per session.
Why? Simply, users have the opportunity to engage with others in a more enjoyable way than on other social platforms. Think about the kinds of engagement you can have on Instagram and Facebook — you can like a post, comment on a post, maybe share if you really like it, and send DMs. But on TikTok, you have the opportunity to duet with a brand's video, meaning you can easily create reaction videos and add something to their content. There's also the sound element of TikTok, which allows you to use another user's sound for your own video.
4. Yes, your audience is on there.
You'd be surprised about how many industries have found a foothold in the app with quality, TikTok-specific content.
For example, in 2021, Finance TikTok grew by 255%. TikTok's What's Next Report 2022 found that topics related to investing, cryptocurrency, and all things finance exploded this year. There's also an active and rapidly growing personal finance community on the app, helping folks use their cash wisely.
Compared to 2020, views for videos tagged #NFT grew by a ridiculous 93,000%, and 1.9 billion videos were posted to the app under the #crypto hashtag. And if you think they're all your typical professional financial videos, you'd be wrong; financial topics are also subject to TikTok's weirdness, as shown beautifully by the hashtag #TikTokDogeCoinChallenge.
Even if your brand has nothing to do with finance, the growth of FinTok shows that any industry can find a foothold in the app if they're making quality content. Whatever your brand's niche, you can be certain your audience is on there.
5. The infinite marketing loop of TikTok
TikTokers are 1.5x more likely to immediately go out and buy something they discovered on the platform compared to other platforms' users. In August 2021, TikTok and Shopify announced a new integration to allow in-app shopping. But that change is bigger than just click-to-buy.
Interestingly, TikTok sees the retail process as an infinite loop, not a marketing funnel. In other words, the buyer journey doesn't "end" with a purchase — it loops back on itself, with users posting about their purchase, offering feedback on products, and spreading awareness on their own profiles.
Following a purchase, one in four users has made a post about their new product, and one in five has made a tutorial video.
Organic vs. paid marketing on TikTok
Like any social network, there are two main ways brands can market to their audiences on TikTok — organic and paid.
Organic
Organic on TikTok is, quite frankly, the wild west right now. Users are seeing huge reach, even without large followings. If you were to post something on Instagram and Twitter without a big following, no one's really going to see it. On Tiktok, you have the opportunity to have a following of zero, post your first video, and get thousands if not millions of views.
The TikTok algorithm is so powerful that everyone has a totally different experience on the platform. Apart from Pinterest, I've not seen a home page so tailored to my interests. So if your brand is posting about your industry (however niche that might be), you can bet you'll get the right eyes on it.
You can also get involved by interacting with other high-performing creators. For example, TikTok's biggest "in-joke" last year was created after user Emily Zugay started (very badly) redesigning some of the most iconic brand logos (including Gymshark). Each video racked up millions of views and caught the attention of some of the country's largest companies, who then requested their own logos become victim to her questionable art. Now, the makeshift logos can be seen being used as the profile pictures of many of the brands' official TikTok accounts.
Organic TikTok is giving brands a microphone so they can be a whole lot louder and get in front of a brand new audience. This means you can grow your brand following at a much faster rate, with fewer pieces of content.
Paid
TikTok for business is the app's ad platform, and this is where you're going to run all your TikTok ads. It used to be exclusive but they've since made it available for all businesses that want to run ads, meaning companies of any size and budget can hop on the ad platform and start boosting posts.
The best part? You don't need a TikTok handle to post ads, meaning that, unlike Facebook, you don't need to build out a company page before seeing results. This is a game-changer for businesses without huge followings.
At the minute, the cost per click is lower than most other platforms, but of course, this will change as more companies get on there. At the minute, we're in that golden age where brands can get lower conversion costs.
You can post ads under five objectives:
Reach
This is for when you want to reach the largest audience and increase your brand awareness.
Traffic
This is for when you want to drive people to your website or landing page.
Video views
This is for when you want to get more eyes on your content.
App-install
This is to increase awareness of and get people to install your app.
Conversion
This is for when you want to make sales, baby!
The most important thing to remember is that a paid TikTok needs to look exactly like a regular TikTok to do well. Let's dig into that more…
How should TikTok ads look?
I'm now going to go through some best practices for TikTok.
Format
First of all, it's a vertical video platform, which means you need to ensure your videos are vertically shot. So if you can help it, avoid reusing the landscape videos you've created for Facebook, Instagram, LinkedIn or Twitter in the past.
Length
Until recently, TikTok users were limited to 60 seconds for their videos. But in July 2021, TikTok began giving users the option of uploading videos up to three minutes in length — and then in 2022, 10 minutes.
Look and feel
I know I've said it a couple of times already but I can't stress this enough - you need to make TikToks that don't look like ads. Your usual marketing video content won't work here, because they need to camouflage into the platform's ecosystem in order to perform well.
Remember I told you to be the fun uncle? Jump on trends, join challenges, create challenges, and use current trending sounds and music with your videos.
My favourite example is Duolingo's frankly unhinged TikTok presence. Aside from their slightly menacing green owl mascot commenting on other people's videos telling them off for forgetting to do their lesson for the day, their posts don't really have anything to do with the language learning platform.
In one of their most-watched posts, Duolingo's owl (named Duo) is seemingly asking for singer Dua Lipa's hand in marriage, riffing on the joke that people often confuse Dua Lipa for Duolingo. They're not obviously selling anything with these posts, but they are getting eyes on their brand, getting people talking about them (and, case and point, writing blog posts about them), and most importantly, they're getting downloads.
Sound
Artists and musicians are increasingly adding their music to TikTok to market their singles and albums. This means that TikTok has an extensive library of new and radio-played music that you can use without needing to worry about copyright.
Captions & text
Using text in your video can help make it look more like a regular TikTok. Plus, adding captions increases impressions by 55.7%
However, while voice-to-text is an exciting feature that increases the accessibility and reach of videos, a lot of users hate the automated voices that TikTok offers. So maybe invest in quality captioning and voiceover to ensure their videos have maximum reach and appeal.
Conclusion: To market well on TikTok, you've got to think like a creative.
TikTok is in a creative league of its own, so what you post to Facebook, Instagram, LinkedIn or Twitter won't work there. For your TikTok content to do well, you need to know what TikTok trends are happening that week and how your brand can be reactive, get involved and creatively leverage those trends. Don't stress about selling your product or service — put down your social marketing playbook, join the chaos, and have fun with it.
---
Subscribe to video insights
Join 1,000 comms experts from brands like Boots, Experian & JCB and sign up for our latest posts.