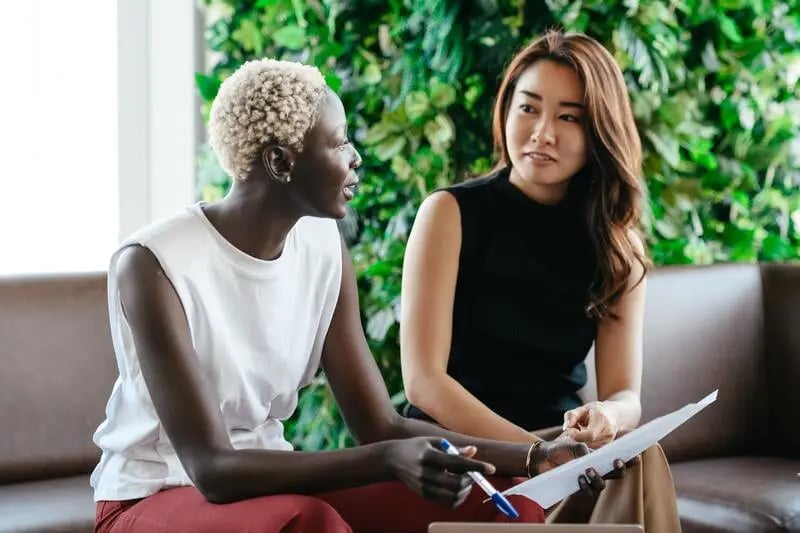 17 April 2023
Video production tips and best practices
Legal aspects of working with a video production agency
Understanding the nitty-gritty contracts, rights & agreements of working with your video production agency is essential. In this guide, we'll outline the fine print involved in video production.
With more brands using video than ever before, understanding the legal aspects of working with a video production agency is essential. In this guide, we'll break down the fine print involved in video production.
Research states that in 2020 over 3 billion internet users were streaming or downloading online video content around the world, at least once a month. This number is expected to grow each year, with around 3.5 billion people watching video content by 2023.
Additional research on the rise of video content shows that in 2023, a massive 91% of businesses plan to use video in their marketing strategy.
These numbers tell us a great deal about how the demand for quality video content is increasing rapidly. And, more significantly, how an overwhelming number of brands plan to leverage this growth by making video content a priority.
With this rapid growth, there are a few challenges that brands have to navigate. These challenges go beyond the more obvious challenges of finding the right video production agency, setting budgets for video marketing strategies and creating video campaigns that engage target audiences in the best way possible.
One of the biggest challenges is the legal aspect of video production. The waters here are rather murky, and that's not a good thing for brands who don't know the ins and outs of things like contracts, intellectual property, ownership rights, and other confusing small print.
When there is no clear understanding of the legalities of video content, problems can arise. After spending a great deal of time, money, and planning to create a video that puts your message across, the last thing you want is a team of angry lawyers on your back.
How do you know how things work in the legal scheme of things? What should you know before you start working with a video production company?
In this article, we'll share some information that'll help you stay out of trouble when creating your videos.
CONTRACTS AND AGREEMENTS
Contracts and agreements form the basis of every business relationship. As such, these should always be clear and well-written. Any contracts you receive from your video production company should be read through carefully.
Typically, things that you can expect to see in the contract include the scope of work, timelines, deliverables and payment terms (more on those later). You can also expect some points on any contingencies or potential issues that could come up during the project, whether these are scope changes or delays.
Go over the contract carefully rather than signing it on the spot. If you're not sure about anything, always ask so that you are 100% clear on the details. A good video production agency will walk you through the contract to explain anything you don't understand. Be wary if any company tries to rush you to sign, glazes over any confusing jargon or doesn't answer questions clearly.
RIGHTS AND OWNERSHIP
This is an extremely important aspect when working with a video production company. Failing to understand rights and ownership can result in big problems down the line - something you really want to avoid.
Generally speaking, video content produced by the company is owned by the company. They own the rights to the content, and you'll have the license to use the content.
This is because the company has produced all aspects of the video, and also handled pre and post-production. You might have commissioned the work, but the company has produced the work.
With that said, every company and situation is different. The specifics of rights and ownership should be clearly outlined in your contract. Make sure that you know how you can use your videos on various marketing channels and know what rights you have to the video.
INTELLECTUAL PROPERTY
A similar thing to understand is intellectual property.
You may want to use your favourite Taylor Swift song for that beautifully produced, inspiring promo video. You might see photos or footage that you know will be perfect for the training video you are planning.
That doesn't mean you can use everything you see, though. Any music, images, footage or other content used in your video has to be fully licensed for commercial use or owned by the video production company. Without permission or rights to use the content, you can expect to run into some very serious legal problems.
Trademarks and copyrights should also be considered. If your video has any brands, logos or other copyrighted material, be sure that you can use it without legal repercussions. Your contract should cover this, too, and your video production company should offer help if you need any permissions or rights.
PAYMENT TERMS
Payment terms will be outlined in your contract. This is yet another reason to read over any agreement you get before you sign. You should fully understand when payments are due, and what might happen in the event of late or missed payments. When in doubt, ask your production company to explain how their payment terms work.
You should also know about any additional costs that might come up during the project. If project scope changes, location changes, more equipment is needed, delays happen for some reason or anything else happens that could affect costs, you'll need to know what to expect.
You don't want to end up with a massive bill because these terms were hidden away in a sub-section of general payment terms.
TO SUM UP…
Partnering with a professional video company is the best way to create high-quality videos that reach your target audience.
An experienced production company will know how to get the best results. With state-of-the-art equipment, highly skilled crews and resources to help you plan, produce, edit and distribute your video, a production agency will take your videos to the next level.
To get the best results, you'll need to have an understanding of the legal landscape. This will give you peace of mind knowing that your project is in good hands, with all the contracts, terms, rights and details sorted.
At Skeleton, we focus not only on creating stellar work but also building solid relationships with our clients. Give us a shout and we'll tell you more about what to expect when working with a video production company.
Written by Rox Bradnick Copywriter for Skeleton — a full-service video production agency that specialises in producing creative videos & campaigns that get real results.