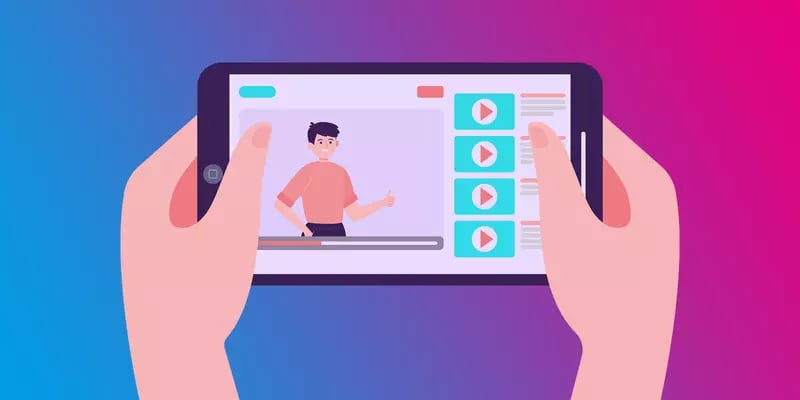 19 October 2020
Video production tips and best practices
8 Best Video Hosting Sites For Businesses
So you've created your video? Let's talk about the best video hosting sites for your business. From free sites like YouTube, to premium options like Wistia.
There is no disputing that video should be a key part of any businesses marketing mix. But, after spending all that time and effort creating your videos, working out which video hosting site you should use probably feels like another annoying thing to tick off your never ending to-do list.

Luckily, we wrote this handy guide to help you through the process. We've looked at the 8 best free and paid video hosting sites, including the main features, pros and cons, and the pricing plans to help you find the best hosting solution for your business's needs.
Why do I need to use a video hosting site?
The problem
Let's set the scene: You've just created a shiny new video for your website. It might've even been made by us (lucky you!) Now, where are you going to put it so it will be seen?

Unlike a photo, you should never upload a video directly to your website and host it there. Video files take up a lot of space and bandwidth and even if you have a dedicated server or virtual machine, it can put a huge load on your server even with a small amount of traffic.

So, what does this mean?

This often results in playback errors when people try to watch your video, as well as potential compatibility and quality problems for people using different browsers or mobile devices. When you've just spent a lot of time and money on your video, you want it to be watched in its full glory!

And if that wasn't enough, hosting your video on your website can decrease your page speed. Page speed is a major SEO ranking factor, so if your site is slow it may impact where you rank on search engine results pages and therefore reduce the volume of traffic you get.

The solution
To avoid the problems that come with self-hosted videos, we always recommend our clients use a third-party online video hosting site.
What is a video hosting site?

Online video hosting is a website where you can upload and store your videos to use in your marketing, for example, on your website or in an email marketing campaign. Depending on the platform you choose, your videos will be available for anyone to view online. YouTube is a prime example of this. You upload your video to YouTube and suddenly it is available for anyone to watch, in any country, on any device and in high quality. But, certain platforms allow you to make your video private so that it will only be shown where you want, like your website.

Finding the right video hosting platform for your business is key, as not all hosting sites are created equally. We've listed out our top 8 video hosting sites with the pros and cons of each to help you find which platform will suit your needs.

8 Best Video Hosting Sites

Free video hosting sites



Most of you probably want to know: where can I host my videos for free?

Thanks to social media, your free video hosting options are ever growing and you are not limited to video giant YouTube. We've taken an in-depth look at the pros and cons of the different free hosting platforms below.

Let's get the most obvious host out of the way first!

YouTube is the second largest social media platform in the world and, according to Medium, over 6 billion hours of video are watched on the platform and there are 1.9 billion users active on the site every month. For a content creator, you can't really argue with the ability to tap into the vast inherent audience that YouTube offers.

But, does that mean it is the best option for hosting your videos online? Let's take a look at the pros and cons.
Pros
Huge user base and exposure that is unmatched on other platforms

No limit to the data storage or bandwidth

Can easily put the video on your website with an embed code

Offers basic analytics to track engagement and reach (great considering it is free)

Can use the ad platform to monetise your content

Robust music library to add to your videos

Private and unlisted options to remove the videos from public view

Cons
Basic embedding options, with a very simple, branded iframe player.

Ads will automatically play, even on content embedded on your website.

With over 300 hours of video uploaded per minute, the volume of videos on the platform means that if you don't optimise for SEO, your video is a needle in a digital haystack.

Videos must be less than 15 minutes long. However, this cap is lifted once you verify your channel.

YouTube wants people to stay on YouTube. Or if your video is on your website, they want to lure them away. Be aware that if a user has the "autoplay" feature turned on, the next video will start playing straight after your CTA, taking users' attention away from your brand (see below).

Plans
There is no disputing there is high exposure potential on YouTube and if you're looking to increase brand awareness or to gain followers, then it may be the right choice for you. But don't be surprised if a cat playing the piano outperforms your video by the millions!

From a business perspective, it could be an essential part of your content strategy, but it is not the best choice for hosting your videos. If you want users to stay on your website and learn about your product or service, then opt for a paid video hosting site to ensure they continue on their buying journey.
Over the years Facebook has been steadily improving and increasing its video functionality and offering. It is the only platform that can compare to YouTube in audience size, in fact, its audience is bigger!

Similar to YouTube, it is free to host your video on Facebook and your video will be shared publicly to its huge audience. But, Facebook is a social media platform first, not a video sharing platform.
Pros
Unlimited, free hosting.
Videos can be up to 240 minutes long.
It is easy to share videos, exposing you to a huge audience of potential viewers.
Embed feature allows you to easily play your videos on your website or blog.
You can monetise your content with Facebook's advertising platform.
Cons
Ads automatically play on all videos.
Videos default to play without sound, so you need to ensure your video can be understood without sound.
Organic reach has declined steadily for businesses over the years, so to benefit from it's 2.7 billion users you may want to invest in advertising.
Basic, branded and low quality embedding options.
Videos can be seen publicly.
Plans
The platform is free to host your videos, however if your objective is to increase brand awareness and reach it is worth considering that you'll need to invest in advertising on the platform.

Facebook is a good option for content creators looking to build an audience and marketers looking to build brand awareness or create audiences for ad campaigns. But, if you're looking to embed your videos on your website or in email campaigns, this is not the option for you.

If you want to improve your Facebook strategy, take a look at our blog which outlines 10 ways to level up your Facebook video marketing.
Dailymotion is another video hosting site that has a customer-facing side, much like YouTube and Facebook, providing more opportunities for your video to be found. It walks the line of being a social platform, but has a more "newsy" vibe. Users can search for content or find it through the sections like "Featured" and "Topic of the moment".

Similar to YouTube it has a very easy-to-use interface and a simple Media Manager for content management. It also has a similar partner program for its creators to monetise their videos through advertising. The program opens you up to features such as, media management, analytics and distribution.

It is the most obvious YouTube competitor on the list, claiming to have over 300 million unique users. But when compared to YouTube's 1.9 billion, it's small fry.

Pros

Free unlimited bandwidth and storage.

Customisable widgets, superior player technology and personalised branding tools.

Official partners can access analytics such as social traffic, audience retention, minutes watched and more.

Can earn money from your videos.

Can easily add links to websites and social media.

Editing capabilities to include ad-breaks or create video clips.

Opportunity for audience building with less competition.


Cons
Smaller audience than YouTube and Facebook.

Ads automatically play before, during and after your videos.

Users are limited to 96 video uploads per day, capped at a total of 2 hours of video per day.

Restricts video length to be no longer than 60 minutes.

Plans
Free, but has a partner program to monetise content.

It's not close to the size of YouTube yet, but Dailymotion provides an opportunity to build an audience with less competition in a more news-like environment.

Vimeo is like YouTube's more conservative cousin. And you'll be surprised to hear it is actually 3 months older than the video giant.

It's a very similar platform to YouTube, but caters to people who are more serious about video and creative professionals. This makes it a great place to share certain types of video, such as original short films, original animations, indie music videos, or extreme sport/nature videos. But, if your content falls outside of these categories you may struggle to attract an audience.

Another difference to YouTube is that it gets considerably less traffic, but that's not the be-all and end-all! It is far more important to get quality users who are interested in your product or service watching your videos, rather than quantity.

As you can see below, YouTube does get a lot more direct traffic, but Vimeo beats it in other sources like referrals, organic search, social media and email. Also, users on average spend 15x longer on the site per visit on Vimeo, indicating much higher quality traffic.
Pros
A community of creative professionals.
Unlimited bandwidth for all videos across all paid plans.
Ad-free video uploads, even with free plans.
Customisable video embeds.
Built-in social media and Google Analytics integrations.
Can direct users to related videos or links at the end of the video.
Higher quality traffic than YouTube.
Cons
Free plan has a storage limit of 5GB and 500MB per week, which won't be enough if you need to upload a large amount of videos or live streaming.
Have to have a paid plan for privacy options, customer support, and customisation options.
Narrow audience.

Plans
Vimeo does have a free plan called Vimeo Basic, but you are limited on storage and upload space, alongside not being able to access certain features. Unlike YouTube, Facebook and Dailymotion, Vimeo monetises its platform through selling hosting services rather than ads. So if you want to experience the true benefits of Vimeo, such as better features and unlimited storage, then we recommend signing up to one of their paid plans.

Vimeo has some of the most flexible paid plans around, ranging from £6--70/month depending on the upload limit and storage you need.
Paid video hosting sites
Now let's take a look at the best premium video hosting sites for businesses.
Our favourite!

This is what we use to host all our videos at Skeleton as Wistia is specifically designed for businesses. With a focus on data, customisation and integration with third-party services, Wistia aims to suit your businesses needs in every way.

What makes it unique from other platforms, is that it caters to the needs of data-driven businesses and expert digital marketers with it's standout feature: impressive analytics. With viewer heatmaps, viewer-based tracking and engagement graphs, their analytics are unparalleled and may be worth the service alone.
You can use your videos on your website to generate custom audiences for remarketing campaigns and even capture leads and integrate the data directly with a CRM from within the platform.

Wistia verges on being a digital marketing solution, rather than a video hosting site!

Pros
Business-focused.
High bandwidth usage.
Easy to embed on your website with no ads and full customisable player.
Integrates with many third-parties, such as, Hubspot, Google Analytics, Pardot and Marketo.
Detailed video analytics that are easy to interpret to inform marketing decisions.
Can be used for team collaboration by sharing videos internally and marking them as private.
Videos aren't displayed publicly.


Cons
Costs can be high if you exceed bandwidth limits - so keep and eye on these!
Free account holders have the Wistia logos on the videos.


Plans
You can start by uploading three videos for free, with access to custom video tools and a Wistia branded player. This is perfect for businesses just getting started with video. Once you upgrade to the "Pro" plan, which is £77/month, you can upload as many videos as you want (the first 10 videos are free, the rest are charged at £0.19 each per month). If you're serious about video, then you'll probably want to go a step further and get the "Advanced" plan, which includes 100 videos, A/B testing and access to priority support.

If you're looking for a professional, business solution for video hosting on your website, Wistia is the perfect platform. It lets people watch your videos in a sleek player with no ads, and provides a treasure trove of data to inform marketing decisions.
If you're interested in using Wistia to host your video, then check out our guide to measuring success on Wistia here.
Much like Wistia, Vidyard is definitely up there as one of the best video hosting sites for businesses due to its extremely professional hosting services. From powerful marketing tools that increase your chances of conversions, to a long list of features that will set you up for success.

The downside? The price.

Vidyard's pricing for businesses starts at $300/month and they aren't transparent with this, as you have to contact sales to get this price tailored to the features you want. So this is for those really committed to video!
Pros
A marketing-centric platform that helps improve conversion-rate.
Tailored packages to suit your needs, meaning you don't pay for features you don't need.
Unbranded and customisable player for embedding on your site with business plans.
Provides detailed analytics.
Can easily add custom CTAs and run A/B testing.

Cons
Plans
All of these premium features make VidYard a top contender for the best video hosting site, but it may be too expensive for a lot of businesses.
Jetpack is one of the most popular WordPress plugins and does just about everything from security, performance, marketing, to design tools. But, what you might not have realised is that it offers video hosting as part of its Security and Complete plans.

Pros
Completely ad-free and fully optimised video hosting for WordPress.
Unbranded and customisable player for embedding on your site.
Unlimited video hosting (premium plan).
Features like auto play, size limits for video containers in your post, preview videos and CSS for custom styling.
Detailed stats inside your WordPress dashboard.
Cons
2TB cap on storage with the Premium plan, but the Professional plan doesn't have limits.
Lacks the advanced features that other premium hosting sites offer, e.g. you can't include CTAs or collect leads.
Plans
Jetpack is a great option for WordPress site owners that already have either the Security or Complete plan, but if you don't it is worth looking at other options with more advanced features.
As their name suggests, Sprout Video is all about growth!

Whilst the platform doesn't offer anything that it's competitors don't, it is still an option worth considering. It's a business-focused platform that offers some great marketing functionalities. It may not have as many features, but it offers more with the ones it does, such as video resolution (hello 8K!)

It is a simple, but good, service that offers what most general video creators need at an affordable price.
Pros
Already supports ultra HD videos (up to 8K.)
Tracks impressive analytics, such as which countries your video is being viewed in and how individual viewers interact with your video.
Currently have a free trial which allows you to access their full features for 30 days.

Cons
All plans are limited to 500GB bandwidth.

Plans
If you want to sign up after your free trial, they have four plans to choose from:
It is worth remembering that all the plans are limited to 500GB bandwidth, so that is an extra cost to consider.

If you're looking for a video hosting site that supports up to 8K video, then Sprout Video is the one for you!
What is the best video hosting site?
Finding the best video hosting site for you depends on what features you require, how many videos you plan on hosting and your business's needs.

Do you want advanced analytics, customisation and lead capture opportunities? Wistia will be your perfect video marketing friend.

Do you want to integrate your video seamlessly into your WordPress site? Vimeo is probably the most suitable site. Or if you're a paying Jetpack subscriber already, you can use it for your video hosting needs.

If you're creating top-of-the-funnel video content and want to reach new audiences and increase brand awareness, then YouTube and Facebook bring that to the table.

There isn't a definitive answer. As always, it completely depends on what you want your video to achieve and your budget.

We usually recommend our clients combine different platforms in their strategy. Use a paid, premium solution, such as Wistia, to host your videos and ensure you have full control over your content and marketing. Then grow your audience and reach organically by taking advantage of free social platforms like Facebook and YouTube.
Not sure which platform to choose?
We'd be more than happy to chat to you about which platform might work best for you and your business. Just
Written by Imogen Hibberd Copywriter for Skeleton — a full-service video production agency that specialises in producing creative videos & campaigns that get real results.