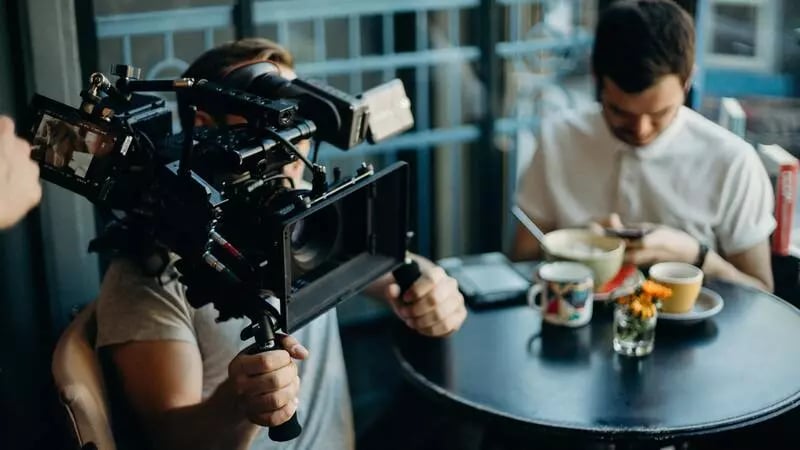 18 April 2023
Video production tips and best practices
What to know about working with a local video production agency
You may be wondering whether to hire a remote video production agency or work with a local one. This no-frills guide to the ins and outs of working with a local production agency will cover a list of pros, cons and other things to consider.
From pros and cons to other considerations, there are a few things you'll need to think about when deciding to work with a local video production agency.
If you're not already making use of video content in your marketing strategy, you're missing out. Brands of all sizes and niches are leveraging the power of video as a way to engage their audiences and boost their online presence.
Due to its easy-to-consume nature, video captures attention far more easily than other forms of content. According to a DEMANDSAGE survey on video statistics for 2023, online video is expected to make up an astounding 82.5% of all web traffic, making it the most popular type of content on the web right now.
Whether you're aiming to drive brand awareness, educate customers, increase leads, increase traffic to websites or improve your overall conversion rates, video is an essential addition to your marketing efforts.
Don't make the mistake of assuming that you can see results by putting a few badly made DIY videos up on your social platforms and hoping for the best.
To be truly effective, video content needs to be created by professionals who have the skill, resources and experience to create high-quality videos.
Choosing the right video production company can feel a bit overwhelming - especially if you're not quite sure what to look for when choosing a production company. Research shows that not knowing where to begin is something that holds brands back from using video.
One thing you may be wondering is whether to hire a remote company or work with a local video production company to produce your videos.
Going local has many benefits but there are also some potential drawbacks. In this guide, we'll tell you what you need to know about working with a local video production agency so that you can make an informed decision on whether local is best for your brand.
MAIN BENEFITS
Some of the biggest pros of working with local video production agencies include:
LOCAL KNOWLEDGE & EXPERTISE
Local production agencies have a solid understanding of local culture, trends, locations, and regional customs. They know what types of videos resonate with local audiences. This means that they can create videos that target your audience effectively.
Better still, local agencies have good relations with other local businesses, meaning that they have a network that helps to find locations or any other resource you might need.
CONVENIENCE & ACCESSIBILITY
Anyone who's ever tried to work remotely on a larger project involving multiple teams knows just how frustrating it is to get everyone on the same page. A local production company allows you to meet in person to discuss projects.
This makes it easier to build a closer working relationship with every person working on your video shoot, from camera crew to directors, producers, and editors. Getting together in person removes potential misunderstandings, too, as you're sitting down with teams rather than chatting remotely.
Another pro in the convenience department is having better access to equipment and resources, saving you time and money as you won't have to stress about getting everything to your shoot location.
SUPPORT THE LOCAL ECONOMY
In today's tough financial times, supporting the local economy helps to create jobs and assist small businesses.
If you're looking to build a positive reputation for your brand, choosing a local production company demonstrates your commitment to the community.
POTENTIAL DRAWBACKS
Potential downsides to working with a local video production agency include:
LIMITED OPTIONS
Depending on your area, there may be limited options available when finding local production companies. You may have to compromise on quality to find someone local or end up paying more to get access to the resources you need.
Choosing an experienced company based outside of your area can provide more value in the long run rather than risking a poor-quality video.
HIGHER COSTS
You may end up spending more money in the long run if you work with a local company - especially if you're in a larger city. Many small local production agencies have high overhead costs, from rent to salaries and equipment.
Hiring a remote company that better suits your budget means getting all the resources you need, along with highly skilled teams who're able to deliver perfectly made videos.
LIMITED SCALABILITY
According to the DEMANDSAGE survey we spoke about earlier, 86% of brands are using video as a major part of their marketing strategies. If you're aiming to create multiple videos, a local agency may not be a feasible option.
Smaller local video production companies lack the resources to handle larger projects. This means you either have to risk doing in-house videos or looking for a remote agency.
OTHER CONSIDERATIONS
What else should you know before deciding whether a local video production company is right for your needs? Here are a few considerations:
REPUTATION & PORTFOLIO
Before choosing a local company, make sure that you do your homework. Check out their showcase, view reviews and testimonials, see if their work has resulted in awards and look at their website to get a better idea of their quality, experience and expertise.
COMMUNICATION & COLLABORATION
Communication is key for any project. Make sure that the company makes communication and collaboration as simple as possible. Have clear expectations and goals from the onset and schedule regular check-ins so that everyone is updated throughout every stage of production.
BUDGET & TIMELINE
Finally, be upfront about your budget and deadlines. This goes a long way in avoiding nasty surprises or delays down the line. You'll get the best results, without any worries about overspending or other issues.
TO SUM UP…
Working with local video production agencies has many benefits that can make it easier to get the most from your video content strategy. But there are also some downsides that are important to note.
Having a clear idea of the pros and cons will help you weigh up your options to make a decision on which is best for your unique needs.
At Skeleton, our goal is to help brands create high-quality videos. Our work speaks for itself. With numerous awards under our belt, we work hard to give our clients the best service at every stage of production, from planning all the way to post-production.
Wherever you're based, we're here to help. Give us a shout to find out more about what we offer as a professional video production company.
Written by Rox Bradnick Copywriter for Skeleton — a full-service video production agency that specialises in producing creative videos & campaigns that get real results.