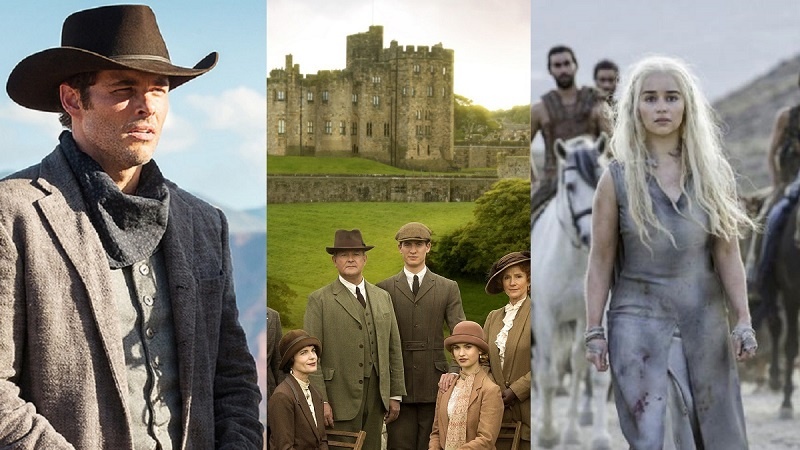 25 September 2017
Video learning
Which Blockbuster TV Show Are You as a Marketer? [Quiz]
What kind of marketer are you? We've created a silly little quiz to help you understand your own personal style of marketing... through your favourite TV shows.
Brave. Confident. Smart. We all want to be the kind of marketer we'd look up to, even when we're frustrated by the boss or rushing to meet a deadline.
It's all about knowing yourself. That way you can acknowledge your weaknesses — and play to your strengths.
But what kind of marketer are you?
What values do you treasure above all others? What makes you get up and go in the morning? What do you love that others hate?
Not sure where to start with those questions?
Never fear. We've created a silly little quiz to help you understand what kind of marketer you are... through your favourite TV shows. We've also collected a list of all types of famous marketers to help you find your marketing soulmate (and hopefully learn more about yourself in the process).
First, indulge us and take the quiz:
Are you done? Make sure you are, because beyond lie spoilers for the potential results!
Ok then. Without further ado...
8 Kinds of Marketer — Which Are You?
(& Who's Your Marketing Soulmate?)
The Game of Thrones kinda marketer.
This marketer. This marketer. They love a spectacle. They're all about trying new things, pushing the limits, and doing things other marketers wouldn't dream of. What keeps them going is the rush of the unknown. The most annoying part? They almost always pull it off.
| | | | | |
| --- | --- | --- | --- | --- |
| Creates wonder | • | Experimental | • | Loves new ideas |
Your marketing soulmate: Gary Vaynerchuk
Gary Vee has been innovating, disrupting and other such buzzwords for over a decade now. He made his name by taking his dad's wine selling business and catapulting it into the 21st century with an e-commerce store and a daily YouTube show called Wine Library TV (less than 10 years later, the business had grown from $3 million to $60 million).
Since then he's started the ever-popular #AskGaryVee Show, launched a digital agency, and can be found hanging out on pretty much ever social channel under the sun. He's famous for his brash, bombastic persona, ridiculous work ethic, and a habit of always being right.
You might love: Big, loud, exciting brand films (get inspirational examples here!)
The Walking Dead kinda marketer.
As relentless as a bloodhound or a ravenous zombie, this marketer won't give up until they've got their hands on their target audience. Their favourite kind of marketing is highly targeted — forget generalised branding campaigns, they want to be knee-deep in emails and retargeting.
| | | | | |
| --- | --- | --- | --- | --- |
| Focused on the sale | • | Dogged | • | Determined |
Your marketing soulmate: Dale Carnegie
You probably know Dale thanks to the books he wrote: most famously, How to Win Friends and Influence People. He wasn't what you might traditionally call a marketer, but his thinking has impacted marketing for almost 80 years.
Dale said "You can make more friends in two months by becoming interested in other people than you can in two years by trying to get other people interested in you." His insistence on speaking directly and honestly with others and appealing to their personal interests can't be overstated — for him marketing wasn't about you, but your customer. And for that he'll always be remembered as an influential honourary marketer.
You might love: Convincing and targeted sales videos (get inspirational examples here!)
The Sherlock kinda marketer.
To this marketer, every new campaign is a mystery to solve. They don't stop investigating until they know the answer to their questions — whether about CRO, ROI or SEO. Yes, they tend to have massive egos, but it's all balanced out by their incredible sleuthing skills.
| | | | | |
| --- | --- | --- | --- | --- |
| Curious | • | Needs answers | • | Always investigating |
Your marketing soulmate: Brian Dean
Brian Dean exploded onto the digital marketing & SEO scene in 2012 and has been one of the most highly-respected experts in the industry ever since. Famous for his exhaustive studies into ranking factors, Brian has long advocated an approach of testing, tweaking and learning.
It's got him far — though he started out in the early 2000s with a string of five failed online businesses, now he runs an agency that makes millions each year in training and consulting. Thanks to his trusted trial-and-error technique, today the likes of Apple, Amazon and IBM all turn to him for SEO advice.
You might love: Clear and simple explainer videos (get inspirational examples here!)
The GBBO
kinda marketer.

Say hello to a real people person. As a natural storyteller, this marketer loves nothing better than getting stuck into one-on-one social communication or customer success stories. Clients adore them, and their marketing is always stronger thanks to that personal touch.
| | | | | |
| --- | --- | --- | --- | --- |
| Loves people | • | Storyteller | • | Finds communicating easy |
Your marketing soulmate: Leo Burnett
Back in 1999, Time magazine drew up a list of the 100 most influential people of the century. Leo Burnett was the only adman (or woman) on that list.
It's not hard to see why — he's behind some of the most iconic characters and ad campaigns of all time, including Tony the Tiger, the Jolly Green Giant and the Marlboro Man. His work with companies like McDonald's, Hallmark and Coca-Cola drove his advertising agency Leo Burnett to massive worldwide success. And his insistence on finding the humanity behind every ad means his legacy will continue to live on for many years to come.
You might love: Affecting, storytelling-driven video documentaries (get inspirational examples here!)
The Planet Earth
kinda marketer.

Slow and steady is this marketer's motto. They're not about flashiness, but rather timeless, educational quality. For them good marketing means producing excellent content to help leads learn all they need to know on their way towards making an informed choice.
| | | | | |
| --- | --- | --- | --- | --- |
| An authority | • | Quality over quantity | • | Loves teaching |
Your marketing soulmate: Ann Handley
You don't become Chief Content Officer at MarketingProfs, the training and education hub for professional marketers, without knowing a thing or two about content. Ann Handley certainly does. She started out as a business journalist and editor, before founding ClickZ, one of the first online publications dedicated to digital marketing, in 1997.
Since then she's written two highly successful books on creating effective content. Ann blogs regularly about content marketing for LinkedIn, Entrepreneur Magazine and many others, and continues to be a stalwart supporter of high-quality content in all its forms.
You might love: Valuable and informative educational videos (get inspirational examples here!)

The Westworld kinda marketer.
You'd be forgiven for thinking this marketer is part android. Their technological prowess means they can run complex data analysis or automate a lead nurturing system in minutes. At all times they're working across a dozen digital channels, but that's how they seem to like it.
| | | | | |
| --- | --- | --- | --- | --- |
| Fluent in tech | • | Loves digital | • | Multitasker |
Your marketing soulmate: Neil Patel
If you want help with conversion optimisation, who do you turn to? Neil Patel. He's an analytics and ROI whizz who has co-founded some of the biggest marketing analytics companies around, including Quick Sprout, Kissmetrics and Crazy Egg.
Because he's continually testing, both for himself and for clients, Neil has mountains of data to back up the most effective ways of driving traffic, sales and revenue. He might even be the best in the world at what he does — it's probably why he's got companies like Google, Facebook, Microsoft and eBay lining up to work with him.
You might love: Excitingly high-tech personalised videos (get inspirational examples here!)
The Doctor Who kinda marketer.
To this marketer, ethics aren't just a philosophical concept but a set of rules to live by. They hate the fact that marketers are seen as liars, so they work hard to be a good, honest role model. Sure, they could get more leads with a sensational headline — but they wouldn't want to.
| | | | | |
| --- | --- | --- | --- | --- |
| Principled | • | Giving | • | A hard worker |
Your marketing soulmate: Seth Godin
You've been living under a rock if you haven't heard about Seth. Today he's one of the most influential marketers in the world, renowned for his thoughtful and kind approach to marketing. Over the years he's worked as a brand manager, founded three businesses, and published 18 books. What remains consistent is his belief that ideas are the currency of the modern world.
Every day Seth blogs about how we can all work together to make marketing a more friendly, effective, and helpful craft. He's a unique authority on making the world a better place, one campaign at a time.
You might love: Honest and human 'about us' videos (get inspirational examples here!)
The Downton Abbey kinda marketer.
Tradition is a good thing — so says this marketer. They believe in classic marketing techniques that have already proven their effectiveness, like email, SEO and paid ads. You'd sooner find them dead than messing with Snapchat. No, they're tried and tested and true blue.
| | | | | |
| --- | --- | --- | --- | --- |
| Loves best practices | • | Risk-averse | • | Reliable |
Your marketing soulmate: David Ogilvy
We all know about the man dubbed the "the father of advertising", famous for his concise, captivating headlines and love of consumer research.
But you may not know that David Ogilvy hated the idea of creativity for creativity's sake. He would much rather repeat a successful, proven advert than try to be too cute or original. For him, effective advertising was about selling the product — not drawing attention to itself.
Today his practical approach continues with Ogilvy & Mathers, the advertising agency he founded in 1948 that went on to become one of the biggest marketing companies in the world.
You might love: Perennially effective case study videos (get inspirational examples here!)
Empower Your Own Marketing Style
Well, I hope that was illuminating — or at least a few minutes' fun. No matter which kind of marketer you turned out to be, you can benefit from taking a more strategic, thoughtful approach to your marketing (yes, even you Game of Thrones marketers).
Take your unique style of marketing to the next level with a clear marketing strategy to help you plan and run more succesful video campaigns. Video is the future of strategic, digital, personal marketing and you need to be thinking now about how you can embrace it effectively (yes, even you Downton Abbey marketers). Just download our Video Strategy Template to get started with smarter video marketing today.
---

Written by Lydia Cockerham
Subscribe to video insights
Join 1,000 comms experts from brands like Boots, Experian & JCB and sign up for our latest posts.