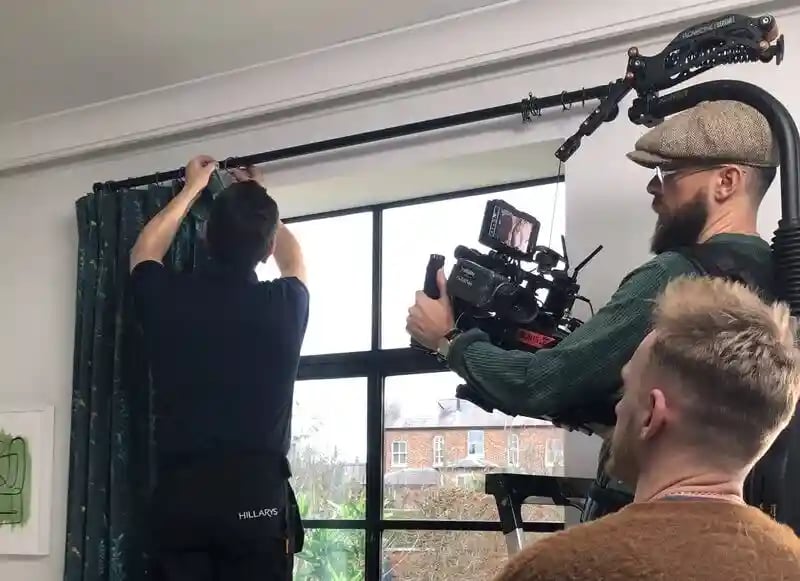 11 April 2023
Video production tips and best practices
Why your brand needs a professional video production agency
The best way to avoid videos that fall flat? Work with an agency that specialises in video production. Let's dive in.
If you're not using a professional video production agency, you're running the risk of videos that don't have much chance of being watched to the end. You also run the bigger risk of having your brand look bad or, even worse, missing out on potential sales.
Video content has become a crucial tool for brands to showcase their products and services. Video offers a way to connect to customers on a deep level. It allows brands to tell their stories authentically.
Used as part of an online marketing strategy, video is highly effective. A 2023 Wyzowl survey on video marketing states that 91% of brands use video as a marketing tool. A massive 96% of brands and marketers plan to continue prioritising video content.
With the average person watching around 17 hours of online video content per week, many brands are leveraging this by crafting video campaigns.
That's not to say that these campaigns all deliver results, however. There's a big difference between trying to do your own videos in the hopes of success and working with a video production company that has the tools and expertise to create perfectly executed videos.
Think about the last brand video you watched. Did it leave you feeling interested in learning more about the product or service? Or did you exit in the first 30 seconds? Did you get the sense that the video was hastily put together by an in-house team who had no idea what they were doing? Or did it look like a polished video that got its message across easily?
Professional video production companies have the experience, skills, ability and tools to produce the type of videos that leave customers feeling inspired rather than bored. They help get your message across clearly, reflecting your brand's personality.
Keep reading to find out what professional video agencies bring to the table.
CREATE HIGH-QUALITY VIDEOS
Few things make brands look bad than sloppy marketing campaigns. Any type of campaign can fail horribly but a badly made video can leave an especially bad impression. A common mistake brands make is assuming that they can handle video in-house.
Instagram influencers get thousands of likes just from making live-streamed videos, so it can't be TOO hard, surely?
There's a time and place for DIY videos, but if you want your brand to look good, you need to make sure that your videos are high-quality. This means bringing in the experts to help you create well-crafted videos.
A professional video production company provides services that meet your needs. They have all the experience, skills and equipment needed to craft videos that look good, engage viewers and have maximum impact.
SAVE TIME, STRESS AND MONEY
That Wyzowl study we mentioned earlier had some interesting stats on why marketers are not yet making use of video. 30% of brands lack the time to create video content, 18% don't know where to start and 10% feel that video is too expensive.
Trying to stage an in-house production is daunting. It's time-consuming, stressful and expensive. It is often challenging to know where to begin.
Things like pre-production and post-production seem confusing. Having access to the right tools means spending a lot of time and effort. Pulling everything together can be overwhelming.
Working with a professional video production agency removes these barriers, saving time, hassle and money. A good agency will have the necessary equipment, crew and expertise to produce your video efficiently and effectively.
TELL YOUR BRAND'S STORY
Storytelling plays an important part in video creation. Every brand has a story to tell. It could be something as simple as how you got started. A great example of storytelling is the video we produced for The Access Group.
Although the main goal of this video was to drive awareness of their software tools for the health and social care sector, the video put their team at the helm, to share their personal stories. The result is a video that reflected The Access Group's values in an engaging, genuine way.
A professional production company doesn't just help with the production itself. It also helps with planning and strategy. This gives you the chance to showcase your offerings, highlight your values, engage your audience emotionally and tell your stories in a way that resonates with your audience.
REACH A WIDER AUDIENCE
While we're talking about audiences, an experienced production agency is the best way to reach a wider audience. High-quality videos can be shared across multiple channels, including social media, websites and emails.
In the process, you can attract new viewers (and hopefully new leads), boost engagement and improve conversions.
DRIVE HIGHER ENGAGEMENT
Video is the most engaging type of online content, with hundreds of thousands of people choosing video over blogs and other content. Short-form content especially is easy to consume, reducing the risk of boredom and increasing the chance of engagement.
Creating a professional video allows you to increase engagement and build a stronger connection with your audience. A professional video production company can help you create videos that emotionally resonate and drive engagement.
STAND OUT FROM THE CROWD
According to insivia, video searches have a 41% higher click rate than other first-page results. That's a big deal if you want to stand out in search engines. With the rise of online video, creating content that stands out is essential.
A skilled video production agency helps you create unique and memorable videos that showcase your brand's unique personality. Producing videos that stand out from the crowd means that you can capture attention more effectively.
GET EXPERT ADVICE
In need of advice from someone who truly knows their craft? A video specialist is the best person to help. Production agencies go far beyond producing videos. They can also offer expert advice on strategy, planning, production techniques, distribution, and plenty of other things you may need help with as you get started.
This advice makes it much easier to meet your business objectives and create videos that resonate with your target audience.
TO SUM UP…
Hiring a production agency that has the experience and expertise to help your business stand out is essential. Hiring a company that can showcase the quality of their work is even more important.
Here at Skeleton, we take great pride in the work that we do for our clients. If you'd like to chat more about working with a video production company with extensive experience, give us a shout.
Written by Rox Bradnick Copywriter for Skeleton — a full-service video production agency that specialises in producing creative videos & campaigns that get real results.