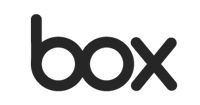 Box Serviceplan Customer Case Study
Team Involved
Laura Cohen
Emily Grant
Ollie Bradbury
Kate Aerts
The Challenge
Box, the trailblazer in Content Cloud Management (CCM), teamed up with Skeleton to craft an impactful customer case study video. The goal? To shine a spotlight on Box's game-changing platform that's reinventing collaboration in the modern workspace.
With Box already the go-to choice for a whopping 70% of the Fortune 500, this case study packs a punch in bringing Box's innovation to the fore.
About Box
Box is not your average content platform. It's an all-in-one, secure, and ridiculously easy-to-use tool that's built for the entire content lifecycle. From creation to sharing, and from co-editing to signing off, Box has got it covered. But wait, there's more: it's a fortress. With cutting-edge security features, including granular access controls, watermarking, and classification, Box Shield's machine learning is the guardian angel your data never knew it needed.
And what makes Box truly stand out? It's like taking the fast lane. Imagine the intuitive user-friendliness of Slack, and now picture it on a content management platform – that's Box.
What we did
Skeleton created a case study video for Box, capturing insightful testimonials at Serviceplan's Munich headquarters. The video succinctly highlights Box's strengths, effectively showcasing what stellar collaboration looks like through engaging storytelling.
This video is a deep dive into how Serviceplan uses Box's features to collaborate with big-shot businesses around the globe, seamlessly.
The audience and the message
This case study video is for the movers and shakers in IT, Information Security, and project management. The ones who build digital fortresses, ensure smooth collaboration and drive fast project deliveries. They're the maestros behind secure and efficient IT infrastructures.
Our message for the masses is that Box is the gold standard for secure collaboration in the modern workspace. The video reels you in with real-life proof – Serviceplan – who are crushing the collaboration game using Box.
The execution
Beautiful Munich is the backdrop. And Serviceplan's swanky, brand-new headquarters provided the perfect canvas for this masterpiece. Our cameras rolled into Serviceplan's office to capture how Box's robust security arsenal empowers businesses to protect their information workflows — without breaking a sweat.
We dove into the heart of Serviceplan's experience with Box. The interviews were tactically designed to unearth all the golden nuggets by asking questions like:
- What was the core challenge you were facing that caused you to explore solutions like Box and what was the impact of those problems?
- Did you explore other options and what was the deciding factor?
- Can you share some of the specific uses of Box within Serviceplan?
- Can you share any results or positive outcomes from those use cases?
- How has Box enabled you to meet business needs for productivity while maintaining control of your data?
- How is Box contributing to your company's success?
- What problems is Box solving for you today?
Stefan, an integral member of Serviceplan, took the stage first. After a brief introduction, he delved into describing the essence of Serviceplan and to the unacquainted, he introduced Box in a nutshell. Stefan provided us with an insightful walkthrough of Serviceplan's journey with Box, highlighting how Box efficiently addressed their core challenges and outperformed alternatives.
Then, Fabian reflected on why Box made absolute sense for Serviceplan. He was candid about initial concerns and how they were put to rest. Most importantly, Fabian provided concrete evidence of the business impact with Box, citing cost savings, improved process efficiency, and significant ROI. The interviews with Stefan and Fabian were the backbone of the video case study, painting a vivid picture of Box's transformative impact on Serviceplan's operations.
The Results
The final cut premiered on Box's website and was all the rage on LinkedIn with a snappy teaser. It's also making waves as prime content in digital campaigns as Bottom of the Funnel content.

When Box's innovative prowess met Skeleton's video expertise, a customer case study video was born that's nothing short of electric. With compelling content, real-life success stories, and a visually arresting presentation, this video isn't just communicating – it's captivating. The message is clear: For modern, secure, and seamless content management, Box is in a league of its own.
"The producer and the on-site team were very professional and knew exactly what questions to ask and what prompts to use to get short and concise answers from the interviewee - leading to an excellent customer story video for our marketing channels."

- Veronika Traublinger, Field Marketing Manager