The Challenge
After sourcing funding from the national WDES innovation fund which funds ground-breaking projects to make progress towards disability equality, Chesterfield Royal Hospital asked Skeleton to help them produce an animated video that aims to encourage people with disabilities or long-term health conditions to apply for jobs in their local NHS.
The Trust wanted to challenge preconceived notions about job roles that disabled colleagues perform and encourage people with disabilities to apply for roles. The video will help foster a more inclusive culture while increasing the retention of their disabled staff and giving a warm welcome to their disabled visitors.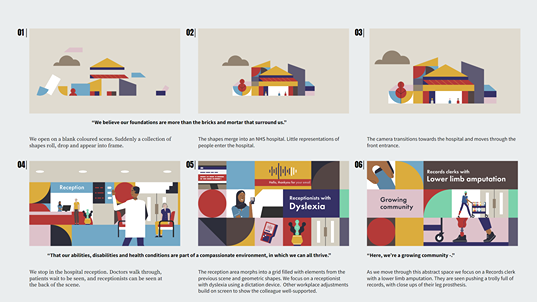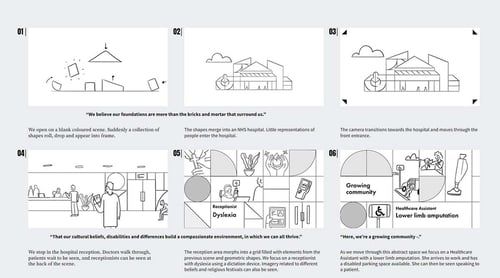 The Creative
Chesterfield Royal Hospital knew that their disabled colleagues have powerful lived experiences, but not everyone would be comfortable in front of a camera — which meant an animation was on the cards.

The 45-second animated video focuses on visualising inclusion, showcasing a diverse range of workers within Chesterfield Royal Hospital and the disabilities that they live and work with every day. In a short but succinct run time, the 2d animation visualises realistic workday scenarios and champions the various, often invisible disabilities of hospital employees.

The creative approach sprang from the idea that every piece of the puzzle makes up the whole — every employee is important and deserves to be recognised. So, we took the geometric patterns that feature in the Chesterfield Royal Hospital lobby to exemplify this direction, breaking down the hospital's many wards and corridors into design elements. This montage approach allows us to show employees as a whole, not in isolation.
Experimenting with abstract scene composition, the animated frames act as a 'living mural', taking the viewer on a journey through an abstract version of the hospital where all members of staff and patients work together to create a space of inclusivity and diversity.

Friendly, personable and not overly stylised characters reinforce the human-centric nature of the topic as they move through the scenes and interact with patients and employees.

Text is used sparingly to highlight the various disabilities throughout the trust, allowing for the video to be enjoyed without audio, while the headline 'We work here' gives potential employees the comfort that their own disabilities will not be perceived as a negative factor in their application.
The Results
With its unique art style that communicated the messaging visually and sonically with voiceover and delicate sound design, this is a flagship piece of content that will help Chesterfield Royal Hospital move the needle — both in terms of recruiting people with disabilities and making colleagues feel like they belong in a modern and inclusive NHS.

The video was launched on Friday 2nd December in the presence of Toby Perkins, the local MP for Chesterfield, in the hospital's main entrance where the video was played throughout the day.

Moving forwards, it will be present on all recruitment pages with the aim to increase the number of applications from people with disabilities.
Dr Hal Spencer, Chief Executive at Chesterfield Royal Hospital said: "We wanted to invite people to consider us as an employer and to apply for jobs here. Our colleagues have powerful lived experiences, but we understand that not everyone is comfortable being on camera, so an animation was a great way to celebrate our colleagues and the opportunities we have here. I want to thank Tom and our colleagues in our Disability Network for their contributions and support for this – and to thank Skeleton who have done a wonderful job in bringing this to life."

Tom Harrison, Workforce Equality, Diversity, and Inclusion Lead said: "I am delighted to see this video launched as part of Disability History Month. We really want to inspire people with disabilities and long-term health conditions to think about a career with us at the Trust. The We Work Here video gives an insight into who we are and what we do, and it's a warm and genuine invitation for you to join us."