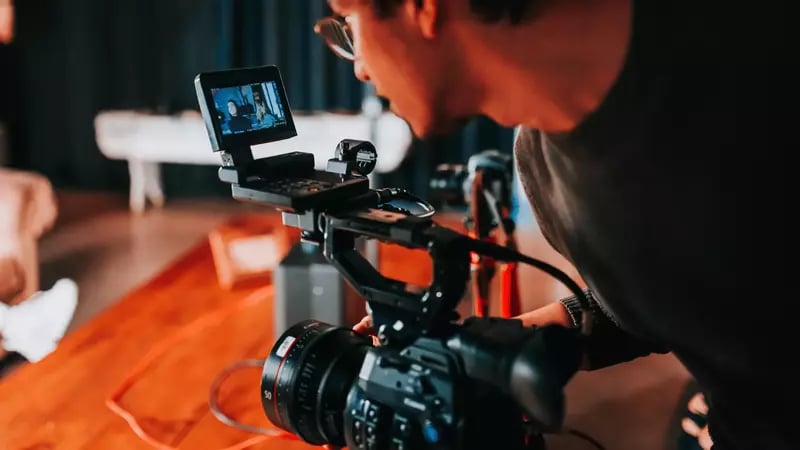 9 November 2021
Video production tips and best practices
Supercharge your customer journey with video
To spark ideas and supercharge your customer journey with video, we've come up with this handy 3-step guide.
So, you've listened to what every marketing thought leader has been banging on about over the past few years. You've "implemented video" within your marketing campaigns and "utilised TikTok" to stay relevant in 2021. A toe has been dipped, but now you want to achieve an ROI that makes your boss swoon. Now, you're ready to swim.

To spark ideas and supercharge your customer journey with video, we've come up with this handy 3-step guide. It's not about putting video content out there just to appease the algorithm gods, but more about the stories you tell through those videos and how they put your customer at the centre.

Stick around if you're looking to boost your video marketing strategy and create remarkable customer journeys that gain real results.

The customer journey
(Or rather, "the hero's adventure")

As a marketer, you'll be familiar with the customer journey: awareness, familiarity, consideration, purchase and retention/repurchase. This is your customer's story; to engage them, you need to tell it through your video strategy.

Your customer is always the hero of the story, and every hero has a journey to take. In the beginning, they'll become aware of a need. Let's say they're concerned with climate change and want an eco-friendlier way of travelling. They want to do what any hero does; they want to save the world.

Once that goal has risen, your hero will start searching for a way to reach it. Now let's say you create electric motorbikes because you also want to do your bit to improve climate change. Your hero will begin looking for a sidekick or two that shares their values and can help them in their journey, an Alfred to their Batman, you could say (this is where you come in!).

The happy ending? With the help of an electric motorbike from you, their trusty sidekick, they'll become the hero doing their bit to save the world.

Sounds nice, doesn't it? Let's create your own hero's adventure.

1. Get
familiar
First up, you need to get familiar with who you're targeting with your product. This is where you create your hero's buyer persona.

Before you say, "But Emily, I already know who my customer is!", ask yourself if you've dug deep to truly understand their unique interests, values, and concerns. Do you know their preferred content to engage with, where they hang out online, or what motivates them to make a purchase?

Once you know everything you need to know about your hero, the best type of content for this early stage is the more low-commitment, storytelling videos designed with them in mind. The aim here is just to make yourself known to your hero, and one of the ways to do that is by creating exciting, relevant content built around your shared values and interests.

These need to be attention-grabbing, storytelling videos that answer questions and tap into the things you've got in common to show that you share the same values. Remember, at this point, you just need to get on their radar. Outdoor gear brand REI does a top job of creating great videos for this stage.
REI Trailheads S1 EP5: Is it your first-time mountain biking?
In this video, two people go on their first mountain biking trip and share stories about what they've experienced. You'll notice there's no mention of specific products or gear, yet. It's all about their shared passion for all things outdoorsy.
The point is to tap into your ideal customer's interests, get your brand in front of them, and prompt them to think about what they want to achieve.
2. Be
different
The next video you create needs to go a little deeper into the "consideration" phase of the hero's journey.

At this point, they've identified what they want, but need to understand a little more about what you offer and how it would benefit them in their journey. In other words, why should they pick you as their sidekick? How helpful are you? How knowledgeable are you? What makes you different to the others they might be considering right now? How can you help them to achieve their goals?

Here is where the more informative thought-leadership and explainer videos come into play. Talk a little about your product, of course, but focus more on the benefits and how they relate to the problem they're trying to solve. After all, people don't buy running shoes for no reason; they buy them because their goal is to feel healthier through exercise. Tap into that through helpful video content that reflects and supports their goals.

How-to guides, top tip rundowns, and product/demo videos will help to build trust in this phase of your hero's journey, use them to show them how your brand fits into their story. This 5-minute relaxing meditation video from Peloton is a pretty good example of this:
5 min Relaxing Meditation | Peloton App
3.
Prove

it

This one relates to the "purchase" phase. In this phase, you want to give your hero that final boost of confidence in their decision. This is where testimonials and case studies come into play. After all, 88% of customers treat user reviews with as much trust as personal recommendations.

A great example of this is Salesforce's "Trailblazers" videos that focus on success stories from those that use their system, believe in their product and want to share their story with the world. These stories are personal, inspiring, and make the existing customer the hero. Here's an example of that:

My Trailblazer Story: Stephanie Herrera


In short:
Don't get us wrong, doing the odd video every now and again is better than nothing. But to boost your video strategy and create remarkable videos that gain real results, you need to understand your custome's entire buyer journey.

By tailoring the concept, tone, and content of your videos to where their head's at during each phase of their journey, youll create powerful videos that engage, help, and nurture them every step of the way.

Ready to get bold with video? Speak to us today about your ambitions, we'd love to hear from you.

Written by Emily Malone Marketing Manager for Skeleton — a full-service video production agency that specialises in producing creative videos & campaigns that get real results.