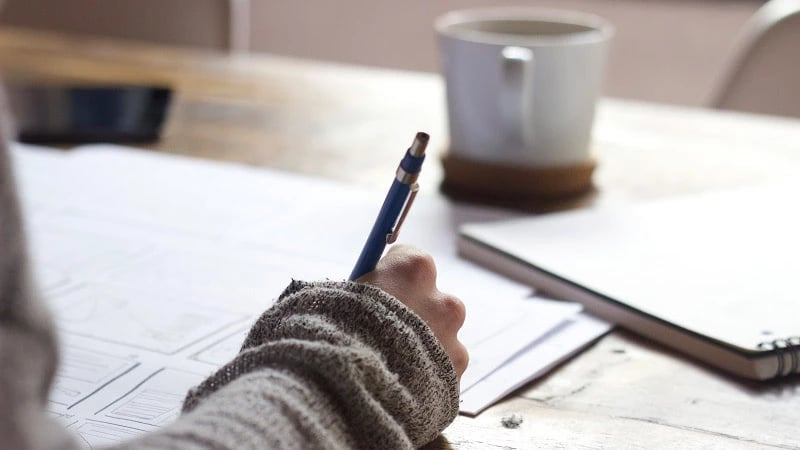 10 October 2023
Video production tips and best practices
How to Run a Video Audit: Better Content in 6 Steps [Free Template]
Is your video content library looking confused? This is how you run a properly useful video audit, plus a free spreadsheet to help you along the way.
Can you have too much video content?
Well... yes.
Sometimes, when you've been creating video for a while, it can be hard to see the wood for the trees.
If you're a company with a video content library built up over time that feels like it's starting to attract cobwebs, then it's time to take action. A video audit might be just the thing you need to stop stagnating and reach the next level of success with your video marketing.
Don't be afraid to clean the slate every so often. An audit will help you dig out all those ancient videos comissioned long before your time and get to grips with the video content you're working with.
And that's just the tip of the iceberg. There are many good reasons to conduct a video audit:
Find the weak videos that may be doing more harm than good to your brand
Discover diamonds in the rough that could easily be revised and improved
Pinpoint gaps and areas of potential in your current video marketing
Create more successful content that supports your overall goals
In short, a video audit will help make your content more strategic, aligned and effective.
So let's get started. This is how we run video audits for ourselves and clients. Feel free to download our Video Audit Template for a simple spreadsheet to help compile your own audit data.
Download our Video Audit Template
Start your video audit on the right foot with our simple spreadsheet.
This template provides the layout you need to organise all your audit data, plus examples of video information & metrics to get you started.
6 Simple Steps to Running a Truly Useful Video Audit
1. Review Your Video Goals and Content Marketing Strategy
Let's start with the big questions.
Why do you have video content in the first place? What are you doing it for? What are your goals and objectives? How do your videos fit into your wider content marketing strategy, and how does that fit into your wider business goals?
Maybe you want video content to help drive leads down all stages of the funnel. Maybe you want video to present at events you attend, or to build trust in visitors to your site. Maybe it's a mix of all these and more.
Without getting to the root of your aims for video, you'll never be able to fairly assess your current content and work out what you need for the future.
So determine what you want from your video content. Set out a standard that you'll be expecting from all your videos and get sign-off to ensure everyone is in agreement. This will give you direction on what to do after the video audit is complete, and help guide you towards meaningful and lasting change.
2. Gather Your Complete Video Data
This is the time-consuming part. Now you need to uncover all the details of your video content and compile it into a single space. (We recommend using our Video Audit Template for a simple spreadsheet layout.)
Here's the sort of data you should include in your audit:
Title of your video (for easy identification)
URL of the video asset (where it's hosted)
Date of release
Topic / subject
Type of video (brand film, educational video, advert, product video, case study video, etc.)
Keywords (if applicable)
Stage of the marketing funnel
Product / service the video is about
Buyer persona it's tailored to
Aim of the video
How you use the video
Site pages the video is embedded on
Metrics like views, play rate, engagement rate, shares, click-through rate, conversion rate (read our post on the most important video metrics and why you should track them)
In terms of tracking down your video content, it's a good idea to start looking wherever you host it. That might be a video hosting platform like YouTube, Vimeo or Wistia (or a combination of these). Or you might host your videos on your own servers. Whatever the case, start filling out your spreadsheet.
Next, check your social accounts to see if any standalone video content has been uploaded there. Look through anywhere you syndicate or publish content.
Finally, if you have a lot of video content across your website, it's best to check your site pages to spot anything that has slipped through the cracks. Apart from looking through them manually, the best way to discover which of your pages contain embedded video content is to use Screaming Frog. Crawl your site with the tool and set a custom filter with a section of the embed code for whichever hosting services you use.
3. Assess (& Watch) All Your Video Content
You've got your data. But that data doesn't mean anything until you analyse it. So now you need to look through it all and review the quality and usefulness of your videos.
You can do this yourself, or you can ask a small team to look through your video content with you. It's often effective to have a few more pairs of eyes when assessing your content, particularly when they're attached to people from across different departments who all use your videos differently.
Based on the information you've collected, review how you currently use each piece of video content and how it's performing in its role. Check to see that each video meets the standards you have set for quality, consistency and value.
(And don't just rely on your spreadsheet. Numbers themselves can't tell you everything you need to know. At least for your most important and promising video content, make sure you actually watch it too.)
Ask yourself the following questions:
Is this right for our target audience?
How does this make viewers feel? What does it encourage them to do?
How do we use this video content? How could we use it?
Is this video performing well?
Is it inspiring, useful or fun? Is it relevant?
Are we proud of this video? Are we happy to continue using it?
4. Decide Which Pot Each Video Falls Into
Once you've started thinking critically about your videos, it's time to get really ruthless. Now you need to decide what to do with each piece of content.
We like to use a simple 4-pot system to help us narrow down specific actions that need to be taken for each video to improve video content across the board. It looks like this:
Here's each of the 4 pots in more detail.
Keep
For videos that are of good quality, tailored to the right target audience and highly relevant AND that you currently use effectively for great results.
These are the unicorns of any video content marketing strategy. They are usually videos created with a clear objective and audience in mind, given enough time and investment during production, and marketed with a thorough distribution plan. They do not need to be altered: you simply need to keep using them well.
Note that these videos will not remain this way forever. In a few years' time you may find them outdated and in need of freshening up. But for now, well done and reap the benefits!
Reuse
For videos that are of good quality, tailored to the right target audience and highly relevant BUT that you currently do not use effectively for great results.
This is good content that is being underused. It means you are most likely not getting it in front of the right audience or are missing opportunities to integrate it into your wider marketing strategy. For example, you might have a fun promotional video that sits on your About Us page but could be shared on social media. Or you may have commissioned case study videos that the sales team has forgotten about.
To save this kind of content, create and execute a simple plan to start using it in new areas and campaigns. This can be as easy as embedding a video on a site page or reminding colleagues that the content exists.
Redo
For videos that are poor quality, outdated or no longer on-brand BUT that you currently use effectively or can imagine using effectively for great results.
These videos are generally older. They may be pieces of content that have needed to be updated for a while but continue to perform well enough for stasis to set in, such as a recruitment video created five years ago. On the other hand, they may be videos that desperately need a refresh but that will clearly still have a place in your content marketing efforts once updated, like a series of videos for an existing product range.
Recreate or recomission these videos if they are not consistent with your current brand or have become a bit of an embarassment.
Remove
For videos that are poor quality, outdated or no longer on-brand AND that you currently do not and cannot imagine using anywhere effectively.
They no longer have lasting value or potential to your business. A video with literally no conceivable worth is not very common but you may stumble upon them if you have, for example, very old video content created before a rebrand or change of products/services.
Now you either need to stop using these videos in your marketing (if you still are), or remove all traces of their existence in the worst cases. Very poor videos can impact negatively on your brand and are better removed than left to linger.
For more examples of the types of video content that would sit in the 4 pots, download our Video Audit Template.
5. Identify Gaps in Your Video Content Marketing
A video audit isn't just about assessing your current content. It's also about considering changes you can make in the future to do video content marketing more effectively.
So, looking at all the videos you've reviewed so far, ask yourself the following questions:
Are there any obvious gaps in your video content?
Are there upcoming opportunities that you haven't yet taken advantage of?
Can you identify a content gap in the market that you could fill?
Is what you're working with so far everything you need to achieve your goals?
Could you reach them more effectively with new kinds of content?
It's useful to segment your video content based on the topic, the type, the product or service it mentions, your buyer persona, or the stage of the marketing funnel it fits into (as you can do in our Video Audit Template spreadsheet). Look through and assess whether you're missing content for certain personas at certain stages of the funnel. Or if all of your products/services are supported by different types of video content. Or if all the topics relevant to your audiences are covered by video.
You might find that you have lots of top of funnel video content like short pieces of social content or fun brand videos, but fewer types of content further down the funnel to help drive leads to sale, like detailed product videos or case studies.
Or you may discover that you haven't yet created any educational videos about digital marketing, and the existing videos out there on the topic aren't great. This is perfect opportunity to beat the competition with an effective piece of video content.
6. Refresh Your Strategy to Create New, Better Content
Now that you've decided what to do with your existing content, and how to improve your content marketing in the future, there's only one thing left to do. Bring it all together into an updated video content marketing strategy supporting the goals identified in step one.
Whatever changes you you want to make, make sure they're integrated into your overall plan. Maybe you've noticed that the educational video content on your blog is consistently generating a high engagement rate and conversion rate. So you switch tactics to focus more on this kind of educational videos rather than other kinds of (less effective) top of funnel content. Just make sure it's noted wherever you log your strategy.
And of course, then it's time to build and execute a specific plan for creating your new videos and updating your old ones. If you're working with a video agency, you can pass this stage onto them (and the good ones might even run your entire video audit for you!).
Round-up: Create Even Better Content
That's it. You've successfully run a video audit.
Yes, it's tricky and time-consuming, but the information you gain makes it all worthwhile. The data and insights from this task will give you the push you need to create better, more targeted content that's right for the market and your own needs. After all, without assessing your performance from time to time you'll never be able to grow even better at video content marketing in the future.
And here's a little extra tip: consider continuing to use your spreadsheet even after the audit so you can keep track of the performance of all past and future pieces of video content. That way, you won't need to run another video audit ever again (hooray!).
Download our Video Audit Template
Start your video audit on the right foot with our simple spreadsheet.
This template provides the layout you need to organise all your audit data, plus examples of video information & metrics to get you started.

Written by Lydia Cockerham Copywriter for Skeleton — a full-service video production agency that specialises in producing creative videos & campaigns that get real results.