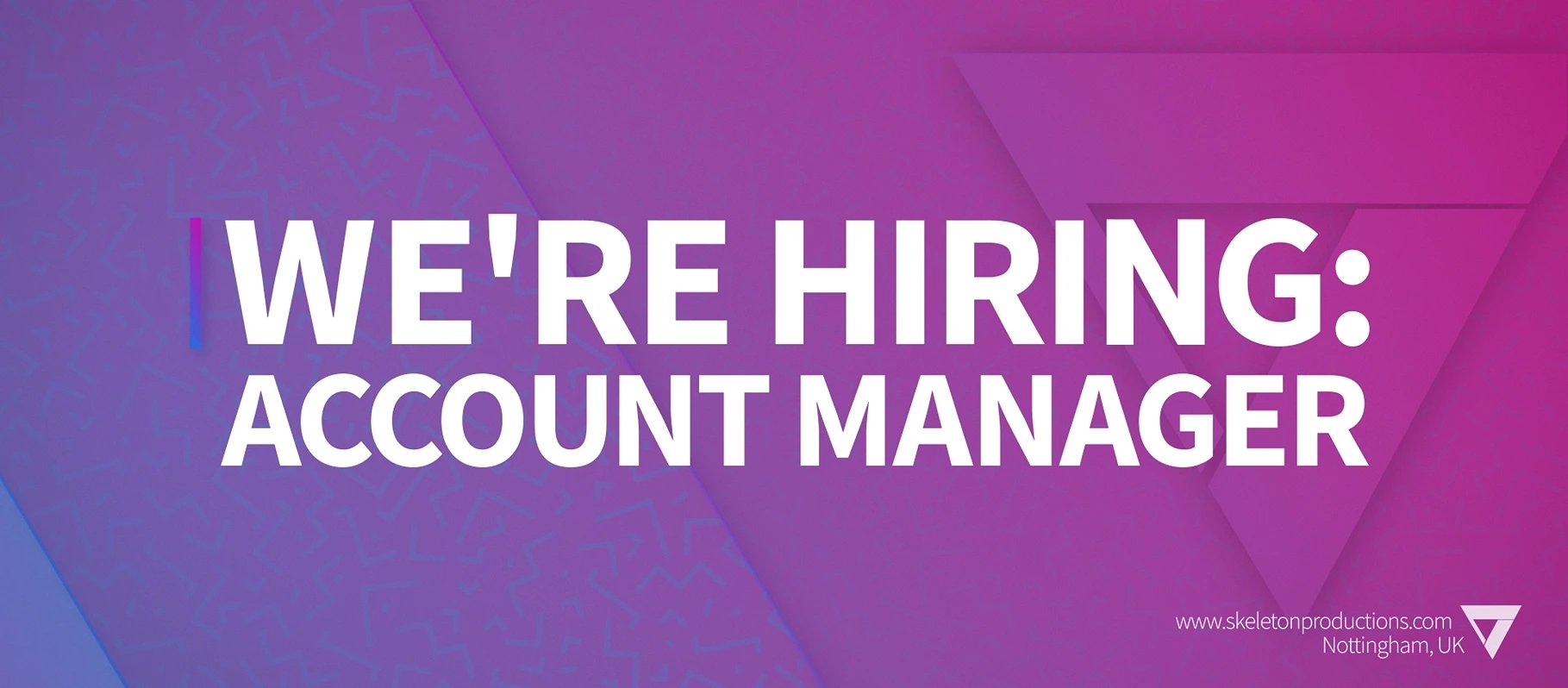 22 May 2019
Skeleton news
We're Hiring: Account Manager [POSITION FILLED]
We're hiring! If you live and breathe client relationships, we want to talk to you. We're looking for a talented Account Executive to join our team and help build and grow our client accounts.
[POSITION FILLED] - Thanks to all those who applied, this position has now been filled.
We're hiring again!
Yes, the Skeleton team is hunting for a brilliant person to join our Nottingham office. We're looking for an Account Manager to grow our client accounts.

If you know someone perfect for the role, please share this post with them. (Details on how to apply are below.)
About us
Hi. We're Skeleton, a video content agency that crafts creative and engaging videos for our clients. We're a friendly, close-knit team of specialists who believe in continually learning and pushing ourselves.
We help diverse businesses & brands from all over the globe to get the most from video (think Boots, Samsung, and Airbus). Our dream is to become the UK's most-loved video agency famous for our creativity, technical wizardry, and the amazing results we achieve for our clients.
About the role
We're looking for an Account Manager to add value to our service offering and build deeper partnerships with our clients. But this isn't your usual Account Manager role. You see, we provide video services to experienced and busy marketing and communication experts. As well as being a proactive and process-driven people person, you'll also need a good knowledge of the digital marketing world, we want someone who can speak the language of our clients and help advise them.
You will be excellent at timely communication and ensure projects are completed on time and on budget. An unrivalled level of organisation is expected so that all projects run efficiently, with other team members relying on project organisation in order to meet deadlines and understand client expectations.
You'll be working in our colourful main office at the University of Nottingham Innovation Park. You'll join Team Skeleton, an ambitious team which is small enough that we all know each other's favourite songs but big enough to allow you to cultivate your own unique skill set.
Key Duties And Responsibilities
Deliver an effective, efficient profitable service.
Become trusted and valued by our key clients.
Administration tasks that will help to keep campaigns well-managed and organised
Arranging meetings and liaising with clients to understand their requirements
Quality control of all work that is submitted to clients
Writing status reports throughout the duration of the project to keep clients and peers updated
Ensuring that the project stays within the allocated budget
Capture client briefs effectively, challenging them where required, whether that be strategically or creatively and presenting briefs to the creative team.
Offering creative ideas to the Senior Account Manager to develop exciting campaigns and
work with a wider team and senior account manager to proactively create new ideas for new projects and encourage clients to understand the importance of creativity throughout projects
Presenting creative approaches to clients
Communicate client expectations clearly and communicate work back to the clients in a timely and effective manner.
Understand the different client types. Tailor the client experience based on which type they are.
Keep an up to date CRM database of new business opportunities - also use that CRM to know more about clients. personal and professional interests.
Work hard to build even closer, trusted relationships with clients and deliver a first class client experience.
Use survey or systems like Net Promoter Score to drive client satisfaction. A happy client creates a happy Agency. Everyone's a winner.
Proactively find areas for the opportunity of growth within existing and new client portfolios.
Key objectives:
Ensure all clients are happy and satisfied and resolve any issues whilst continuously looking for ways of delivering improved service.
Develop an account management playbook for Skeleton that can be used by future account execs and managers.
Build relationship bonds that encourage clients to choose Skeleton as their go-to agency for all their moving needs.
Network effectively within existing client accounts to grow contacts and new business
What you'll bring to the table
Necessary Skills
2 years + account management experience within an agency environment
Strong knowledge of digital marketing
Excellent project management skills
Strong commercial skills including budgeting and pricing projects
Full awareness of creative processes and techniques, including digital platforms
Ability to work under pressure whilst maintaining a cool outlook
Experience using CRM platforms to run accounts
An understanding of digital marketing tactics
Experience pitching creative ideas to clients
Desired Skills
CRM management skills e.g. Salesforce.com or Hubspot
Personal Attributes
Excellent communication and listening skills
A confident public speaker able to present and sell an idea to clients
Initiative and a tendency to be proactive
Courageous and willing to explore bold ideas and turn them into reality
Being well-organised and systematic, even under pressure
Enjoying working with team-mates and customers to build long-lasting relationships
A hunger to continuously learn and develop your skills
A sense of humour is always a plus
A tolerance for dogs is beneficial as we have an office dog
What we're offering
Salary
Dependant on experience
Quarterly and annual performance related bonuses
A personal training budget of £500 per year that will compliment your personal development plan
Joint-funded workplace pension
Hours
Full time - 37 hours a week (Monday to Friday, 9am to 5:30pm)
1 hour lunch
You may be expected to work beyond normal hours to meet deadlines
Annual Leave
20 days annual leave (plus 8 days bank holiday) and an additional day for every year completed with us
Extra Cool Stuff
Access to over 300 offers and discounts via

Perkbox

including:

A Free monthly cinema ticket
A Free weekly coffee
Free mobile phone insurance

Monthly, Quarterly and social events.
Bike-to-Work scheme Christmas and Summer parties
Childcare vouchers
Adorable office chocolate Labrador __
Early 5 pm finish on Fridays
Terms & Conditions
Subject to a 3 month probationary period
How to apply
Complete the application form here: APPLY NOW

Written by Jonathan English Managing Director for Skeleton — a full-service video production agency that specialises in producing creative videos & campaigns that get real results.