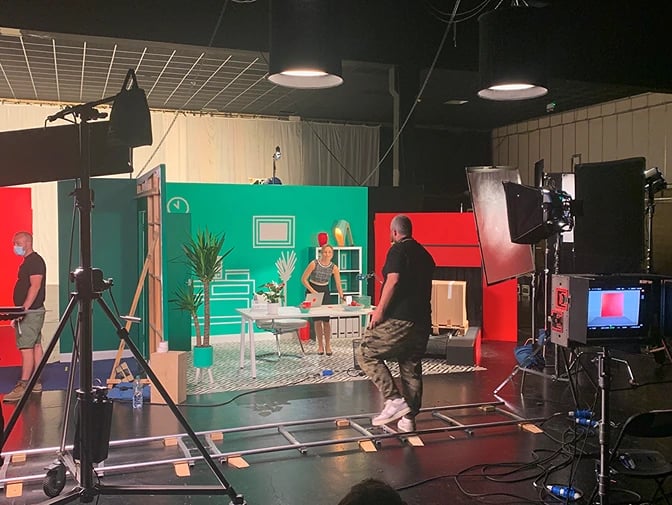 9 August 2022
Video inspo
8 awesome explainer videos and why they work
Here are some examples of the best explainer videos from the internet that make learning more about brands and their products engaging, fast, and fun.
Explainer videos are bite-sized videos that turn complex ideas into easy-to-digest entertainment pieces for your ideal audience.
It's known that viewers retain 95% of a message when they watch it in a video compared to 10% when reading it in text, a mind-melting half a billion people watch videos on social media every day, and it's estimated that video traffic represents 82% of all consumer online traffic. Need you any more proof?! (Download our free 'Making the Case for Video' guide if so, it's loaded with tonnes of useful stats about the effectiveness of video).
And because of the diverse nature of video content, there are endless ways to clearly explain your message to your audience.
So, need to effectively explain something faster than you can say "we need to prove more ROI"? Let's take look at some awesome explainer videos from around the internet and dive into why they work so well.
1. Europa - produced by Skeleton Productions
Imagine it's early 2020. The end of the Brexit transition is looming and there's huge uncertainty around the impact on exports to the EU.
Enter Europa, a logistics provider on a mission to support businesses through the Brexit transition. The logistics sector isn't typically known for creative approaches to marketing, so Skeleton deliberately tried to break the mould and create something disruptive and remarkable for Europa Flow.

The art direction and presenting style was bright, bold, confident, and welcoming. The subject matter was quite technical, so we kept the messaging light without losing its meaning. Everything about the script and action was intended to be direct and approachable to resonate with the intended audience.

The videos aimed to subtly reinforce the "frictionless customs" message, so the video was designed to be a continuous flow from one set to the next.
With a total of 283,446 views, the campaign generated a huge surge in traffic to the Europa Worldwide website, a 120% increase in users during the campaign period compared to the previous year, and 1,950 new leads for their product!
2. Apple Watch Series 7 | 911 | Apple
Apple Watch has an Emergency SOS feature that allows you to quickly get in touch with emergency services by pressing and holding the watch's side button and dragging your finger on the Emergency SOS slider that appears on the screen.
The ad revolves around three individuals named Amanda, Jason, and Jim who were each able to get help within 3 minutes thanks to their Apple Watches.
In a 'show me, don't tell me' kind of way, this suspenseful video doesn't even show or have a voiceover explaining the product, yet it perfectly explains just how important the Apple Watch has been for those finding themselves in need of immediate help. It's an emotional watch (no pun intended) that really drives their message home.
3. Unroll.Me - Email doesn't have to suck
Got junk mail? Unroll.Me's explainer is that classic testimonial-style video of multiple people using their product and being surprised at how quick and easy it is to use.
In just 30 seconds, this ad gets across just how easy it is to unsubscribe from pesky junk mail with their product, simply by swiping on the app. Surely it's not that easy? Yes, yes it is.
It's so simple, but its straightforward approach certainly does the job of getting that overarching ease-of-use message across quickly. No nonsense here.
4. McDonald's Wants to Know Your Order Before You do
This editorial explainer video from Bloomberg covers a brief history of McDonald's, from its first technological breakthrough to today.
Using bright, contrasting colours and stylish elements, this explainer video masterfully captures our attention and keeps us interested for the entire 1.5 minutes it takes to watch the whole thing.
5. Nest Home Away Assist
Real-life objects and stylish art direction collide in this nifty explainer from Nest. The simple style, calming music and friendly voiceover work to explain the benefits of using their smart products around your home.
The message is that you save money, you get comfortable and you stay safe. It's a simple message, and it's explained beautifully with simple, stylised throughout.
6. Better Results with Grammarly
Ever-entertaining and personable with a splash of humour thrown in, Grammarly sure knows how to explain how useful their technology is.
In this ad, they're giving us real-world everyday scenarios, relatable characters, and added pop-up bubbles on-screen of the user experience that allow viewers to actually witness just how easy Grammarly is to use.
7. Box Sign - produced by Skeleton Productions
Skeleton had so much fun creating this one for Box Sign! The tone of this video reflects the Box brand; clear and actionable, friendly and approachable, and confident yet accessible. The creative leads towards energetic, well-paced brand storytelling.
The video follows a stylus as it fluidly moves across different UI software interfaces and devices. To add an extra dose of energy, we also used a custom sound design as the stylus seamlessly glides from one screen to another.
Once launched, the video quickly yielded results. Within the first month, the full-length video had 38,000 organic views, and with social ads, shorter 15-minute clips accumulated a further 2.1 Million views in just one week.
On top of this, despite the video being skippable, 97% viewed 25% of the ad, 72% viewed 50% of the ad, and 60% viewed 75% of the ad.
8. Ateme - produced by Skeleton Productions
After diving into learning about Ateme's tech, Skeleton wanted to play with fluid movement and momentum to complement the speed and quality of content delivery that Ateme's technology offers.

Skeleton then looked at the gorgeous colour palette of their new brand, which was full of greens, oranges, and pastel blues. This palette along with the curved shapes included in their brand identity lends itself to contemporary style.

Ateme's message is all about captivating your audience with fast, high-quality content, and this is represented through the movement of circles, showing the fluidity of data movement in order to reach our eyes. And when it came to the message of "getting eyes on content" and boosting viewership, the video becomes very literal with illustrated eyeballs following the content.
The sound design further helped with the fluidity of the movement, a clever trick to help further tie things together and add a little subtext to build engagement. The resulting video from our creative talent is something beautiful in its simplicity, but conveys the complex messaging in a succinct, easy-to-digestt way.
inspired?
If you're looking to create a remarkable, eye-catching and lead-generating explainer video created for your brand, we've got just the button for you...

Written by Emily Malone Marketing Manager for Skeleton — a full-service video production agency that specialises in producing creative videos & campaigns that get real results.