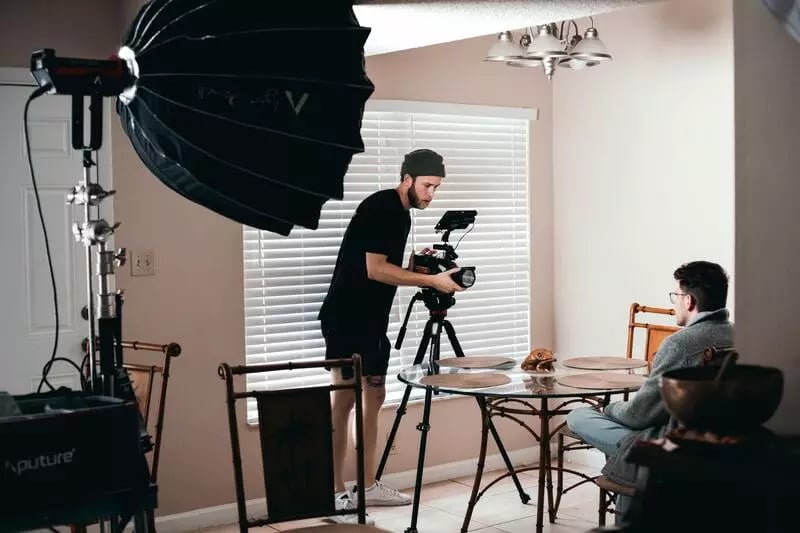 17 April 2023
Video production tips and best practices
How to budget your corporate video production
There are no shortcuts in producing a beautiful corporate video, so best to do it the right way, the first time. Corporate video production requires time, money, and resources to get it right – so let's ensure you've covered all the bases.
A well-produced corporate video can help you build brand awareness, showcase your products or services, and boost sales. With that said, lots of companies get stuck on budget allocation and forget the real importance of the production budget.
Your corporate video acts as a mirror of your company, to show people who and what you're about. Allocating a fair budget and finding the best resources couldn't be more important.
Neil Patel states that 83% of companies are increasing their content production budget in 2023. The number 1 response as to why is due to businesses' need for creating content in multiple formats – especially video – and the cost associated with it.
Source: Link
There are no shortcuts in producing a beautiful corporate video, so best to do it the right way, the first time. Corporate video production requires time, money, and resources to get it right – so let's ensure you've covered all the bases.
Define Your Objectives
Show me the money!
Well, not just yet.
Before planning your corporate video production, you must first define your objectives. Ask yourself some of these questions to determine what you want to achieve with your video.
Do you want to educate the audience on your products/services?
Do you want to promote a new product?
Do you want to increase brand awareness?
Do you want to reach a new audience?
This is the most important step you'll take before allocating your resources. Your objectives will influence the type of video you create, the resources you allocate, and the audience you target; so ensure you've thought it through before you start planning the full rollout.
Consider The Different Video Types
There are different types of corporate videos, and each type will need different resources. Once you've defined your objectives, it will naturally drive the video type you want to consider.
For example, if you're showcasing a new product, you are not advised to do a testimonial video as you are featuring a new product that no one has used before. If you want to engage a new target audience, perhaps look at creating a brand video that showcases who you are as a company and what you offer this audience.
Consider the following video types before diving into your production budget:
Brand videos are designed to showcase your brand and create awareness among your target audience. For this one, you want to think about how to create an emotional connection with your potential clients/customers as well as establish trust.



Explainer videos are informative videos used to highlight your company's product or service in a colourful, fun, and engaging way. They differ from promotional videos because they stray away from the commercial elements and focus more on the informative side of your brand.
Product videos are used to showcase your products or services. They're often shot in a studio and require a moderate budget.

Testimonial videos showcase employee or customer reviews or feedback of your product or service. This type of video can be highly effective as people like to engage with authentic stories of real people using and/or engaging with a product or service.

Internal communication videos focus on sharing information within the company or with clients. This can be useful when trying to update employees on company news, directional changes, or important company communications.

The type of video you want to produce will significantly impact your budget, from a one-minute explainer video, or a short testimonial featuring your customers, to a five-minute live-action commercial with hired actors.
Spend some time considering all video types before deciding on the one that aligns best with your objectives as this will help you when you get into the budget planning.
Determine Your Production Budget
Show me the £££ (for real this time).
You've determined your objectives and decided on a video type that best fits your production goals. Now it's time to consider the costs involved. There are a few factors to consider when determining your budget, so let's get into it.
First off, you'll need to start with your camera and sound operators. Find out if the production company you're using comes with their own equipment or if you'll need to budget for hiring fees for extra equipment.
Next, you'll need to determine whether you're shooting in a studio or at a location. Be aware that the more locations you use, the more your production will cost you. Not only in terms of location fees or permits but also because of travel expenses for the crew and talent.
Now's the time to get some quotes. Whether you're using a video production company or a freelancer, ask about their services and what it includes, and this will give you a good idea about what you can expect to budget for your video.
Determine Your Post-Production Budget
When allocating your budget, a good rule of thumb is to allocate 50% of your budget to production and 50% to post-production. Again, these allocations can change depending on the type of video you are creating.
The post-production stage involves all the activities related to tying your footage together to create one cohesive story. A lot of work goes into post-production, including editing, grading, colouring, titles, motion graphics and more. Post-prod is vital to your overall corporate video production, ensuring your video looks and sounds professional.
Hire A Professional Video Production Company
Working with a professional video production company is essential in ensuring your corporate video is of the highest quality.
By hiring a production team, you'll be able to produce a high quality product to promote your brand. Trusting professionals will ensure your video stands out from the abundance of videos that are currently online.
No need to feel left out, though – you'll be involved from the briefing stage to the end product, and we'll work hand in hand to ensure your vision and our skill culminate in the best possible product.
Are you thinking of producing a corporate video for your brand? Whatever the objective of your project, this is one of the most powerful marketing tools today.
With these guidelines on what will affect your corporate video production budget, you can now start diligently planning your project.
We have a specialised team waiting to bring your corporate video vision to life. Get in touch today or request a quote online.
Written by Jana du Plessis Müller Copywriter for Skeleton — a full-service video production agency that specialises in producing creative videos & campaigns that get real results.