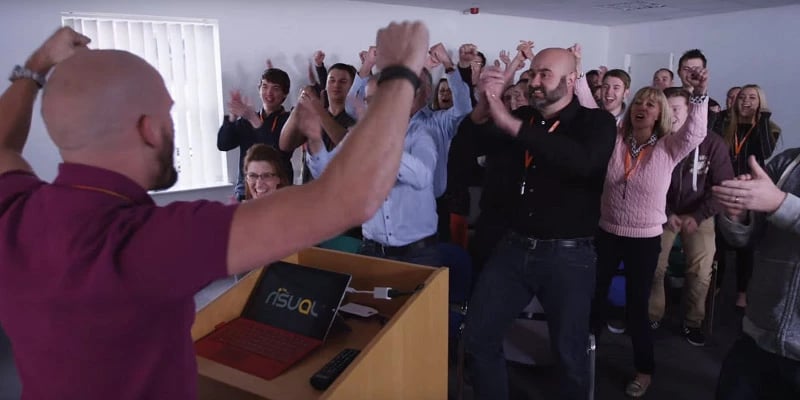 7 August 2016
Video inspo
9 of the Best B2B Videos Ever to Inspire Your Video Marketing
People think the power of video is limited to B2C, but B2B videos have just as much potential. Here are 9 shining beacons of B2B video marketing to inspire you.
If you're looking for inspiration for your next corporate B2B video, something to really make it stand out from the rest, then get ready to be inspired by our list of top B2B videos.
At Skeleton we know the perfect formula to creating & planning the perfect video content. To see the engaging and results-driven videos we create for yourself: click here.
Let me paint a picture.
You're watching a corporate B2B video.
It features shots of the exterior of some offices. A dull voiceover. Plenty of well-dressed people talking about how their innovative services can help you leverage... human capital and.... zzz
You know what I'm talking about.
You've seen it, man.
It's sad cases like this that make people think the power of video is limited to B2C.
After all, B2C are the guys with the big budgets and the cool products. (I'm just playing devil's advocate here. Don't come after me with pitchforks.)
But we know better.
We know that B2B has just as much potential to create potent and persuasive video.
It's just that... sometimes it's hard to keep believing.
What with so much humdrum B2B video around.
It's difficult to keep swimming in a sea of dry explainer videos, unconvincing testimonials and bland brand films.
Well, despair no longer.
I'm going to prove to you just what B2B can achieve with video when given the chance.
Let these shining beacons of B2B video marketing inspire you to reach ever greater heights with your own B2B videos, and to light the way for the rest of us.
So here we go...
These are 9 of the best B2B videos I've ever seen.
What Makes a Great B2B Video?
Before we dive in, let me share my criteria for an incredible piece of B2B video marketing.
All 9 of the examples below tick the majority of these boxes.
There's always room for improvement, but the best B2B videos should get most of them right:
1. It engages & resonates with its target audience.
No video works without grabbing the attention of its target audience and using their interests and concerns to hold on tight. Simple.
2. It tells a story or some sort of logical sequence.
B2B videos need structure to work. That can be something as emotive as a story, or something as simple as a series of logical points. As long as it's there to lead the viewer through to the end.
3. It teaches the viewer something, or makes them feel something.
Your target audience should feel or think differently after watching your B2B video. Choose to be either informative or emotional, and if you can manage both, even better.
4. It looks and sounds smart and professional.
Looks aren't everything, but your viewer isn't going to stand for poor camera work or sound. Especially in B2B, you need some level of filming & editing quality to stay professional.
5. It compels action in the viewer.
Ultimately, video is used to get your target audience to do something. A great B2B video must encourage viewers to take relevant action, and a strong call-to-action makes this much easier.
6. It builds trust through genuineness and authenticity.
B2B relations are all about trust. Your video should help to reinforce this by being honest and human. The worst B2B videos are fake and try-hard; the best are real.
7. It reinforces the business brand.
Like all good pieces of content, B2B video also needs to support your brand. Tone of voice, visuals and values should all make it immediately obvious who's behind the video.
9 Impressive, Invigorating and Inspirational Examples of B2B Videos
1. Zendesk: I Like it When He Gives Me the Business
Type of video: Top of funnel B2B promo video & TV ad
Company: Zendesk, customer service software provider
Core message: "We help strong, mutually beneficial relationships bloom between companies and their customers!"
Creative approach: It's all about the metaphor, baby.
In this instance, business relationship = romantic relationship.
(By the way, that's a conceit Zendesk uses consistently in their video content.)
A lovely old couple bicker and misunderstand, but it's clear that they need and love each other.
In other words, they're the perfect parallel for a business and its customer. Awww.
How it makes you feel: This video is funny, human, and genuine.
Zendesk manages to sidestep the 'boring' image of a customer service platform. Instead, they bring everything back to basics.
What they're selling is better communication between real people.
I'm left feeling that Zendesk really gets the core purpose of their service. And that goes a long way towards building my trust and confidence.
What makes it stand out: With a title like that, you can't not watch. Two excellent acting performances really seal the deal here.
2. Slack: So Yeah, We Tried Slack...
Type of video: B2B case study video
Company: Slack, a communication and collaboration tool
Core message: "Use Slack to communicate better with your whole team. Have more fun too."
Creative approach: This video follows the production of... well... itself.
It tells the story of Sandwich Video as they fall in love with the tool they're making a video about. They end up being the case study.
That might sound like a complicated chicken-and-egg scenario, but in execution it's clean and well-paced.
How it makes you feel: There's a wonderful balance of serious benefits and humorous moments, so it never feels too scripted.
Even so, there's a lot of information stuffed into 2 minutes 20 seconds.
The video is careful to highlight the most useful features of the product while always coming back to the benefits for team members.
It never descends into fakeness, which is key.
Through the Sandwich team you can envision your own team using Slack in a similar way. And that's pretty convincing.
What makes it stand out: I've never seen a case study video so involved. The quirky premise alone is enough to keep me watching.
3. Volvo Trucks: The Epic Split
Type of video: Top of funnel B2B promo video & 'Hero' content
Company: Volvo Trucks, maker of heavy-duty trucking machines
Core message: "Trucks are about precision and finesse, and Jean-Claude Van Damme is a badass."
Creative approach: Storytelling. Showmanship. Spectacle.
Action superstar Jean-Claude Van Damme does the splits between two trucks driving backwards. He's standing on their wing mirrors. The sun is setting, bathing the whole scene in golden light. Enya is playing. It's glorious.
We're supposed to draw parallels between him and the trucks, but it's not in your face. It's subtle.
This is a perfect illustration of how top of funnel videos can sometimes be more effective when barely talking about your product at all.
(By the way, YouTube calls this kind of video 'Hero' content. I created a SlideShare that covers their framework of Hero, Hub and Hygiene video content. Just jump to slide 89.)
How it makes you feel: The focus is JCVD's precision and control. How every muscle in his body has been honed to able to perform the trick.
The spotlight is on the stunt and the performer rather than Volvo's products.
Those are the perfect conditions for summoning up a great sweep of awe and respect in the audience.
It means a pleasurable viewing experience. We don't resent Volvo Trucks for shoving their product in our face. We love them for setting up such an extravaganza.
What makes it stand out: Even three years on, this is still refreshing like a cold glass of gin and tonic on a blazing summer's day. Its absolute uniqueness is... absolute.
4. HubSpot: What is HubSpot?
Type of video: Explainer B2B video
Company: HubSpot, inbound marketing platform
Core message: "Things have changed a lot for marketers, but our platform does everything a marketer might need to improve their life and careers."
Creative approach: What this explainer video does so well is root itself in its audience's pain points.
Rather than starting with the features HubSpot offers, it begins with its audience and what they care about.
The voiceover pitches the video immediately to marketers. It talks about specific marketing concerns: tracking ROI and integrating separate software.
After stressing those problems and making them hurt, it offers the solution. (HubSpot, of course.)
How it makes you feel: This video has a simple script accompanied by clear footage and animation.
It makes the viewer feel confident, supported and empowered.
And it succeeds at getting across the message that HubSpot can help marketers to stress less and do more. Without any fluff or filler.
What makes it stand out: Sometimes you don't need a complex premise. This video sets out to explain what HubSpot does and why the target audience should care. And it succeeds.
5. Sprint Business: Open a New Office With Sprint Business
Type of video: Explainer B2B video
Company: Sprint Business, the B2B branch of an IT provider
Core message: "Setting up new offices is a total hassle. We can handle that for you."
Creative approach: What a charming video. It's big on style, tone and consistency.
First off, the script refers to the viewer as 'you' throughout. You're drawn into the narrative, because you're imagining yourself in it.
In short, you're put in the fictional scenario of setting up a new office in a new city.
The visuals are simple and a bit stock photography-esque. And yet they're tailored to the script. Each references the other enough to keep the pace moving.
How it makes you feel: This video really manages to rack up the pain in the first minute. Even more so than HubSpot.
Your skin craws with the annoyance of setting up IT and comms at your new location. You feel the inefficiency of the existing process.
So when Sprint Business' solution is suggested, there's a sense of massive relief.
After watching, I knew exactly why I'd pick Sprint Business' communications service over any other. To me, that's the signal of a great B2B video.
What makes it stand out: The colours, the snappy script, the bursts of humour. Even though it's a fairly simple production, the video works hard with what it's got.
6. Risual: Risual Corporate Video
Type of video: Top of funnel B2B promotional video
Company: Risual, Microsoft solutions provider
Core message: "We're crazy. Work with us."
Creative approach: Curiosity is a powerful tool.
What this example lacks in concrete information about its brand, it more than makes up for in sheer bizarreness.
Yes, it takes the piss out of meaningless corporate speak and stereotypical agency behaviour.
But it also shows a business able to poke fun at themselves.
How it makes you feel: By saying little about what they actually do, Risual plants the seed of curiosity in the viewer.
What we know is that this business seems full of fun, interesting people that enjoy what they do.
At the end of the day people do business with other people, so this isn't as crazy a tactic as it might first appear.
And with the seed planted, Risual can create more explanatory video content further down the funnel to greet intrigued leads.
What makes it stand out: Lines like "Don't take my word for it, they have a shit ton of clients!"
7. Practicus: Another Way
Type of video: B2B explainer animation
Company: Practicus, project management & consultancy business
Core message: "We can help your business realise its full potential and achieve everything you set out to achieve."
Creative approach: This what we in the biz call an explainer animation.
Because... it's an animation that explains a complex topic.
Explainer animations are effective at breaking down difficult ideas into visual metaphors, information and data.
All the elements of this video work together: colour, shape, movement, script and sound. The animation illustrates what the voiceover describes, and is matched precisely to background music.
It adds up to create a cohesive brand image of Practicus and what they do.
How it makes you feel: You feel that working with this company will be just as clear and straightforward as this video.
Never underestimate how a much a story told simply through video can do to build trust and authority in a brand.
What makes it stand out: Some top-notch animation work and sound design, which keeps the viewer on their toes throughout.
8. Dissolve: This is a Generic Brand Video
Type of video: Top of funnel B2B brand film
Company: Dissolve, stock footage company
Core message: "There's a lot of crappy video out there, but let's not make any more of it."
Creative approach: Dissolve took a big dive with this edgy brand video.
They decided to mock brands that see video as an exercise in box-ticking, and it paid off bigtime.
The script itself is based on a short poem written by Kendra Eash, called This Is A Generic Brand Video.
Dissolve read the poem and saw an incredible opportunity. They could provide the stock footage to bring the words to life.
It was a risky move. After all, they do sell the footage that so often ends up in the kind of banal corporate videos they poke fun at here.
But that's just what makes this video so biting and so true.
How it makes you feel: Equal parts amused, annoyed, and determined.
The painful candor of the video succeeds at engaging the audience and positioning Dissolve as a brand full of heart, humour and honesty.
As a bonus, they also gave the industry a push towards creating better video content. And thank God for that.
What makes it stand out: Gorgeous stock footage alongside ultra-sarcastic voiceover: "See how this guy in a lab coat holds up a beaker? That means we do research."
9. FreshBooks: Sarah's Testimonial
Type of video: B2B testimonial video
Company: FreshBooks, accounting software provider
Core message: "Sarah saved time and hassle with FreshBooks, and you can too."
Creative approach: Sarah's story is a testimonial. That's all it is. But the way it's filmed gives it authenticity and power.
The key is: Sarah is allowed to tell her story without interruption or delay.
She's given the space and time to explain her situation pre-FreshBooks before launching into how their service helped her.
Rather than the business or the offering, we're focused on Sarah and her personal struggles.
A two camera setup is used to shoot her from two different angles. It adds variety and texture to stop the interview from becoming boring, while maintaining its simplicity.
How it makes you feel: This testimonial is so much more persuasive than the company talking about itself.
It feels real. It feels true. It sort of makes you warm and fuzzy inside.
And all because FreshBooks kept it simple and let the customer do the talking.
What makes it stand out: Sarah's absolute honesty about the embarassment of hating invoices so much that she would refuse to send them.
Round-up: Don't Let B2C Have All the Fun
Those were my picks for some of the best B2B videos of all time.
I hope they gave you a good look at what B2B video marketing can achieve when it breaks free of its boring shackles.
So have faith, my friend!
Fun, friendly, real, human, and above all effective B2B video is possible.
Now all you have to do is get out there and do it. (How? Give our video strategy template a try.)

Written by Lydia Cockerham Copywriter for Skeleton — a full-service video production agency that specialises in producing creative videos & campaigns that get real results.